Rated One of Reputed car Shipping Companies in Virginia
Shipping your vehicle to or from Virginia can be a complex process, but AutoStar Transport Express is here to simplify it with seamless and stress-free car transportation solutions customized to your specific requirements.
Our team of experts, with years of industry experience, works tirelessly to ensure the safe and timely arrival of your vehicle.
Experience hassle-free car shipping with AutoStar Transport Express, your go-to solution for exceptional service and unbeatable rates in Virginia. Request a free, no-obligation quote today, and let us demonstrate how we make car shipping a breeze!
16+

Years of experience

30,000+

Vehicle moves a year

50 states

Coverage across country

20,000+

Carriers for auto delivery
Virginia Car Transport! Why Ship Your Car  with Us?
Discover the AutoStar Transport Express Advantages: Compelling reasons to choose us for your Virginia auto transport needs.
Transparent Pricing

Our competitive and straightforward pricing ensures you receive outstanding value without hidden fees or unexpected charges.

Responsive Customer Support

Our friendly and knowledgeable customer support team is available to assist you throughout the shipping process, addressing your concerns and keeping you informed at every stage.

Real-Time Tracking

Stay informed and in control with our cutting-edge shipment tracking feature, providing you with updates and peace of mind throughout the entire auto transportation journey.

Fully Insured

Our drivers are fully licensed and insured, so you can have peace of mind knowing your vehicle is in good hands.
Which Vehicles Do We Ship to or from Virginia
Our Virginia auto transport experts specialize in transporting a diverse range of vehicles, including cars, trucks, motorcycles, RVs, ATVs, military and armed forces equipment, tanks, luxury vehicles, vintage cars, heavy construction machinery, trailers, and even inoperable vehicles.
To receive an instant quote from our knowledgeable representatives, call us at 888-802-8250. Experience exceptional service tailored to your unique shipping needs!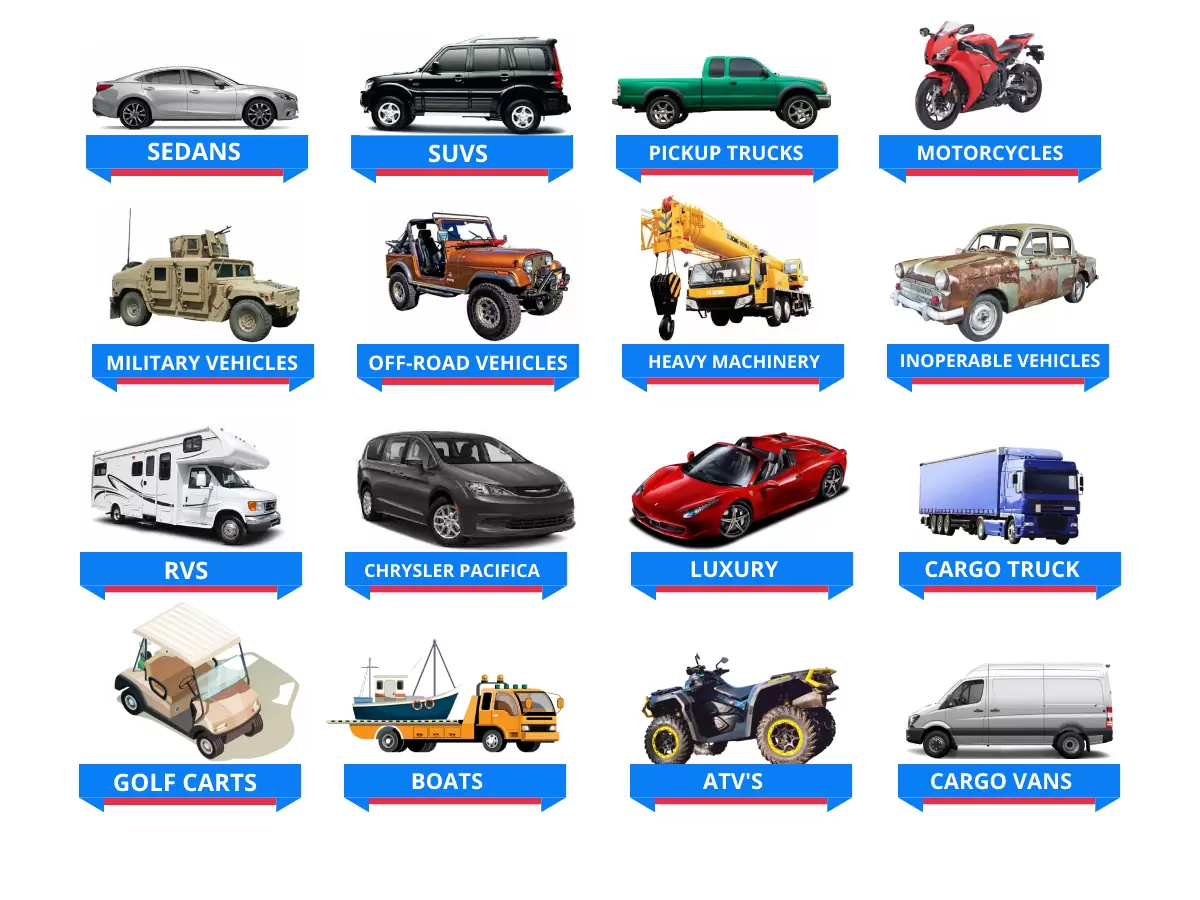 Average Cost to Ship a Car to Virginia
Many factors come into play when making an estimation of the cost to ship a car to Virginia. These include the distance, the vehicle's size and type, the time of year, and the terrain encountered.
Sample Car Shipping Rates for Virginia
| From | To | Transport Type | Cost |
| --- | --- | --- | --- |
| Virginia Beach | Los Angeles | Enclosed | $1,610 |
| Richmond | Chicago | Open | $560 |
| Alexandria | Philadelphia | Enclosed | $250 |
| Norfolk | Winston-Salem | Open | $300 |
| Charlottesville | Boston | Enclosed | $650 |
| Virginia Beach | Atlanta | Open | $450 |
| Richmond | San Diego | Enclosed | $1650 |
| Alexandria | New York city | Open | $250 |
| Norfolk | Cincinnati | Enclosed | $700 |
If you want to know the exact estimate to ship a car to or from Virginia, Use our online quote calculator to get a free and instant quote.
What are the Options for Virginia auto transport?
Autostar Transport Express offers a range of Virginia auto transport options to suit your needs.
Open Car Transport: Open transport is the most common and affordable option, where your car will be loaded onto an open carrier and transported to its destination. While this option is more exposed to the elements, it's an excellent choice for anyone looking for a reliable and cost-effective way to ship their vehicle.
Enclosed Auto Transport: If you're concerned about the safety of your car during transport, enclosed transport may be the best choice for you. Enclosed transport is ideal for luxury, high-end, or classic cars that require extra protection during shipping.
Door to door car shipping: With this service, we'll pick up your car from your doorstep and transport it directly to your destination. This option is perfect for busy professionals, families with young children, or anyone who wants to avoid the hassle of dropping off and picking up their car at a shipping terminal.
Special Discounts for Military and Heavy Construction equipment
We offer special discounts to military personnel who ship a car to or from Virginia as well as for the large organization on transportation of Heavy Machinery and Construction Equipments that choose our services. 
Top 5 Tourist Attractions in Virginia
Colonial Williamsburg: A living-history museum that transports visitors to 18th-century America through restored buildings and immersive experiences.
Virginia Beach: A bustling coastal destination offering sandy beaches, a lively boardwalk, and various outdoor activities.
Monticello: The iconic estate of Thomas Jefferson, showcasing the life and legacy of this founding father through guided tours and exhibits.
Shenandoah National Park: A picturesque park featuring the Blue Ridge Mountains, scenic Skyline Drive, and abundant outdoor recreation opportunities.
Arlington National Cemetery: A historic and solemn site honoring American service members, with notable attractions such as the Tomb of the Unknown Soldier and the Kennedy gravesites.
Top 4 Useful Resources for the State of Virginia
Popular Car Shipping Routes to or From Virginia
Discover Our Extensive Virginia Auto Transport Service Coverage
AutoStar Transport Express boasts a comprehensive carrier network and extensive expertise, ensuring your vehicle's secure and prompt transportation from any location in the USA to Virginia, or vice versa.
Alexandria, VA
22206, 22301, 22302, 22304, 22305, 22311, 22312, 22314 & surrounding areas
Arlington, VA
22101, 22201, 22202, 22203, 22204, 22205, 22206, 22207, 22209, 22211, 22213, 22214 & surrounding areas
Centreville, VA
20120, 20121, 20151 & surrounding areas
Chesapeake, VA
23320, 23321, 23322, 23323, 23324, 23325 & surrounding areas
Dale City, VA
22192, 22193 & surrounding areas
Hampton, VA
23605, 23651, 23661, 23663, 23664, 23665, 23666, 23669 & surrounding areas
Lynchburg, VA
24501, 24502, 24503, 24504, 04551 & surrounding areas
Newport News, VA
23601, 23602, 23603, 23604, 23605, 23606, 23607, 23608 & surrounding areas
Norfolk, VA
23502, 23503, 23504, 23505, 23507, 23508, 23509, 23510, 23511, 23513, 23517, 23518, 23523, 23551 & surrounding areas
Portsmouth, VA
23701, 23702, 23703, 23704, 23707, 23708, 23709 & surrounding areas
Successful Virginia Car Shipping Reviews
Read what our customers have to say about their experience with AutoStar Transport Express.
 Virginia Car Shipping FAQ
What is the average cost to ship a car from California to Virginia?

---

The average cost to ship a car from California to Virginia is approximately $1101. However, please keep in mind that this is an estimate and actual prices may vary depending on various factors such as the specific locations, vehicle type, transportation method, and current market conditions.
How long does it take to ship a vehicle from Virginia?

---

The estimated transit time for car shipping from California to Virginia is typically around 7-10 days. However, actual delivery times can vary depending on factors like distance, weather conditions, and any unforeseen circumstances during transit. It's advisable to consult with our car shipping experts for a more accurate timeline.
Is my vehicle insured during transport?

---

Yes, your vehicle will be covered by the carrier's cargo insurance. Damages are very rare during transport, but we believe in better safe than sorry. We only work with carriers that are fully insured and reliable. The insurance belongs to a particular carrier company and we keep copies of the policy on file for your protection. At AutoStar Transport Express, we take protecting your vehicle one step further by working with certificate holders on the insurance of the carriers only. This allows us to assist in expediting the filing of a claim on your behalf.
Can I track my vehicle during transport with Autostar Transport Express?

---

Yes, Autostar Transport Express provides real-time tracking updates so you can keep tabs on your vehicle during transport. We'll provide you with a tracking number and access to our online tracking portal, so you can check the status of your shipment at any time.
What should I do to prepare my vehicle for transport?

---

Before transport, you should ensure that your vehicle is clean and free of personal belongings. You should also remove any toll tags or parking passes, and make note of any pre-existing damage. We'll provide you with detailed instructions for preparing your vehicle for transport when you book your shipment.
What forms of payment do you accept?

---

We accept all major credit cards for online bookings. Please speak to our agents for more options including payment apps such as Zelle and Paypal. Direct deposit and bank transfers including ACH and wire transfers are also accepted.
If you're looking to transport a car to another state, you want a company that you can trust. Our expert auto transport services are designed to make the process as smooth and stress-free as possible. We specialize in shipping cars across country. Choose us for hassle-free car shipping to make your move a success.
Professional Auto Transport to/from other 49 States