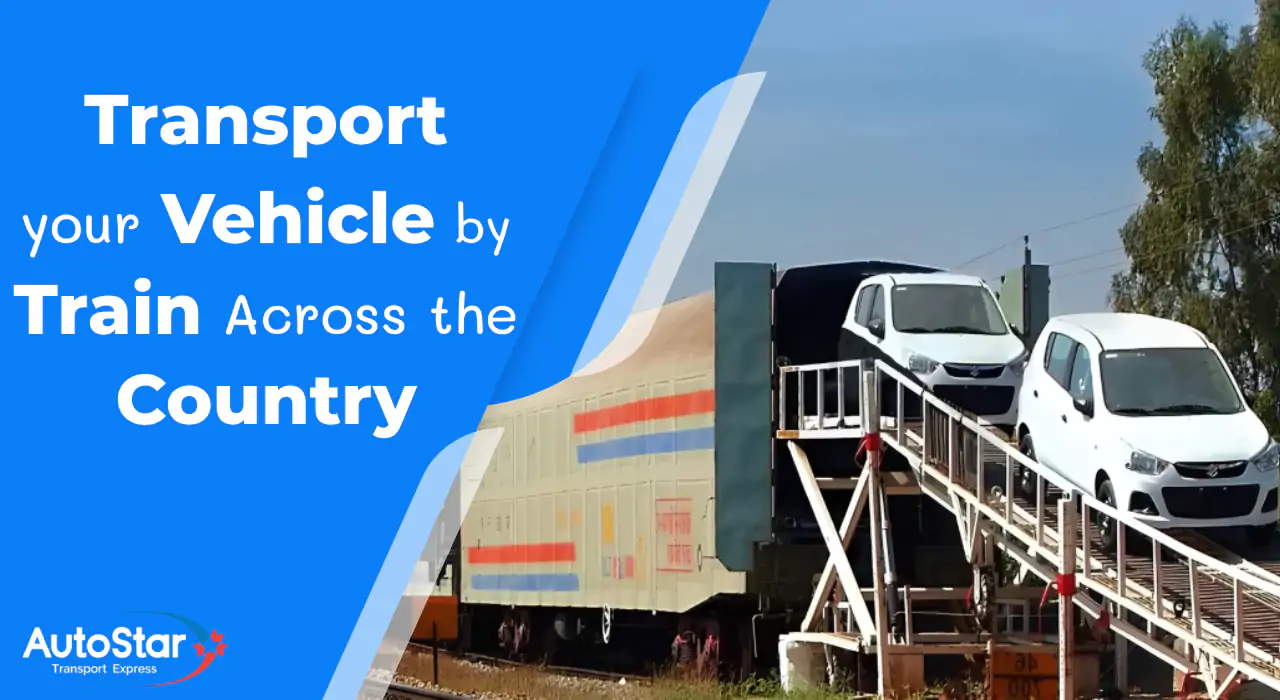 When it comes to shipping a car across the country, many people think of traditional methods like open or enclosed car transport. However, there is another reliable and efficient option that you might not have considered: transport your vehicle by train. AutoStar Transport Express, a leading auto transport company in the USA, offers this convenient service to make your cross-country car shipping experience even smoother. In this article, we will explore the benefits of shipping a car by train and how AutoStar Transport Express can assist you in this process.
The Advantages of Shipping a Car by Train
Shipping your car by train offers several advantages that make it an attractive option for cross-country transportation:
Cost-Effectiveness: Shipping your car by train is often more cost-effective compared to other methods, especially for long-distance journeys. Trains have large carrying capacities, allowing them to transport multiple vehicles simultaneously and reducing the overall cost per car.
Efficiency and Speed: Trains are known for their efficiency and timeliness. They operate on fixed schedules, ensuring that your car will be transported within a specified timeframe. This can be particularly beneficial if you have time constraints or need your car to arrive at a specific date.
Reduced Wear and Tear: Shipping your car by train minimizes wear and tear on your vehicle. Instead of enduring long hours of driving across various terrains, your car will be securely loaded onto a train and transported smoothly and safely to its destination.
Environmental Friendliness: Train transportation is considered a greener option compared to long-distance driving. Trains are known for their fuel efficiency, resulting in lower carbon emissions and a reduced environmental impact.
AutoStar Transport Express understands the importance of providing diverse and convenient options for car shipping. By offering car shipping by train, we strive to meet the unique needs and preferences of our customers. Here's how we ensure a hassle-free experience:
Professional Handling and Loading: Our experienced team takes care of the entire process, from safely loading your car onto the train to securing it during transit. We follow stringent protocols to ensure that your vehicle is handled with the utmost care and attention to detail.
Reliable and Efficient Service: AutoStar Transport Express works with reputable train transportation providers to ensure reliable and efficient service. We have established strong partnerships to guarantee that your car will be transported in a timely manner, arriving at your destination as planned.
Streamlined Communication and Tracking: We understand the importance of staying informed throughout the car shipping process. AutoStar Transport Express provides streamlined communication channels, allowing you to easily reach our customer support team for updates or any inquiries you may have. Additionally, our online tracking system enables you to monitor the progress and location of your vehicle during transit.
How to Get Your Car Ready for Transport by Train
Before you ship your car by train, there are a few steps you should take to prepare it for transport:
Before shipment, properly wash your car to make sure that any damage is evident and that it is in good working order.
Taking personal items out of the car such as Electronics, valuables, and other loose items that might move while being transported should all be taken out of the car.
Turn off any car alarms to prevent them from sounding while you're driving.
Before transport, look for any fluid leaks and have them fixed.
Before shipment, take pictures of your car from all sides and note any existing damage, such as dents or scratches.
Ensure that you have the car's registration, insurance, and any other shipping documentation that the railway company may require.
Make sure to lock your car before shipping. This is a safety feature and can minimize the chance of theft.
How to Arrange Vehicle Transport by Train Across the Country
Arranging car shipping by train with AutoStar Transport Express is a straightforward process. Here's a step-by-step guide:
Contact AutoStar Transport Express: Reach out to our knowledgeable team via phone or our website to discuss your car shipping needs and preferences. Provide details such as the pick-up location, destination, and desired timeframe.
Get a Customized Quote: We will provide you with a customized quote based on your specific requirements. Our pricing is transparent, competitive, and tailored to your budget.
Scheduling and Logistics: Once you accept the quote, we will handle the scheduling and logistics for you. Our team will coordinate with the train transportation provider, ensuring that your car is loaded onto the train at the designated location and time.
Tracking and Delivery: Throughout the shipping process, you can track the progress of your car using our online tracking system. Once the train arrives at the destination, our team will coordinate the unloading process and ensure a smooth delivery to your desired location.
How Much Does it Cost to Ship a Car Across Country by Train?
A number of variables, such as the distance of the shipment, the kind of vehicle being carried, and the particular train company being used, can affect the price of moving a car across the country by train. However, compared to other shipping options like using a reputable auto transport company or driving the car yourself, shipping a car by train can typically be more affordable.
Just as commercial car shipment by train is popular, it's hard to locate Train companies that ship cars for private individuals. One exception is Amtrak, which runs the Amtrak Auto Train between the Washington, D.C., and Orlando, Florida, regions. Snowbirds that travel to the south during the winter and then return in the spring frequently take this route.
Amtrak's auto train typically costs $497 to transport a car from Lorton, Virginia, to Sanford, Florida. Your passenger ticket class and any optional priority offloading will affect the cost. The least-priced passenger ticket is $89, and shipping for standard-size autos is $208.
Conclusion
Shipping your car by train across the country is a convenient, cost-effective, and environmentally friendly option. With AutoStar Transport Express, you can enjoy a hassle-free experience, knowing that your car will be handled with care and delivered to your destination efficiently. Contact AutoStar Transport Express today to explore the possibility of shipping your car by train and experience our exceptional car shipping services.
Frequently Asked Questions
Can I ship my car by train across the country with AutoStar Transport Express?

---

Yes, AutoStar Transport Express offers car shipping by train as a convenient and efficient option for transporting your vehicle across the country. Contact our team to discuss your specific needs and preferences.
How long does it take to ship a car by train with AutoStar Transport Express?

---

The duration of car shipping by train depends on various factors such as the distance, train schedule, and route. Our team will provide you with an estimated timeframe based on your specific circumstances.
Is my car insured during train transportation with AutoStar Transport Express?

---

Yes, your vehicle will be covered by the carrier's cargo insurance. Damages are very rare during transport, but we believe in better safety than sorry. We only work with carriers that are fully insured and reliable. The insurance belongs to a particular carrier company and we keep copies of the policy on file for your protection. At AutoStar Transport Express, we take protecting your vehicle one step further by working with certificate holders on the insurance of the carriers only. This allows us to assist in expediting the filing of a claim on your behalf.
Can I ship multiple cars by train with AutoStar Transport Express?

---

Yes, AutoStar Transport Express can accommodate the shipping of multiple cars by train. Our team will work with you to determine the logistics and provide a tailored solution based on your needs.
What if I have additional questions or need assistance during the car shipping process?

---

AutoStar Transport Express has a dedicated customer support team that is available to assist you throughout the car shipping process. Feel free to contact us via phone or through our website for any inquiries or updates you may need.