Top Rated Missouri Auto Transport Experts
There are more options for traveling than ever before, from ride-shares to new types of car rentals. But there are times when shipping your own vehicle to Missouri makes sense. It might be the cheapest option if you will be in Missouri for a long time.
Or maybe someone in your family or circle of friends needs a vehicle, and you prefer not to drive it. Anytime you need to ship a car to or from Missouri, you need a Missouri Car Shipping company that you can rely on.
AutoStar Transport Express is the Top BBB-rated, safest, reliable, and pocket-friendly car hauling service to ship your car to Missouri.
You can save your money, and time while experiencing the step-by-step car shipping updates using our Missouri(MO) car shipping service.
Our drivers, who are licensed and insured, handle your order with care. You'll always know where it is with our tracking notifications.
We transport hundreds of vehicles every month to Missouri. Get a Missouri auto shipping quote or give us a call at 888-802-8250. You can expect a personalized and easy auto transport experience with us.
Every customer is important to us; Here is why we are one the best car hauling companies to ship your car to or from Missouri.
Find out Real Missouri Auto Transport Testimonials
We loved working with AutoStar Transport Express! Yasmin was so helpful and responsive from the beginning and she made us feel comfortable throughout the whole process.

Our vehicle was picked up a day later than we expected, but was delivered to us quickly and the driver worked with us to find the best drop off location as we were in the middle of moving cross country and were in different locations throughout the process. I would highly recommend AutoStar Transport Express to anyone looking to ship a vehicle and will use them again! Courtney 
Which Vehicles Do We Ship to or from Missouri
Our Missouri car shipping experts specialize in shipping all kinds of vehicles including cars, trucks, motorcycles, RVs, ATVs, ATVs, military and armed forces equipment, tanks, luxury vehicles, vintage cars, heavy construction machinery, trailer, and inoperable vehicles. Call our representative to get an instant quote at 888-802-8250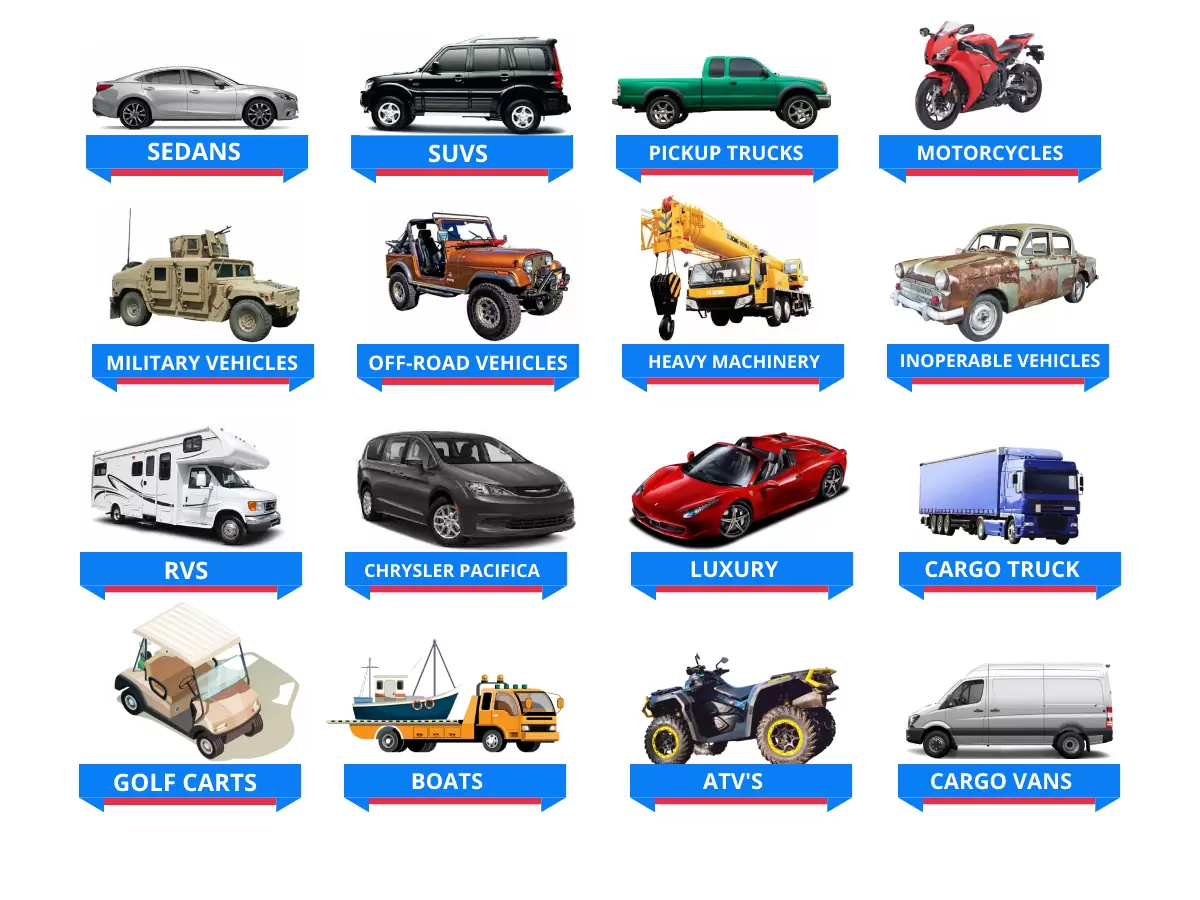 Average Cost to Ship a Car to Missouri
Many factors come into play when making an estimation of the cost to ship a car to Missouri. These include the distance, the vehicle's size and type, the time of year, and the terrain encountered.
Check out our car shipping cost page for more information on the cost of shipping a car.
If you want to know the exact estimate to ship a car to or from Missouri, Use our online quote calculator to get a free and instant quote.
Ready to ship your car to Missouri with AutoStar Transport Express?
Call our Missouri car shipping professionals at 888-802-8250 to get answers to all your questions.
Get a Free Quote
What are the Options to Ship a Car to or from Missouri?
There are two main options to transport your vehicle:
Driving the vehicle by a professional or non-professional driver.
Shipping the vehicle by car transport companies
If the distance is larger than 300 miles, we recommend shipping the vehicle instead of driving it.
Car shipping companies in Missouri generally use two ways to ship your car to or from Missouri.
Enclosed auto Transport: Your car is transported in a fully enclosed trailer and it is safer and offers more protection for your car.
Open Transport: A safe, lesser-known, and more cost-effective option than enclosed shipping is open auto transport.
Want a better, more appropriate, and cheaper way to ship your car? Well, this simple guide will help you with that.
Shipping a Car From Missouri
AutoStar Transport Express provides door-to-door auto shipping service from any residential or business location in Missouri.
Before your car is picked up for shipping from Missouri it will be carefully inspected to record the current condition of the vehicle and safely loaded onto the car carrier as it is now prepared for transport.
Popular Missouri Shipping Locations
Kansas City,
St. Louis,
Springfield
Independence
East Independence
Columbia
Lees Summit
O'Fallon
St. Joseph
Above is a list of the most popular places where we pick up and deliver cars in Missouri – we provide direct service to and from any location in the state.
Shipping a Car to Missouri
Missouri is home to the Ozark Mountains, culturally rich capitals, and a rich US history.  Besides Kansas City and St. Louis, there are a number of other attractions and cities in Missouri to discover.
Branson offers a variety of outdoor attractions, as well as a lively live-music scene, and Wilson Creek National Battlefield preserves a dramatic chapter of Civil War history.
Our Missouri car shipping experts will do the inspection upon arrival at its destination in Missouri to record the current condition of your vehicle at the hour of unloading.
You will be informed that your vehicle is ready to be picked up, just sign off on the bill of lading which also includes the final inspection report to get your vehicle.
Ship Your Car Stress-Free Anywhere in Missouri, Get a Quote Now
Documents Required to Ship a Car to or from Missouri
Drivers don't need documentation for the pickup and delivery of your vehicle, but they will provide you or someone you select with important documents.
You or a representative will be given a copy of a Bill of Lading upon pickup and delivery.
It is important that your driver's license is valid, and your vehicle should be properly registered and insured.
Vehicles that go through ports need additional documents like approvals for lienholders and absent owners.
Special Discounts for Military and Heavy Construction Equipment for Missouri Auto Transport
We offer special discounts to military personnel who ship a car to or from Missouri as well as for the large organization on transportation of Heavy Machinery and Construction Equipments that choose our services.
Things to Consider before Shipping a Car to Missouri
All vehicles may have one fourth (1/4) tank of fuel
Eliminate and secure the loose parts of the vehicle
Make sure the keys are available
Address Engine & Mechanical Problems
Clean your vehicle, inside and out, and record the picture of your vehicle
Disable alarms and anti-theft devices
No personal belongings will be accepted with the exception of factory hardware.
Check the Radiator, Battery, and Tires
Here is a detailed guide on some useful tips to prepare your car before shipping to Missouri.
Here are a few ways To locate our car shipping services in Missouri
Car Shipping Missouri
Auto Shipping Missouri
Car Transport Missouri
Auto Transport in Missouri
Auto Transport Jefferson
Car Haulers Missouri
Missouri Auto Transport
Missouri car shipping
Shipping to Missouri
Car Shipping Jefferson
Car Shipping Jefferson MO
Few ways to locate us in the Nearest States to Missouri
Missouri Popular Car Shipping Routes
Missouri Auto Transport F.A.Q
Transporting a vehicle can be expensive depending on its location. A vehicle sent from Missouri to Los Angeles may cost over $1000. Nevertheless, shipping from Oklahoma City to Kansas City is only about $350. Call 888-802-8250 for a more precise quote from a professional at AutoStar Transport Express.
AutoStar Transport Express makes shipping a car to Missouri as easy as 1-2-3. 1- Calculate your instant auto transport quote and select a convenient pickup time. 2- Our team picks up your vehicle wherever you are in the country.3-  We deliver the vehicle to you in Missouri.
We have many business clients who work with salvage auctions and other types of auto auctions. At the time of booking, we'll ensure that we receive all the details required by each auction to release a vehicle. The vehicle must be fully paid and ready for release from the auction. Likewise, if a vehicle is booked as operable but turns out to be inoperable, the original transporter may not be able to accommodate the vehicle.
If the clearance is below 4 inches, the vehicle will likely need to go on an enclosed trailer with a lift gate. Low-clearance vehicles can't be driven onto an open trailer because the vehicle would bottom out.
Missouri has a number of companies that transport inoperative vehicles, but you should pick one that has experience with this. AutoStar Transport Express is experienced with transporting inoperative vehicles.
 It is critical that you properly describe your car's condition to a transport company. Providing the transport company with the vehicle's condition lets them formulate an effective plan for transporting it.
Looking for a reliable way to transport your vehicle? Our company is an expert in shipping cars from state to state, offering a stress-free and convenient option for relocating your car to your desired destination. We also make it easy to ship a car across country, no matter the distance, and ensure you receive the best possible service.
Professional Auto Transport to/from other 49 States