Rated as one of the Best Car Shipping Companies in Indiana
A state rich with history and entertainment, all corners of Indiana offer amazing places to explore. With fun things to do in Indianapolis, and family-friendly attractions to visit in Fort Wayne, Bloomington, and Lafayette, Indiana has no shortage of exotic and exciting places to visit.
You may need a car in order to explore all that Indiana State has to offer, so when you need to ship a car to or from Indiana, you need an experienced and reputed Indiana auto transport company you can trust on. 
AutoStar Transport Express is the Top BBB-rated, safest, most reliable, and pocket-friendly car hauling service to go with. You can save your money, and time while experiencing the step-by-step car shipping updates using our Indiana car shipping service.
Our drivers, who are licensed and insured, treat your order with care. You're always in the loop with our tracking notifications.
We transport hundreds of vehicles every month to Indiana. Get an Indiana auto shipping quote or give us a call at 888-802-8250. We will make your Indiana auto transport experience personalized and easy for you.
Car Shipping Indiana! Why Choose Us?
As an industry leader, we are committed to providing customers with the highest level of satisfaction. The following are some of the reasons we are one of the top-rated car shipping companies in Indiana:
We ship all kinds of vehicles. We can move any type of vehicle (car, bus, truck, motorcycle, etc.) to Indiana safely. Whatever the condition of your vehicle, our company will do it for you. You can trust us to load and unload your non-moving vehicle with all the necessary tools.
Each vehicle is covered by full insurance. Are you worried about your vehicle's insurance? We are pleased to inform you that we provide our customers with all necessary insurance documentation. Let us worry about your vehicle's safety, so you don't have to!
A high level of customer service You can expect prompt assistance from our qualified agents. They will work with you to find a shipment solution that meets your needs.
There is no need to pay in advance: Shipping a car to Indiana requires no advance payment. Moreover, our Indiana car transport rates are all-inclusive. We only receive payment once your vehicle is dispatched to Indiana.
Real-time tracking: In every step of the delivery process, our professionals track your vehicle and provide you with the most up-to-date status.
Customized car shipping Indiana: Due to the fact that everyone's needs are different, we offer customized Indiana Car Transport services. You can rely on us to find the best way to ship a car across the country. For assistance, you can also contact our dispatch, support, and claims departments.
Best shipping prices: We always offer the best car shipping prices. Find out the most accurate and fairest cost for Indiana car transport with our smart online calculator.
How Does Indiana Auto Shipping work?
Are you looking for an auto transport company near me in Indiana? It's easy to ship a car to/from Indiana with AutoStar Transport Express.  The service we offer is affordable, flexible, safe, and convenient.
Shipping a car to Indiana involves the following steps:
Request a quote and place your order: Contact us by filling out the quote form, sending an email to info@autostartransport.com, or calling 888-802-8250. We will inform you of the pick-up time, tracking number, and truck driver's information.
Vehicle Pick-up: Your vehicle will be carefully inspected and loaded onto the carrier on the day of pickup. We provide tracking updates throughout the transport process.
Receive the Vehicle: Your vehicle will be shipped directly to your door with our door-to-door car shipping service. In addition to full coverage insurance, we also provide a money-back guarantee. In order to receive your vehicle, you must sign the bill of lading and the final inspection report.
Are you ready to ship your car to Indiana?
Contact AutoStar Transport Express at 888-802-8250 or fill out the form below to receive a free and instant car shipping quote.
Long Distance Auto Transport to/from Indiana
The idea of driving across the country isn't convenient for anyone, whether it's for a new job, studies, or a move to a new home. Car shipping companies like AutoStar Transport Express operate throughout the country, so you can count on us for across-country auto transport.
For your peace of mind, we offer a personalized car transport service with 24/7 monitoring, regular updates, and insurance coverage.
So if you need to ship your car to another state for example shipping a car from Indiana to California, AutoStar Transport Express is the safest, and most pocket-friendly way to ship a car anywhere in the world.
International Auto Transport Services from/to Indiana
With AutoStar Transport Express, international auto shipping can be stress-free. Let us help you save time by providing the complete list of documents you'll need.
We partner with the best international shipping companies so that we can provide you with the best shipping experience. We provide international car shipping services to and from the following locations:
Ready to ship your car to Indiana with AutoStar Transport Express?
Call our Indiana car shipping professionals at 888-802-8250 to get answers to all your questions.
Get a Free Quote
Shipping Classic and Luxury Cars in Indiana
It is important to pay special attention to the shipping of luxury or antique automobiles to Indiana. An open trailer is also a viable option for transporting them. But enclosed car shipping is a better option if you don't mind spending a little extra to be sure they're fully protected.
Snow, wind, and rain can damage an exotic or classic car's body if left exposed to the elements. An enclosed carrier, on the other hand, eliminates this problem. It is safer to load cars with low ground clearance on such trucks since the chances of them getting damaged are reduced.
Our experienced team will make sure your valuable car arrives on time and without a hitch! Our enclosed auto transport services are therefore perfect for transporting classic cars. Although they are more expensive, they are also better in every way.
How Much Does it Cost to Ship a Car to Indiana?
Many factors come into play when making an estimation of the cost to ship a car to Indiana. These include the distance, the vehicle's size and type, the time of year, and the terrain encountered.
Cost and Times Estimates for Car Shipping Indiana 
| From | To | Cost | Time Estimated for Delivery |
| --- | --- | --- | --- |
| Indiana | New York  | $570 | 2 - 4 days |
| California | Indiana  | $1200 | 6 - 8 days |
| Indiana | Oregon | $1350 | 6 - 8 days |
| Indiana | Florida | $750 | 4 - 6 days |
| Texas | Indiana | $590 | 4 - 6 days |
| Phoenix | Indiana | $1180 | 5 - 7 days |
| Indiana | Las Vegas | $1320 | 6 - 8 days |
Times and prices are estimated. Shipping costs can vary depending on the season and type of vehicle.
If you want to know the exact estimate to ship a car to or from Indiana, Use our online quote calculator to get a free and instant quote.
Pro Tips: For more information, please visit our page on car shipping costs.
Ready to ship your car to Indiana with AutoStar Transport Express?
Call our Indiana car shipping professionals at 888-802-8250 to get answers to all your questions.
Get a Free Quote
Which Vehicles Do We Ship to Indiana?
Our Indiana car shipping experts specialize in shipping all kinds of vehicles including cars, trucks, motorcycles, RVs, ATVs, ATVs, military and armed forces equipment, tanks, luxury vehicles, vintage cars, heavy construction machinery, trailer, and inoperable vehicles. Call our representative to get an instant quote at 888-802-8250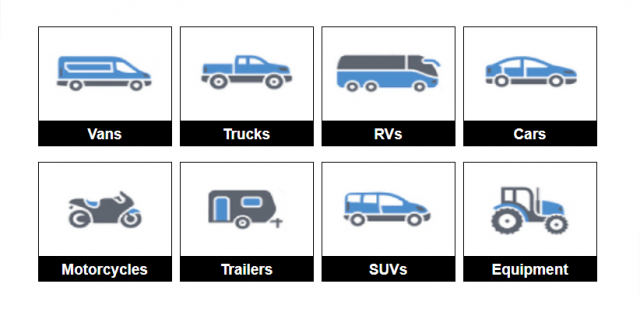 What are the Options to Ship a Car to or from Indiana?
It doesn't matter if you're buying a car online or relocating to or from Indiana State, you'll have two main choices to transport your vehicle:
Driving the vehicle by a professional or non-professional driver.

Shipping the vehicle by Indiana Car Transport Companies
If the distance is larger than 300 miles, we recommend shipping the vehicle instead of driving it. Auto transport companies generally use two ways to ship your car to or from Indiana.
Enclosed Transport: Your car is transported in a fully enclosed trailer and it is safer and offers more protection for your car.
Open Transport: A safe, lesser-known, and more cost-effective option to enclosed shipping is open auto transport.
Want a better, more appropriate, and cheaper way to ship your car? Well, this simple guide will help you with that.
Shipping a Car From Indiana
AutoStar Transport Express provides door-to-door auto shipping service from any residential or business location in Indiana.
Before your car is picked up for shipping from Indiana it will be carefully inspected to record the current condition of the vehicle and safely loaded onto the car carrier as it is now prepared for transport.

Major Areas Where We Serve
We are the most trustworthy auto shipping company covering all cities in Indiana including Indianapolis, Fort Wayne, Evansville, South Bend, Carmel, and Fishers.
Shipping a Car to Indiana
Indiana, the 19th state of the United States, is situated in the midwestern United States and is well known for its sports teams and higher educational institutions.
If you are shipping a car from other states for example, (shipping a car from California to Indiana), our Indiana car shipping experts will do the inspection upon arrival at its destination in Indiana to record the current condition of your vehicle at the hour of unloading. 
You will be informed that your vehicle is ready to be picked up, just sign off on the bill of lading which also includes the final inspection report to get your vehicle.
Ship Your Vehicle Anywhere in Indiana Stress-Free, Get a Quote Now
Documents Required to Ship a Car to or from Indiana
Drivers don't need documentation for the pickup and delivery of your vehicle, but they will provide you or someone you select with important documents.
You or a representative will be given a copy of a Bill of Lading upon pickup and delivery.
It is important that your driver's license is valid, and your vehicle should be properly registered and insured.
Vehicles that go through ports need additional documents like approvals for lienholders and absent owners.
Special Discounts for Military Personnel
We offer special discounts to military personnel who ship a car to or from Indiana.
Information About the State Of Indiana
Indiana (IN), the 19th state of the United States, is located in the Midwestern region. The state is known for its sports teams and higher education institutions. A super-low cost of living makes Indiana one of the most affordable states in the US. In Indiana, there are four distinct seasons. It has sunny summers, snowy winters, beautiful springs, and breathtaking fall foliage. Public transport in the state, according to those who already live there, could be improved. The best way to get around is to drive your car. There is a robust education system in Indiana. High school graduation rates in Indiana are around 87 percent.
Things to Consider Before Shipping a Car to Indiana
For a vehicle to be legally operated on the roads in Indiana, it must first be registered at the Department of Motor Vehicles (BMV). Upon moving to Indiana, new residents have 60 days to register their vehicles at a branch of the BMV.
You can register your vehicle either online or in person. Whatever the method of transmission, the following documents are mandatory: title, driver's license, car insurance proof, and registration fee.
At the time of registration, you may be required to pay an excise tax based on your vehicle's price and age.
Every two years, you must submit your car to an emissions test in Indiana to keep it legally circulating. The inspection is not required at the time of registration. Inspections can be conducted by officers of the law or by the BMV.
How Do I Prepare My Car For Car Shipping Indiana?
Make sure you follow these simple steps before shipping a car to Indiana to make the shipping process hassle-free.
Check Working Condition: In order to avoid surprises during transport, make sure the car is in good working condition. Ensure the batteries and tires are in good condition and check for leaks in the engine and transmission.
Secure Loose Parts: You should remove or secure any loose components, such as antennas or decorative trims. This will decrease the chance of damaging these loose parts or the surrounding area during transport.
Clean Your Car: Wash your car thoroughly before shipping it to identify any existing dents or scratches.
Empty Gas Tank: Since you won't be driving your car for long distances during transport, keep the fuel tank at just a quarter full.
Remove Personal Items: Turn off alarms and anti-theft devices. Remove parking passes, vital documents, and household items (to avoid surprises).
Duplicate Keys: Keep two sets of keys: one for the shipping company and one for backup.
Take Pictures: You should take extensive photos of the interior and exterior of the car during the handover to ensure that you document the condition of the vehicle.
Here is a detailed guide on some useful tips to prepare your car before shipping to Indiana.
Few ways to locate us in the Nearest State to Indiana
Other Helpful Resources for the State of Indiana
Successful Indiana Car Shipping Reviews
See what clients have to say about our Indiana car transport services have to say on the top review sites.
Car Shipping Indiana FAQs
What is the cost of shipping a car to Indiana?

---

The cost of shipping a car to Indiana depends on where it will be picked up and how long it will take to ship. Find out your Indiana auto transport rate and carrier availability instantly with our online quote calculator above the page.
Can a modified or oversized vehicle be shipped to Indiana?

---

Thanks to our advanced network of specialized carriers, we can ship vehicles of any size nationwide.
Can I get a discount?

---

That's possible! AutoStar offers a variety of discount programs. We frequently offer seasonal discounts to senior citizens, students, and military personnel. Feel free to contact us if you are looking for additional discounts.
Is my car insured during shipping?

---

Federal law requires all shipping companies to carry cargo insurance, which means you will be covered if your car gets damaged during transportation.

Once the car has been delivered, we recommend inspecting it for any damage. This will allow us to start your claim as soon as possible.
Is it possible to put things in the vehicle?

---

It is not permitted according to FMCSA and D.O.T. regulations. However, it is common practice to allow between 50-100 lbs in the trunk or out of sight.
What are the payment options for Indiana Car Transport?

---

The most common payment method is Zelle. It is necessary to take care of everything before releasing the vehicle. We also accept ACH, wire transfers, direct deposits, and credit/debit cards.
How long does it take to ship a car to Indiana?

---

Most vehicles are picked up within a few days of becoming available! Please consult with our staff regarding your specific transportation needs so that they can advise you on what to expect based on your route and vehicle.
Are there any hidden fees?

---

The quote we provide covers all costs associated with transporting your vehicle to Indiana. In addition to pick-up and delivery, your quote includes insurance and taxes.
Need an Indiana Car Shipping Quote?
Send us an email or call 888-802-8250 for a FREE CAR SHIPPING QUOTE to Indiana. If you have any questions, we look forward to answering them as soon as possible! Providing our Indiana clients with the best auto transport service at the most affordable rates is our goal.