Rated as one of the Best Car Transport Companies in Indiana
If you're moving to or from Indiana and require a reliable car transportation partner to transport your vehicle safely and efficiently, look no further than AutoStar Transport Express.
Our extensive experience, exceptional customer service, and dedication to delivering your vehicle on time and in optimal condition have made us the preferred choice for hassle-free car shipping services in Indiana.
Choose AutoStar Transport Express for a stress-free and dependable car transportation experience in Indiana.
Get an Indiana auto shipping quote or give us a call at 888-802-8250. We will make your auto transport experience personalized and easy for you.
16+

Years of experience

30,000+

Vehicle moves a year

50 states

Coverage across country

20,000+

Carriers for auto delivery
Auto Transport Indiana! Why Choose Us?
As an industry leader, we are dedicated to delivering the highest level of customer satisfaction. Here are a few reasons why we consistently rank as one of the top car transport companies in Indiana:
Online tracking

In every step of the delivery process, our professionals track your vehicle and provide you with the most up-to-date status.

No Advance Payment

Our Indiana car transport rates are all-inclusive. We only receive payment once your vehicle is dispatched to Indiana.

Fully Insured

Your vehicle will be covered by the carrier's cargo insurance.

Best shipping prices

We always offer the best car shipping prices. Find out the most accurate and fairest cost for Indiana car transport with our smart online calculator.
How Does Auto Transport Indiana Work?
It's easy to ship a car to/from Indiana with AutoStar Transport Express.  The service we offer is cost-effective, flexible, safe, and convenient. Shipping a car to Indiana involves the 3 following steps:
Request a quote and place your order:

---

Contact us by filling out the quote form, sending an email to info@autostartransport.com, or calling 888-802-8250. We will inform you of the pick-up time, tracking number, and truck driver's information.
Vehicle Pick-up: 

---

On the day of pickup, your vehicle will be meticulously inspected and securely loaded onto the carrier. We'll keep you updated with tracking information throughout the transportation process.
Receive the Vehicle:

---

With our door-to-door car shipping service, your vehicle will be delivered directly to your doorstep. We offer full coverage insurance and a money-back guarantee for your peace of mind. Upon receiving your vehicle, you'll need to sign the bill of lading and the final inspection report.
How Much Does it Cost to Ship a Car to/ from Indiana?
Many factors come into play when making an estimation of the cost to ship a car to or from Indiana. These include the distance, the vehicle's size and type, the time of year, and the terrain encountered.
Estimated Indiana Car Shipping Rates 
| From | To | Cost | Time Estimated for Delivery |
| --- | --- | --- | --- |
| Indiana | New York  | $570 | 2 - 4 days |
| California | Indiana  | $1200 | 6 - 8 days |
| Indiana | Oregon | $1350 | 6 - 8 days |
| Indiana | Florida | $750 | 4 - 6 days |
| Texas | Indiana | $590 | 4 - 6 days |
| Phoenix | Indiana | $1180 | 5 - 7 days |
| Indiana | Las Vegas | $1320 | 6 - 8 days |
Times and prices are estimated for a sedan vehicle. Shipping costs can vary depending on the season and type of vehicle.
If you want to know the exact estimate to ship a car to or from Indiana, Use our online quote calculator to get a free and instant quote.
Ready to ship your car to Indiana with AutoStar Transport Express?
Call our Indiana car shipping professionals at 888-802-8250 to get answers to all your questions.
Get a Free Quote
Which Vehicles Do We Ship to/from Indiana?
Our Indiana car shipping experts specialize in shipping all kinds of vehicles including cars, trucks, motorcycles, RVs, ATVs, ATVs, military and armed forces equipment, tanks, luxury vehicles, vintage cars, heavy construction machinery, trailer, and inoperable vehicles. Call our representative to get an instant quote at 888-802-8250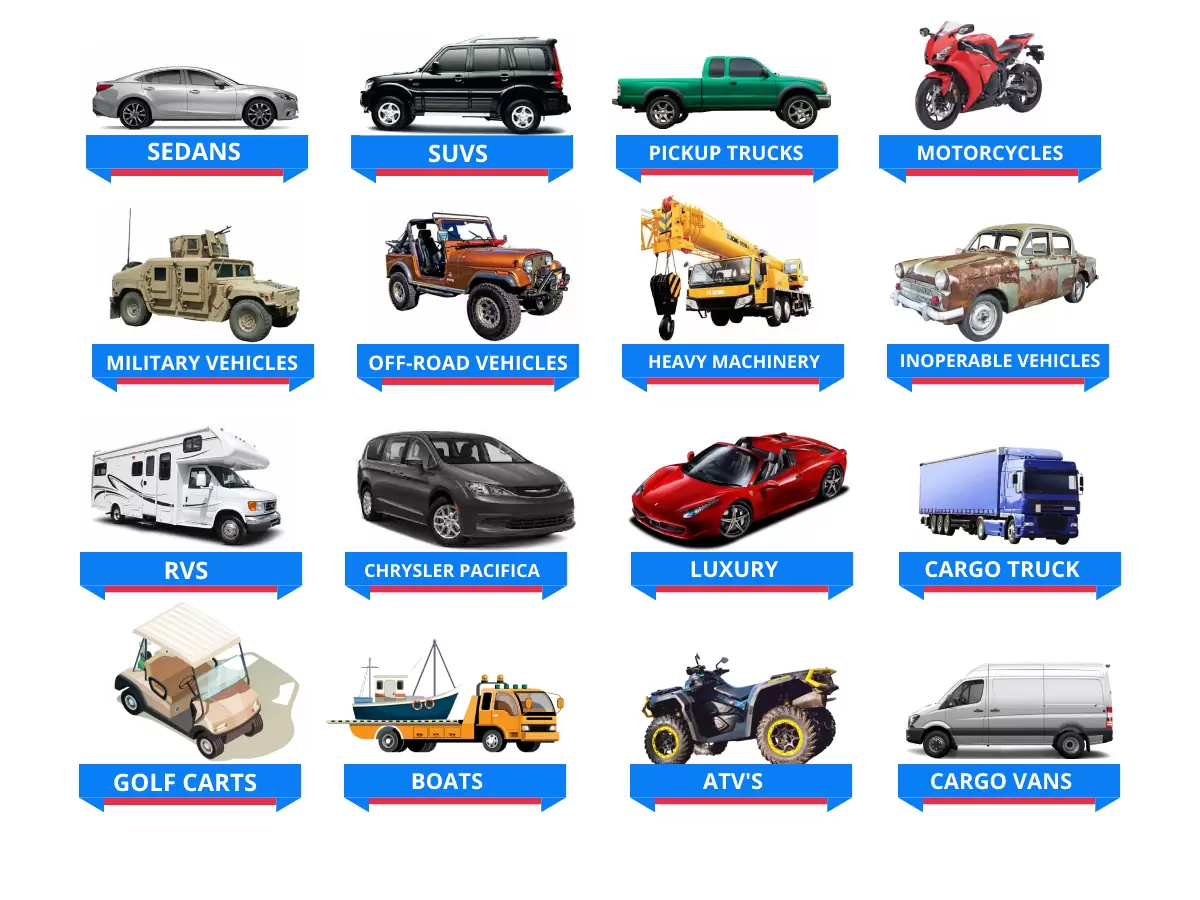 What are the Options to Ship a Car to or from Indiana?
When considering car shipping options to or from Indiana, you have several methods to choose from. Here are the three primary options for your convenience:
Open Car Transport: Experience cost-effective car shipping with our open transport option, ideal for safely transporting your vehicle while keeping your budget in mind.
Enclosed Car Transport: If you own a classic, luxury, or exotic car and want added protection from weather and road debris, enclosed transport is the way to go. Your vehicle will be shipped in a covered trailer, ensuring it remains in pristine condition throughout the journey.
Door-to-Door Car Shipping: Enjoy the ultimate convenience with our door-to-door shipping, ensuring your vehicle is picked up from and delivered directly to your specified locations.
Looking for a cost-effective method to ship your car? This straightforward guide on the cheapest way to ship a car is here to assist you in finding the perfect solution.
Special Discounts for Military Personnel
We offer special discounts to military personnel who ship a car to or from Indiana.
Things to Consider Before Shipping a Car to Indiana
For a vehicle to be legally operated on the roads in Indiana, it must first be registered at the Department of Motor Vehicles (BMV). Upon moving to Indiana, new residents have 60 days to register their vehicles at a branch of the BMV.
You may be required to pay an excise tax based on your vehicle's price and age.
Every two years, you must submit your car to an emissions test in Indiana to keep it legally circulating. The inspection is not required at the time of registration. Inspections can be conducted by officers of the law or by the BMV.
Top 5 Tourist Attractions in Indiana
Indianapolis Motor Speedway: Home to the iconic Indy 500 and Brickyard 400 races, this world-renowned racing circuit is a must-visit for motorsports enthusiasts.
The Children's Museum of Indianapolis: As the largest children's museum in the world, this interactive learning center features engaging exhibits and hands-on activities for kids of all ages.
Indiana Dunes National Park: Situated along the southern shores of Lake Michigan, this beautiful park offers 15,000 acres of diverse landscapes, including sandy beaches, wooded trails, and stunning sand dunes.
Brown County State Park: Nicknamed the "Little Smokies" due to its resemblance to the Great Smoky Mountains, this picturesque park is known for its beautiful fall foliage, scenic vistas, and miles of hiking and horseback riding trails.
Holiday World & Splashin' Safari: This family-friendly amusement park in Santa Claus, Indiana, offers a mix of thrilling rides, roller coasters, and a large water park.
Popular Car Shipping Routes to or From Indiana
Top 4 Helpful Resources for the State of Indiana
Successful Indiana Car Shipping Reviews
Discover Our Comprehensive Indiana Car Shipping Services
With AutoStar Transport Express's vast carrier network and extensive expertise, you can trust us to transport your vehicle securely and promptly from any location in the USA to any location in Indiana.
Kokomo, IN
46901, 46902 & surrounding areas
Muncie, IN
47302, 47302, 47303, 47304, 47305, 47306 & surrounding areas
Evansville, IN
47708, 47710, 47711, 47712, 47713, 47714, 47715, 47720, 47725 & surrounding areas
Fishers, IN
46037, 46038, 46040, 46055, 46060, 46250, 46256 & surrounding areas
Fort Wayne, IN
46774, 46802, 46803, 46804, 46805, 46806, 46807, 46808, 46809, 46814, 46815, 46816, 46818, 46819, 46825, 46835, 46845 & surrounding areas
Gary, IN
46402, 46403, 46404, 46405, 46406, 46407, 46408, 46409, 46410 & surrounding areas
Hammond, IN
46320, 46323, 46324, 46327, 46394 & surrounding areas
Indianapolis, IN
46113, 46183, 46201, 46202, 46204, 46205, 46208, 46214, 46217, 46218, 46219, 46220, 46221, 46222, 46224, 46225, 46226, 46235, 46236, 46239, 46241, 46254, 46259, 46268, 46278 & surrounding areas
Lafayette, IN
47901, 47904, 47905, 47909 & surrounding areas
South Bend, IN
46544, 46545, 46556, 46601, 46613, 46614, 46615, 46616, 46617, 46619, 46628, 46635, 46637 & surrounding areas
Car Shipping Indiana FAQ
What is the cost of shipping a car to Indiana?

---

The cost of shipping a car to Indiana depends on where it will be picked up and how long it will take to ship. Find out your Indiana auto transport rate and carrier availability instantly with our online quote calculator above the page.
Can a modified or oversized vehicle be shipped to Indiana?

---

Thanks to our advanced network of specialized carriers, we can ship vehicles of any size nationwide.
Can I get a discount?

---

That's possible! AutoStar offers a variety of discount programs. We frequently offer seasonal discounts to senior citizens, students, and military personnel. Feel free to contact us if you are looking for additional discounts.
Is my car insured during shipping?

Yes, your vehicle will be covered by the carrier's cargo insurance. Damages are very rare during transport, but we believe in better safe than sorry. We only work with carriers that are fully insured and reliable. The insurance belongs to a particular carrier company and we keep copies of the policy on file for your protection. At AutoStar Transport Express, we take protecting your vehicle one step further by working with certificate holders on the insurance of the carriers only. This allows us to assist in expediting the filing of a claim on your behalf.
Is it possible to put things in the vehicle?

---

It is not permitted according to FMCSA and D.O.T. regulations. However, it is common practice to allow between 50-100 lbs in the trunk or out of sight.
What are the payment options for Indiana Car Transport?

---

The most common payment method is Zelle. It is necessary to take care of everything before releasing the vehicle. We also accept ACH, wire transfers, direct deposits, and credit/debit cards.
Are there any hidden fees?

---

The quote we provide covers all costs associated with transporting your vehicle to Indiana. In addition to pick-up and delivery, your quote includes insurance and taxes.
How Do I Prepare My Car For Car Shipping Indiana?

---

Make sure you follow these simple steps before shipping a car to Indiana to make the shipping process hassle-free.

Check Working Condition: In order to avoid surprises during transport, make sure the car is in good working condition. Ensure the batteries and tires are in good condition and check for leaks in the engine and transmission.
Secure Loose Parts: You should remove or secure any loose components, such as antennas or decorative trims. This will decrease the chance of damaging these loose parts or the surrounding area during transport.
Clean Your Car: Wash your car thoroughly before shipping it to identify any existing dents or scratches.
Empty Gas Tank: Since you won't be driving your car for long distances during transport, keep the fuel tank at just a quarter full.
Remove Personal Items: Turn off alarms and anti-theft devices. Remove parking passes, vital documents, and household items (to avoid surprises).
Duplicate Keys: Keep two sets of keys: one for the shipping company and one for backup.
Take Pictures: You should take extensive photos of the interior and exterior of the car during the handover to ensure that you document the condition of the vehicle.

Here is a detailed guide on some useful tips to prepare your car before shipping to Indiana.
Need an Indiana Car Shipping Quote?
Send us an email or call 888-802-8250 for a FREE CAR SHIPPING QUOTE to Indiana. If you have any questions, we look forward to answering them as soon as possible! Providing our Indiana clients with the best auto transport service at the most affordable rates is our goal.
When transporting a car to another state or shipping across the country, trust us for safe, reliable, and efficient auto transport services. With a proven track record, experienced team, and top-of-the-line equipment, we're your ultimate choice for car transport needs.
Professional Auto Transport to/from 49 other States