Yo, world travelers! Ever heard of Saipan? It's the largest Mariana island in the US, located in the western Pacific Ocean, just a stone's throw away from Guam.
With luxury hotels and sandy beaches on the west side and rugged rocky cliffs and reefs on the east side, Saipan is a tropical paradise perfect for soaking up the sun and relaxing. Plus, the lagoon created by the coral reef is an Instagram-worthy sight you won't want to miss.
Tourism is the main economic activity on this island, so get ready to be pampered with a high standard of living and plenty of fun in the sun. Pack your bags and head to Saipan for the ultimate island getaway!
Ship a Car To or From Saipan with Experts:
Calling all car owners in Saipan! Don't stress about shipping your vehicle to/from the island because AutoStar Transport Express has got you covered.
Our experienced team offers safe and convenient car shipping services, with access to our bilingual logistics team and personalized support. Plus, with just one click, you can get a reliable quote for your car shipping needs – for free!
Say goodbye to the hassle and hello to a smooth and easy car shipping experience with AutoStar Transport Express. Contact us today to learn more and get started on your car shipping journey.

Why Choose Us to Ship Your Vehicle to Saipan?
AutoStar Transport Express knows how precious your vehicle is to you, so they take extra precautions to make sure it reaches its destination safely. With 16 years of experience in car shipping to Saipan, AutoStar Transport Express is trusted by several major auto brands across the country.
No Upfront Fees

With no upfront payments, you won't be charged until a carrier is assigned to your transport. Book your transport today with no upfront fees!

One-stop Shop

Great rates, quick routes, and the ability to track your car are our guarantees when it comes to car shipping to Saipan with us.

Trusted Partners

The highest standards of car handling and transport are ensured by our partnerships with world-class carriers. They ensures that your vehicle will be protected during transit.
Options for Car Shipping to Saipan
Shipping a car to or from Saipan, which is a U.S. territory in the Pacific Ocean, is possible through a variety of transport options.
Roll-on/roll-off (RoRo service)
RORO (Roll on Roll Off) is the simplest and cheapest way to ship vehicles. This method applies to any vehicle that is in running condition. Once the car has been loaded onto the ship, it is strapped to the deck so it doesn't move during transport. Once it is loaded, it is strapped to the deck to ensure it stays fixed.
Container Shipping
Enclosed container shipping offers extra protection for high-end vehicles. Containers are loaded onto the vessel and are then unloaded by cranes once they arrive at their destination. Although more expensive, this method is considered the safest and fastest.
Shared Container Service: Each vehicle is securely loaded into an enclosed ocean container, along with several others that share in the added shipping costs.
Full Container Load: Enjoy the advantage of a fully enclosed shipping container that will contain only your vehicle and be transported to Saipan in a 20ft container. Full container shipping to Saipan is faster, as well as safer.
Terminal to Terminal Car Shipping
Terminal to Terminal Car Shipping provides a cost-effective option for vehicle owners who are looking to save money on their shipping expenses. Driving to a nearby terminal will allow you to reduce your ground transportation costs. There, your car will be checked by our car shipping experts and transported to the terminal of your choice.
Required Documents for Shipping Car To Saipan
The vehicle import process in Saipan is no different from that in most countries. Before shipping your vehicle, you need to consider some of the most pertinent questions, such as:
Copy of Passport
Driver's license
Valid Insurance documents
Form 3520-21 from the Environmental Protection Agency
7501 Customs Form.
Form HS-7 for the Department of Transportation.
Title & Vehicle Registration (Original)
Ocean Bill of Lading (Specifying brand and model, year, cubic capacity, as well as chassis and engine numbers)
Notarized letters of authorization from any non-present party listed on the Title (lien holder or spouse, etc)
As a US territory, vehicles that are shipped to Saipan from mainland USA, are subject to USA emission standards. Vehicles that don't meet USA emission requirements will be returned at the owner's expense.
Taxes and Customs
A few of the most critical questions you must address during the vehicle shipping process are:
If you're just moving the car temporarily or if you plan to keep it.

Have you owned the car for at least 6 months?

Whether you're importing a new or used car.
You'll need to answer these questions and more to determine whether your car is eligible for shipping to Saipan.
Saipan, CNMI government will impose local customs duties and excise taxes on vehicles imported from the USA:
Vehicles under $30,000 – 5%
Vehicles over $30,000 – 5.75%
Additionally, a non-US citizen who registered the car for tourism is not allowed to sell it.
Which Vehicles Do We Ship to or from Saipan?
AutoStar Transport Express specializes in shipping all kinds of vehicles including cars, trucks, motorcycles, RVs, ATVs, ATVs, military vehicles, Heavy Machinery, trailer, and inoperable vehicles.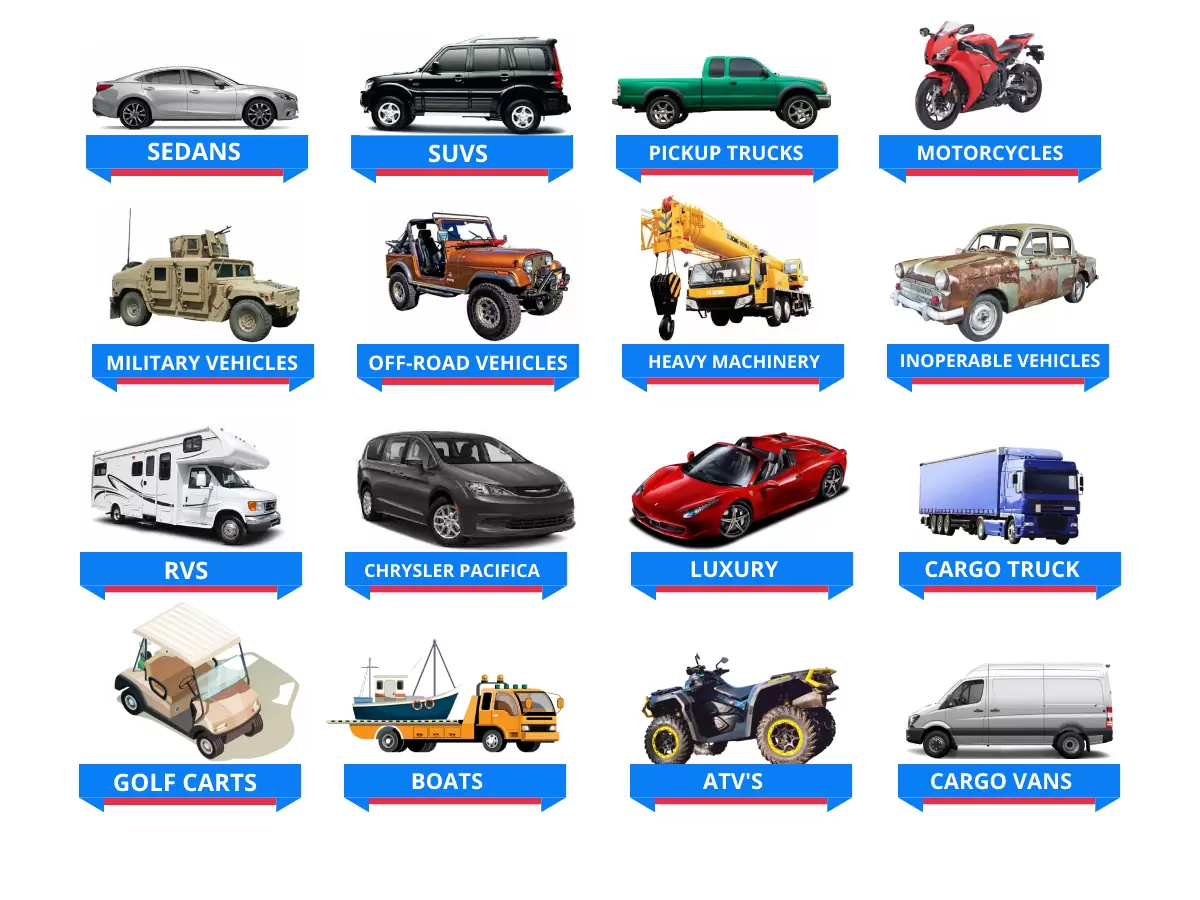 How to Ship a Car to Saipan
Getting ready to ship cars to Saipan begins with understanding Saipan's importation procedures. The general process of shipping cars to Saipan is as follows:
Step 1: Verify Shipping Eligibility
This step involves checking the regulations and requirements set by relevant authorities such as EPA, DOT, and FMVSS for importing a car to Saipan.
Step 2: Get a Quote from a Shipping Company
This step involves getting in touch with a trustworthy car shipping company, like AutoStar Transport Express, to obtain a quote for shipping the car. The company will ask about the car's details and the preferred shipping method to recommend the best solution.
Let our dedicated staff provide you with the pick-up time, tracking number, and driver's contact information after you submit our online quote form, email [email protected], or call 888-802-8250.
Step 3: Make Arrangements & Complete the Delivery Process
This step involves making necessary arrangements like having the required paperwork, understanding the cost, and determining the registration and insurance requirements for the destination.
It also involves the pick-up of the vehicle, delivery, and completing the process by signing the bill of lading and inspecting the car.
Pick-up and Delivery Ports
The vehicle pickup locations are situated on the US mainland that include Long Beach and Oakland in California and Seattle in Washington. These ports serve as starting points for the vehicle shipment, and the vehicle will be transported to the Port of Saipan, the delivery port. The Port of Saipan is located in Saipan, the capital of the Northern Mariana Islands.
Some Precautionary Measures to Consider
When shipping your car, there are many things to consider, some of which may charge you a huge penalty or may cause the return of your car from the port, such as:
Wash Your Vehicle

---

The outside of all vehicles must be clean so that we can do a vehicle survey at the loading port. Dirty vehicles can't be shipped. We won't be able to ship your vehicle until it's been cleaned at your expense and reinspected by the USDA.
Remove all personal Belongings

---

Only permanent equipment and accessories are allowed to be shipped in the car. Loose items, such as radios, CDs, tape players, telephones, power boosters, speakers, ornaments, covers, roof racks, alarm systems, etc., should be removed before shipping.
Cleaning Your Vehicle's Undercarriage

---

You need to clean your vehicle's undercarriage before shipping it to Saipan to prevent the introduction of invasive plants, animals, fungi, and microorganisms. It can be done by steam cleaning or any other thorough cleaning method.
Empty fuel tank

---

Please deliver your vehicle with 1/4 tank or less of fuel. Call us for special shipping instruction if your vehicle run on Alternative fuel like propane, electric, natural gas, etc.
Remove Fire Extinguishers

---

The point states that fire extinguishers must be removed before shipping the vehicle. It is because federal regulations do not allow fire extinguishers to be shipped with the automobile.
Electric Vehicles Preparation

---

The battery of an electric vehicle must have a minimum charge of 45% and a maximum of 50% for shipment. Any deviation from this will result in rejection.
We also Ship to
There are some cities  223Km close to Saipan, so we also provide auto shipping services to those cities, some of them are: 
Garapan, Northern Mariana Islands
Susupe, Northern Mariana Islands
Car Transport Special Discounts
When choosing our auto transport services, there is a special discount for Seniors, Students, and Military members who want to transport one or more vehicles to or from Saipan.
Saipan Car Transport FAQs
Shipping your car to or from Saipan sounds scary and complicated, right? Well, it can be if you choose the wrong shipping company. Fortunately, we have answered the most important questions to eliminate guesswork.
Can I transport my inoperable vehicle to Saipan?

---

Yes, this must be specified before we begin to do the booking! AutoStar Transport Express has a decade of experience in shipping non-running or inoperable vehicles, Our Experts can transport any type of non-running vehicle.
What happens if your car does get damaged? 

---

If damage is reported the standard procedure for submitting a damage claim will be followed and customers will be kept in the loop every step of the way.
 Am I allowed to ship a car to Saipan with my personal items in it?

---

Nope, the rules for car shipping to Saipan are pretty strict on this and all personal items must be removed.

… Except for two baby seats, properly strapped to the back seat.
How can I track my vehicle? 

---

Once we confirm the transport for you, we'll send you an email with a link where you can track your vehicle or you can always give us a shout and we'll let you know where it is!
 Will my car be exposed to the elements?

---

Your vehicle will be towed underneath the deck of a ship for the duration of the trip, even though the ports are not covered. In transit, it will be well protected.
 How can I pay?

---

The most common payment form is through Zelle and it has daily limits, everything has to be prepaid in order for the vehicle to be released. You can also pay through Credit Card, Direct Deposit, Wire Transfer or PayPal.
Our Successful Saipan Car Transport Reviews
Here is what our Saipan car shipping service is said to be like.