We are one of the best Vermont auto transport companies! 🌄🚗
Whether you're a Vermont local, a college student heading back to campus, or a classic car enthusiast showcasing your prized possession, we've got you covered.
With our customer-first approach and commitment to making your car shipping experience as smooth as possible, you'll quickly understand why AutoStar Transport Express is the go-to choice for Vermonters and beyond.
You will receive step-by-step car shipping updates with our auto transport service.  You're always in the loop with our tracking notifications.
So grab a cup of your favorite Vermont maple latte, sit back, and let us show you how we can make your vehicle transportation a breeze.
Get a Vermont auto shipping quote or give us a call at 888-802-8250.
16+

Years of experience

30,000+

Vehicle moves a year

50 states

Coverage across country

20,000+

Carriers for auto delivery
Vermont Auto Transport! Why Choose Us? 🌟
We're not just another car shipping company – we're your dedicated partner in providing exceptional vehicle transportation services, tailored to your needs. Here are some reasons that make us stand out from the crowd:
Personalized Service

Our friendly team of experts will work closely with you to understand your unique needs and ensure a seamless shipping experience.

Competitive Pricing

We offer transparent and affordable pricing without compromising on the quality of our services.

Excellent Customer Support

Our friendly and knowledgeable customer service team is available to assist you every step of the way, ensuring a smooth and stress-free car shipping experience.

Real-Time Tracking

Stay informed about your vehicle's whereabouts with our real time tracking capabilities, providing you with peace of mind throughout the shipping process.
Which Vehicles Do We Ship to or from Vermont?
Our Vermont car shipping experts excel in transporting a wide range of vehicles, including cars, trucks, motorcycles, RVs, ATVs, military and defense equipment, tanks, luxury automobiles, vintage cars, heavy construction machinery, trailers, and even inoperable vehicles.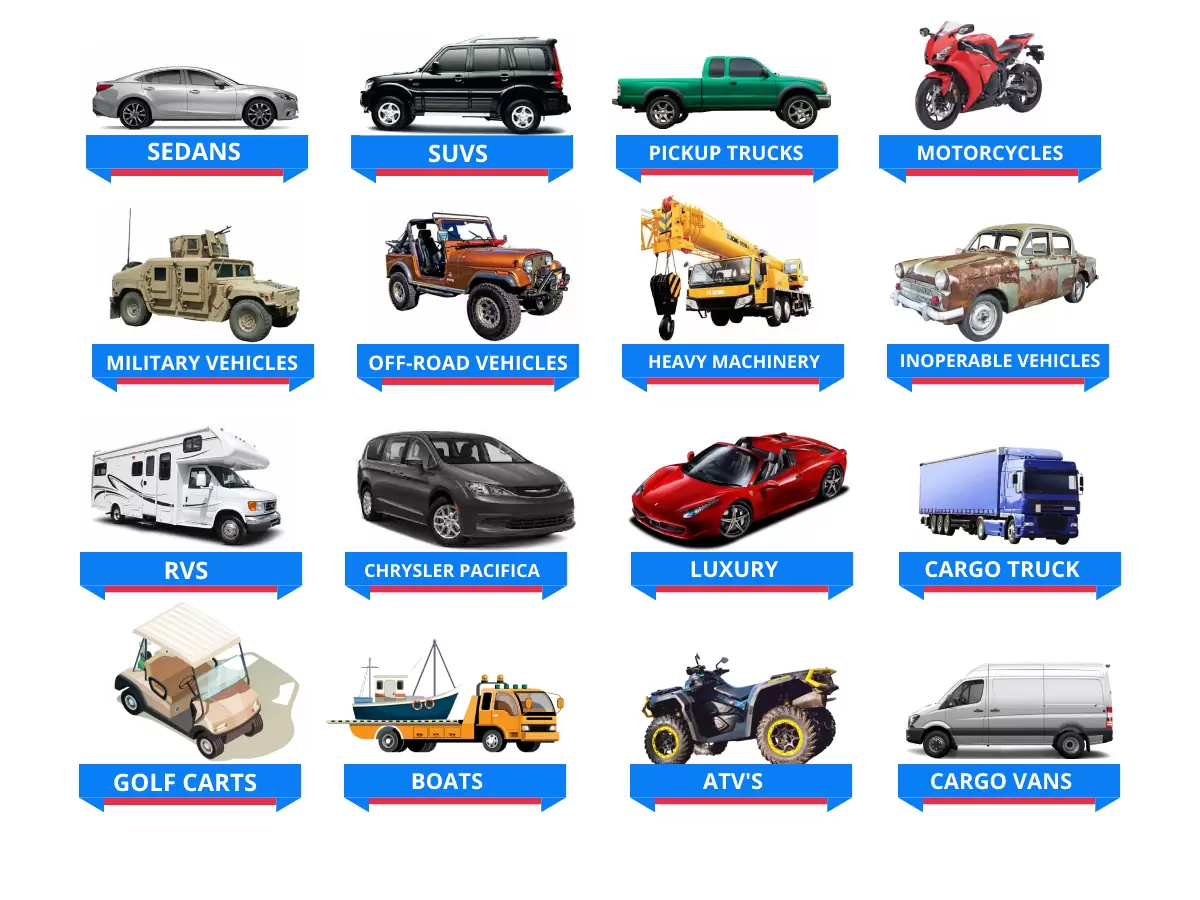 How Much Does Vermont Auto Transport Cost?
Various factors contribute to determining the cost of shipping a car to Vermont. These factors include the distance to be covered, the size and type of the vehicle, the season, and the terrain encountered during transit.
Sample Car Shipping Rates for Vermont
| From | To | Open/Enclosed | Cost |
| --- | --- | --- | --- |
| Washington | Vermont | Enclosed | $500 |
| California | Vermont | Enclosed | $1830 |
| Vermont | Arizona | Open | $1130 |
| Vermont | Montana | Enclosed | $1250 |
| Pennsylvania | Vermont | Open | $350 |
| Vermont | Georgia | Open | $750 |
| Virginia | Vermont | Enclosed | $650 |
| New York | Vermont | Open | $350 |
| Florida | Vermont | Enclosed | $1190 |
These are just estimated prices for a sedan vehicle, rates can vary based on travel distance, vehicle type, and time of year.
If you want to know the exact estimate to ship a car to or from Vermont, Use our online quote calculator to get a free and instant quote.
Ready to ship your car to Vermont with AutoStar Transport Express?
Call our Vermont car shipping professionals at 888-802-8250 to get answers to all your questions.
Get a Free Quote
Vermont Car Shipping Options
When it comes to shipping a car to or from Vermont, AutoStar Transport Express offers a variety of options to meet your needs and preferences.
Open Auto Transport: It is the most popular and cost-effective way to ship a car. Your vehicle will be transported on an open trailer along with other vehicles, which allows for more efficient transport and lower costs.
Enclosed Auto Transport: If you're shipping a high-value, luxury, classic, or antique vehicle, you may want to consider enclosed auto transport.
Door to Door Car Shipping: For maximum convenience, AutoStar Transport Express offers door-to-door shipping services. With this option, our professional drivers will pick up your vehicle from a location of your choice and deliver it directly to your desired destination.
Discover the most cost effective car shipping option with our helpful guide on cheapest way to ship a car.
Special Discounts for Military and Heavy Construction Equipment
We offer special discounts to military personnel who ship a car to or from Vermont as well as for the large organization on transportation of Heavy Machinery and Construction Equipment that choose our services. 
Top 5 Tourist Attractions in Vermont
Stowe Mountain Resort: This popular ski destination offers year-round outdoor activities, including skiing, snowboarding, hiking, and mountain biking. The resort also boasts a beautiful village, where visitors can explore shops, restaurants, and lodging options.
Shelburne Museum: With over 150,000 works spread across 39 exhibition buildings, visitors can explore a range of exhibits, including folk art, decorative arts, and even historic structures like a lighthouse and a steamboat.
Church Street Marketplace: The historic district features a mix of locally-owned boutiques, national retailers, and diverse restaurants, making it an ideal spot to stroll, shop, and dine.
Quechee Gorge: Known as "Vermont's Little Grand Canyon," Quechee Gorge is a stunning natural wonder located in the town of Quechee. Visitors can enjoy the breathtaking views of the 165-foot deep gorge from the bridge or hike the surrounding trails to immerse themselves in the beauty of the landscape.
Ben & Jerry's Factory Tour: A trip to Vermont wouldn't be complete without a visit to the famous Ben & Jerry's ice cream factory in Waterbury. Take a guided tour to learn about the company's history, the ice cream-making process, and sample some of their delicious creations.
Useful Resources for Vermont State
Successful Vermont Auto Transport Reviews
Discover the testimonials of our valued customers who have experienced Auto Star Transport Express services.
Explore Our Vermont Auto Transport Service Coverage:
AutoStar Transport Express offers a comprehensive carrier network and extensive experience to ensure that your vehicle is transported safely and efficiently from any location in the USA to Vermont or vice versa.
Barre, VT
05641 & surrounding areas
Burlington, VT
05401, 05402, 05405, 05405, 05408 & surrounding areas
Colchester, VT
05408, 05439, 05446, 05449 & surrounding areas
Essex, VT
05403, 05451, 05452, 05453 & surrounding areas
Montpelier, VT
05601, 05602, 05603, 05604, 05609, 05620, 05633 & surrounding areas
Rutland, VT
05701, 05702 & surrounding areas
South Burlington, VT
05401, 05403, 05405, 05407, 05408 & surrounding areas
Winooski, VT
05404 & surrounding areas
Vermont Auto Transport FAQs
How do I get a quote for car shipping to or from Vermont?

---

To receive a quote for our Vermont car shipping services, simply fill out our online quote request form or call our customer support team for assistance at 888-802-8250.
Are there any restrictions on the items I can place inside my car during shipping to or from Vermont?

---

Yes, personal belongings should not be placed inside the vehicle during transport. We recommend only leaving a spare tire, jack, and any factory-installed equipment in the car.
How long does it take to ship my car to or from Vermont?

---

The transit time depends on the distance between the pickup and delivery locations, weather conditions, and traffic. Our team will provide you with an estimated delivery window during the booking process.
Do I need to be present for pickup and delivery when shipping my car to or from Vermont?

---

Yes, either you or an authorized representative must be present at both pickup and delivery to sign the necessary paperwork and perform a vehicle inspection.
Can I track the progress of my car shipment to or from Vermont?

---

Yes, we offer vehicle tracking options to track your vehicle shipment. You can contact our customer support team for updates or use our online tracking system.
Is my vehicle insured during the shipping process to or from Vermont?

---

Yes, your vehicle is covered by our carrier's cargo insurance policy during transport. We recommend reviewing the details of the coverage before your shipment begins.
Can you ship classic or luxury cars to or from Vermont?

---

Yes, we specialize in shipping classic, luxury, and high-value vehicles. Our team will work with you to determine the most appropriate transport method to ensure your vehicle's safety.
Do I need to prepare my vehicle for shipping to or from Vermont?

---

Before shipping your car to or from Vermont, make sure to remove any personal belongings, perform basic maintenance checks, and document the vehicle's condition. Our team will provide you with detailed instructions on preparing your vehicle for transport.
Need to transport a car to another state? Trust our reliable car transport services to get your vehicle where it needs to go, whether you want to ship a car across country.
Professional Auto Transport to/from other 49 States