If you are transporting your vehicle from Florida to New York, you want to go with a company that has experience in the auto transport business. AutoStar Transport Express is the most trusted, safest, and pocket-friendly way to go.
We have 15+ years of experience providing New York auto transport service and are viewed as the best auto shipping company in Florida and New York. We specialize in transporting motorcycles, cars, SUVs, trucks, and vans from Orlando, FL to New York. We provide fast pickups and deliveries, insurance, door-to-door service, load tracking, and money-back guarantees.
Our mission is to provide our clients with the most competitive Orlando, FL to New York car shipping quotes and the best customer service from start to finish
We transport hundreds of vehicles every month to New York. Get a Florida to New York quotation or give us a call at 888-802-8250. We will make your New York auto transport experience personalized and easy for you.

Every customer is important to us, especially those needing a New York car transport company to ship a car from Florida to New York.
Florida to New York Auto Transport Testimonial
"AutoStar was professional, timely and overall did a fantastic job. We will definitely continue to use them in the future.. Their driver was friendly and very cooperative with our schedule for delivering the car in upstate NY." Peter Ross
Why Choose Our Car Shipping From Florida to New York
Whenever we transport a vehicle, we guarantee the highest level of customer satisfaction based on our industry experience and commitment. Our service is reliable because:
Licensed and Bonded: With over 1,000 5-star positive reviews on Transport Reviews and Better Business Bureau for Florida to New York vehicle transportation, we have been licensed and bonded with the Federal Motor Carrier Safety Administration.
Experienced: 15+ years of experience transporting cars From Florida to New York but we still manage to give each of our customers the personalized attention they deserve.
Personalized Customer Service: Our customer service department will provide you with regular tracking updates and personal assistance at 888-802-8250. Our experienced representatives make your Florida to New York car shipping hassle-free.
Timely Delivery: Your vehicle will leave and arrive at its destination on time with Florida to New York weekly auto transport schedules.
Pocket-Friendly Rates: The Most Competitive Car Shipping Rates in the Industry for Florida to New York or New York to Florida auto transport.
Cost to Ship a Car from Florida to New York
There are multiple factors that must be considered when estimating the cost to transport a car from Florida to New York, including: the number of miles from the pick-up point, the size and type of vehicle, and the season when most people travel or least, plus time of the year, the kind of terrain that comes on the way, and much more.
The average cost to ship a car from Florida to New York is $705, This average price is based on user-entered estimates on transportreviews.com.
If you want to know the exact estimate for shipping a car from Florida to New York, use our online calculator to get a free and instant quote.
Read also: How Much Does it Cost to Ship a Car
What are the Options to Ship a Car from Florida to New York?
Transporting a vehicle from Florida to New York takes an estimated 3-5 days. The rough distance for this route is around 1,100 and 1,400 miles. Standard transporters normally travel a normal of 500 miles each day.
There are two main options to transport your vehicle from Florida to New York:
Driving the vehicle by a professional or non-professional driver

Shipping the vehicle by an auto shipping company
Driving the car to your destination in New York would be a great option if a road trip sounds like a good plan. However, this is not a task everybody could be capable of handling. When the distance is greater than 300 miles, we recommend shipping the vehicle instead of driving to New York.
Auto transport companies generally use two ways to ship your car from Florida to New York.
Open Transport
Open auto transport is an affordable and quicker way to transport your vehicle to New York. Open transport carriers can carry various vehicles at once and thus impressively reduce the labor overhead transferred to your shipment quote!
Enclosed Transport
While enclosed transport is a more expensive option to ship a car from Florida to New York and sometimes comes with longer delays for service. You will get extra peace of mind knowing highway debris kicked up from a storm won't scratch your vehicles' paint job or dent its body.
Follow this simple guide if you want to know the cheapest way to ship a car.
Ready to Ship a Car from Florida to New York From Your Doorstep
AutoStar Transport Express provides door-to-door auto shipping service from any residential or business location in Florida.
Before your car is picked up for shipping from New York, an agent will carefully inspect and record the current condition of the vehicle. The transport is prepared for delivery once the vehicle is safely loaded onto the car carrier.
Florida is the fourth most populated state in the country, is known as the "Sunshine State", and is famous for travel and tourism. Aside from the amusement parks and family-oriented indoor attractions, Florida beaches are amongst the best in world. 
Where We Serve
These are the major metropolitan areas in Florida state where we offer our high-quality car shipping services are Jacksonville, Tampa, Cape Coral, Orlando, Miami, Gainesville, Boca Raton, Fort Lauderdale, and all surrounding areas.
Shipping a Car to New York
Auto transport from Florida to New York is one of the most heavily trafficked auto shipping routes. The main reason for this is the "snowbird season" which starts in October and ends in April.
New York auto shipping experts will perform an inspection upon destination arrival in New York to record the current condition of your vehicle at the hour of unloading.
You will be informed that your vehicle is ready to be picked up. Just sign off on the bill of lading which also includes the final inspection report.
Required Documents to Ship a Car from Florida to New York
Your driver's license needs to be valid, and your vehicle needs to be properly registered and insured.
You or a representative of your choice will be given a duplicate of a Bill of Lading at both pickup and drop-off. Think of this essential paperwork as a dual receipt and inspection report on your vehicle.
Other documents like lienholder and absent owner approvals are for when your vehicle goes through a port (e.g., on a boat rather than a truck).
Ready to ship your car with AutoStar Transport Express?
Call our car shipping professionals at 888-802-8250 to answer all your questions.
Get a Free Quote
Which Vehicles Do We Ship to New York From East-Coast
Our team is specialized in shipping all kinds of vehicles including cars, trucks, motorcycles, RVs, ATVs, ATVs, military vehicles, Heavy Machinery, trailer, and inoperable vehicles (when customers provide their own pre-loaded platform to ship).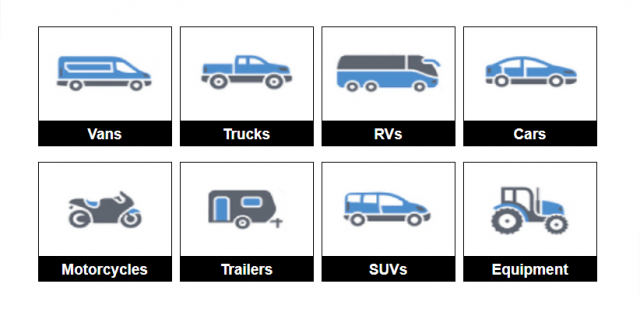 What is the best time to ship a car from Florida to New York?
The start and end of the "snowbird season" are the busiest auto shipping times of the year on the East Coast.
The season starts when the climate begins getting cooler in New York, generally around the starting to the middle of October, and finishes around late March/early April when snowbirds leave Florida to move back to New York.
If you need to avoid the rush and premium rates, the best and ideal time to transport your car from Florida to New York is in September.
If you are a snowbird, follow this simple article that includes some important things to do before vacations.
People and Businesses We Normally Serve for
People have to ship their vehicles to New York for various types of reasons including:
Corporate Relocation to New York

Military & Armed forces to move their vehicles and heavy equipment to New York

Classic Car Sales and renovations

Vacations and seasonal relocations

Needing a Car at New York College or University
When buying a vehicle online, let AutoStar Transport Express handle your shipping needs to get your vehicle easily from Florida to New York.
We have a huge network of auto carriers for all of your specific needs. Choose an enclosed trailer for vehicles that need extraordinary special care and TLC, or choose an open car transport that's reliable, safe, and affordable for anyone.
Things to Consider Before Shipping a Car from Florida to New York
All vehicles may have one-fourth (1/4) tank of fuel but not more than that

Clean your vehicle, inside and out, and record the picture of your vehicle

NO personal belongings will be accepted with the exception of factory hardware

Check the Radiator, Battery, and Tires

Address Engine & Mechanical Problems

Disable alarms and anti-theft devices

Your car should be in running condition

Eliminate and secure the loose parts of the vehicle

Make sure the keys are available
Check out this complete guide to preparing your vehicle for shipping purposes.
Have Questions or Need A Car Shipping Quote for Florida to New York?
Contact us today if you have questions about shipping a car from Florida to New York! If you have any questions, our staff is always happy to assist you, and our cost estimates are always FREE! You can also contact us using the online form.