Planning to ship a car to or from Wisconsin? Choose AutoStar Transport Express, the top BBB-rated and experienced auto transport company. We offer safe, reliable, and pocket-friendly car shipping services. Contact us today for a free quote!
You can count on us to provide reliable transportation services in Wisconsin. We service every city in Wisconsin, including Milwaukee, Kenosha, Racine, Green Bay, and Madison.
You can save time and money with our Wisconsin (WI) car shipping service. Our licensed and insured drivers treat your order with care. Plus, you are kept in the loop with our tracking notifications.
We transport hundreds of vehicles every month to Wisconsin. Get a Wisconsin auto shipping quote or give us a call at 888-802-8250. We will make your auto transport experience personalized and easy for you.
Latest Wisconsin Auto Transport Testimonials
"The first company lied and left me hanging Jim picked me up on short notice the truck was a little late picking up but they where working on short notice they got my classic car before I had to fly out and got it to Wisconsin in 5 days safe and sound." David Yell
What Makes Us the Best Wisconsin Auto Transporter?
Every customer is important to us. Our industry experience and commitment ensure the highest level of customer satisfaction whenever we transport a vehicle. Here are some reasons why:
Licensed and bonded: With over 1,000 5-star positive reviews on Transport Reviews and Better Business Bureau for Wisconsin vehicle transportation, we have been licensed and bonded with the Federal Motor Carrier Safety Administration.
Experienced: With 16+ years of experience in Wisconsin car shipping, we provide each of our customers the personalized attention they deserve.
Personalized Customer Service: Our customer service department will provide you with regular tracking updates and in-person assistance at 888-802-8250. We offer easy pickup and delivery, car transportation cross country, and 24\7 customer service. Our experienced representatives make your Wisconsin car shipping hassle-free.
Timely Delivery: Your vehicle will leave and arrive at its destination on time with Wisconsin weekly auto transport schedules.
SnowBirds Car Shipping in Wisconsin
If you're a snowbird looking to spend the winter in Florida or Arizona, we can help you move your vehicle to your temporary residence. We would be delighted to help you transport your cars to their final sunny location while you focus on the rest of the moving details. You are covered by our snowbirds car shipping service whether you are shipping one way or roundtrip.
Wisconsin Long-Distance Auto Transport
The AutoStar Transport Express offers customized long-distance car shipping based on our clients' preferences. In some cases, terminal-based services may be more affordable, but less convenient, depending on your location.
Additionally, we offer door-to-door and door-to-terminal shipping services, as well as vice versa. There is a wide range of open and enclosed auto transport options available to ship a car with us. Contact our staff today to discuss the best long-distance transportation option for your car.
Shipping Luxury and Classic Cars in Wisconsin
If you own a classic, exotic, antique, or luxury car, consider using an enclosed auto carrier. This will keep your vehicle safe from debris, weather adversities, and even theft. A fully enclosed trailer is equipped with air suspension, hydraulic lift gates or ramps for vehicles with very low clearance, and soft tie-downs to ensure that vehicles remain secure while in transit.
Classic car transport service is great when you need expedient, reliable service to or from Wisconsin.
Which Vehicles Do We Ship to or from Wisconsin
Our Wisconsin car shipping experts specialize in shipping all kinds of vehicles including cars, trucks, motorcycles, RVs, ATVs, UTVs, military and armed forces equipment, tanks, luxury vehicles, vintage cars, heavy construction machinery, trailer, and inoperable vehicles. Call our representatives to get an instant quote at 888-802-8250.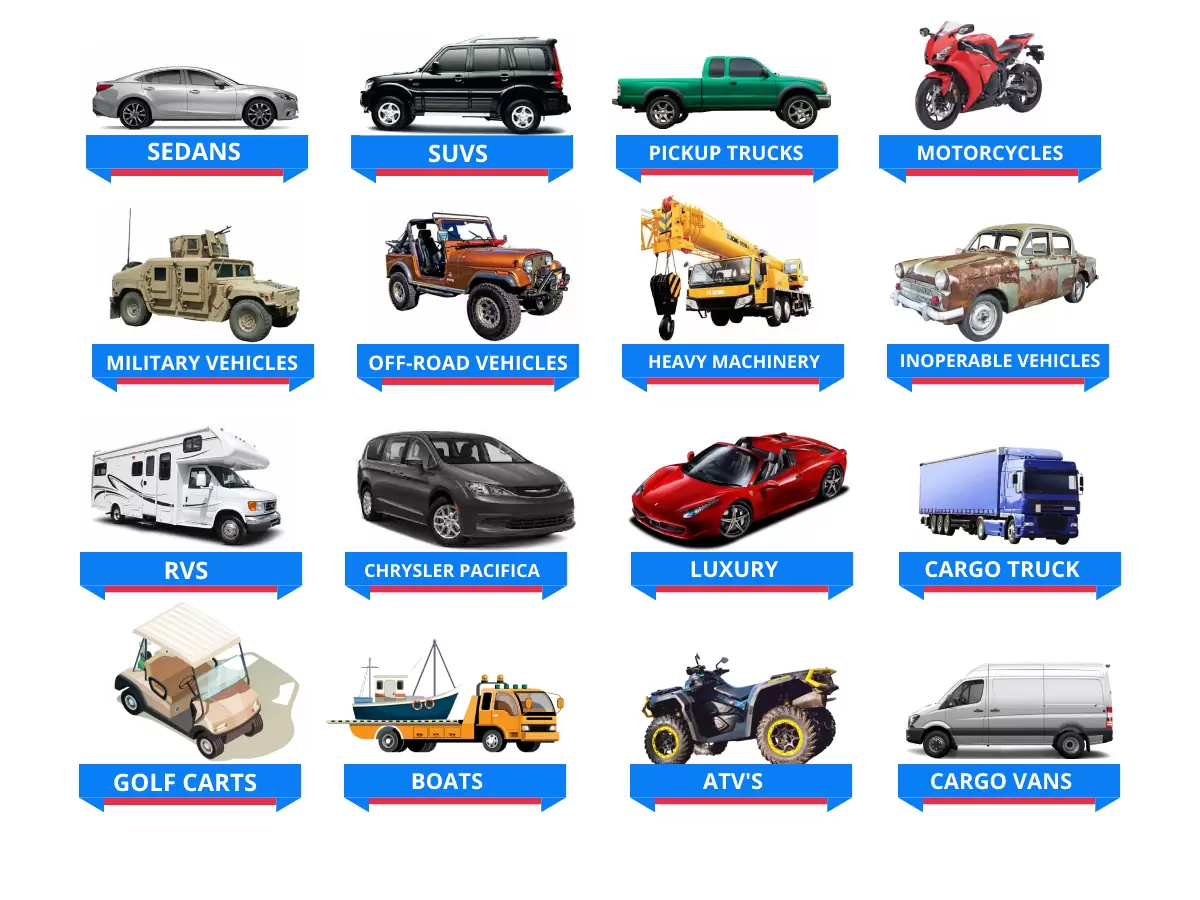 Average Cost to Ship a Car to Wisconsin
Many factors influence the estimated cost to ship a car to Wisconsin. These include the distance, vehicle size and type, the time of year, and the terrain encountered.
If you want an estimate to ship a car to Wisconsin, use our online quote calculator to get a free and instant quote.
Read Also: How much does it cost to ship a car? 
Ready to ship your car to Wisconsin with AutoStar Transport Express?
Call our Wisconsin car shipping professionals at 888-802-8250 to get answers to all your questions.
Get a Free Quote
What are the Options to Ship a Car to Wisconsin?
There are two main options to transport your vehicle:
Driving the vehicle using a professional or non-professional driver
Shipping the vehicle by Wisconsin AutoTransport Companies
For distances exceeding 300 miles, we recommend shipping the vehicle instead of driving it. Wisconsin Auto transport companies generally use two ways to ship your car to or from Wisconsin.
Enclosed Transport: Your car is transported in a fully enclosed trailer for safety and offers more protection for your car.
Open Transport: A safe, lesser-known, and more cost-effective option to enclosed shipping is open auto transport.
Want to find a cheaper way to ship your car? Our simple guide will help you with that.
Shipping a Car From Wisconsin
AutoStar Transport Express provides door-to-door auto shipping service from any residential or business location in Wisconsin. Your vehicle will be carefully inspected to record its current condition, and safely loaded onto the car carrier for transport.
Where We Serve
These are the most popular areas of Wisconsin where our car shipping services are being offered: Milwaukee, Madison, Green Bay, Kenosha, Racine, Appleton, Waukesha, Eau Claire, and all surrounding areas.
Shipping a Car to Wisconsin
Wisconsin is a state located in the north-central United States. A large dairy industry thrives in this state, which is bordered by the Mississippi River. In fact, Wisconsin produces some of the best cheese in the country. The state is also known for producing some of the largest amounts of paper in the country.
Our Wisconsin car shipping experts will perform a vehicle inspection upon arrival to the final destination in Wisconsin. The current condition of your vehicle will be recorded at the hour of unloading.
You will be informed that your vehicle is ready to be picked up. Just sign off on the bill of lading which also includes the final inspection report to get your vehicle.
Ship Your Vehicle Anywhere in Wisconsin Stress-Free
Documents Required to Ship a Car to or from Wisconsin
While drivers do not need documentation for the pickup and delivery of your vehicle, they will provide you or someone you select with important documents.
You or a representative will be given a copy of a Bill of Lading upon pickup and delivery.
Ensure that your driver's license is valid, and your vehicle should be properly registered and insured.
Vehicles that go through ports need additional documents like approvals for lienholders and absent owners.
Wisconsin Auto Transport Special Discounts
We offer special discounts to military personnel who ship a car to or from Wisconsin as well as for the large organization on transportation of Heavy Machinery and Construction Equipment that choose our auto shipping services.
Things to Consider Before Ship a Car to Wisconsin
Clean your vehicle, inside and out, and record the picture of your vehicle
Disable alarms and anti-theft devices
All vehicles may have one fourth (1/4) tank of fuel
Eliminate and secure the loose parts of the vehicle
Make sure the keys are available
No personal belongings will be accepted with the exception of factory hardware
Check the Radiator, Battery, and Tires
Address Engine & Mechanical Problems
Read our detailed guide for some useful tips to prepare your car before shipping to Wisconsin.
Wisconsin Popular Car Shipping Routes
Here are a few ways to locate our car shipping services in Wisconsin:
Car Shipping Wisconsin
Auto Shipping Wisconsin
Car Transport Wisconsin
Auto Transport in Wisconsin
Auto Transport Madison
Car Haulers Wisconsin
Wisconsin Auto Transport
Wisconsin Car Shipping
Shipping to Wisconsin
Car Shipping Madison
Car Shipping Madison WI
A few more ways to locate us in the Nearest States to Wisconsin:
Need to transport a car to another state or ship car across the country? Our team of transport experts provides seamless and affordable services, ensuring your car arrives at its destination on time and in perfect condition.
Professional Auto Transport to/from other 49 States