See our Utah To California Car Shipping Ratings
Ship Car from Utah to California with Confidence
Welcome to AutoStar Transport Express, your trusted partner for car shipping from Utah to California.
We understand that transporting your vehicle can be a stressful and overwhelming experience, but with our car shipping experts, you can have peace of mind knowing that your car is in safe hands. Our team of experts has 16 years of experience in the auto transport industry and is committed to providing reliable and efficient car shipping services at competitive prices.
Contact AutoStar Transport Express today to ship car from Utah to California. We're here to help make your car transportation needs a breeze.
Ship Car from Utah To California! Why Choose us?
Here are just a few reasons why you should choose us for your car shipping needs
Reliability

Our team of experienced professionals is dedicated to providing reliable and on-time delivery of your vehicle. We use the latest technology to track your car and keep you informed throughout the process.

Competitive Pricing

We offer competitive pricing for our car shipping services from Utah to California without compromising on quality. We provide transparent and upfront pricing with no hidden fees.

Exceptional Customer Service

Our team of customer service professionals is available always to answer your questions and provide support throughout the car shipping process. We believe in treating our customers with respect to meet their needs.

Personalized Service

We understand that every customer and every car is unique, and we'll work with you to provide customized solutions that fit your specific needs.
What are the Options to Ship a Car from Utah to California?
When it comes to shipping your vehicle from Utah to California, we offer a variety of options to suit your needs. Our most popular options include:
Open car shipping: Our open car shipping service is a cost-effective option for transporting your vehicle from Utah to California. Your car will be transported on an open trailer, exposed to the elements but fully secured and protected during transit.
Enclosed car shipping: If you want to ensure maximum protection for your vehicle during transport, our enclosed car shipping service is the way to go. Your car will be shipped in a fully enclosed trailer, shielded from the weather and road debris.
Door to door car shipping: With our door-to-door car shipping service, we'll pick up your vehicle from your preferred location in Utah and deliver it directly to your desired destination in California. It's the most convenient option for hassle-free car shipping.
Are you ready to ship car from Utah to California?
Fill out the form below or call 888-802-8250 to receive a free and instant car shipping quote from AutoStar Transport Express.
Documents Required to Ship car from Utah to California
When preparing to ship your car from Utah to California, it's essential to gather the necessary documents to ensure a smooth and hassle-free transport process. Below is a list of the required paperwork to help facilitate your vehicle's shipment:
Vehicle Title and Registration: Before shipping your car, ensure that you have the vehicle's original title and registration documents. This will serve as proof of ownership and verify the car's legal status for transport.
Valid Driver's License: As the vehicle owner, you'll need to provide a copy of your valid driver's license. This confirms your identity and assures the auto transport company that you are authorized to ship the vehicle.
Bill of Lading: The bill of lading is a crucial document that outlines the specifics of your shipment, including pickup and delivery locations, the type of service requested, and the expected delivery date. AutoStar Transport Express will provide you with this document, which should be thoroughly reviewed and signed by both you and the carrier driver during pickup and delivery.
Proof of Insurance: While AutoStar Transport Express provides insurance coverage for your vehicle during transit, it's a good idea to have a copy of your personal auto insurance policy on hand. This ensures that you have additional coverage in the unlikely event of any damages during transport.
Vehicle Inspection Report: Before your car is loaded onto the carrier, a thorough inspection will be conducted to document its current condition. Both you and the carrier driver will sign the inspection report, which serves as a record of your vehicle's pre-shipping state.
Experience Hassle-free car shipping from Utah to California
Call our Auto Transport experts at 888-802-8250 to answer all your questions.
Get a Free Quote
How much does it cost to ship car from Utah to California?
When it comes to ship car from Utah to California, many factors affect the cost of shipping car , including distance, vehicle size and type, travel season, and terrain.
Sample Car Shipping Rates With Open Transport
| Utah | California | Distance | Cost |
| --- | --- | --- | --- |
| Salt Lake City | Belmont | 710 miles | $600 |
| West Valley City | San Diego | 670 miles | $570 |
| Provo | San Francisco | 760 miles | $640 |
| West Jordan | San Jose | 725 miles | $610 |
| Orem | Oakland | 740 miles | $625 |
| Sandy | Long Beach | 820 miles | $700 |
| Ogden | Bakersfield | 739 miles | $625 |
| Layton | Anaheim | 650 miles | $555 |
| Lehi | Santa Ana | 700 miles | $590 |
The quoted prices are approximations and may vary based on factors like total travel distance, vehicle type, seasonal fluctuations, and current fuel costs.
To get an exact estimate, use our car shipping calculator for a quick and free quote.
Types of Vehicles We Ship
We offer a wide range of vehicle transport services to safely and securely transport your vehicle from Utah to California.
We can transport standard sedans, race cars, and luxury vehicles. Additionally, we can handle motorcycle, pickup trucks, utility trucks, oversized trucks, and all types of SUVs, from compact to luxury models.
Lastly, we also offer specialized transport services for classic and exotic cars, using enclosed trailers and specialized equipment to ensure your vehicle is protected from potential damage during transportation.
You can get an instant quote for your special car shipping needs by calling us at 888-802-8250.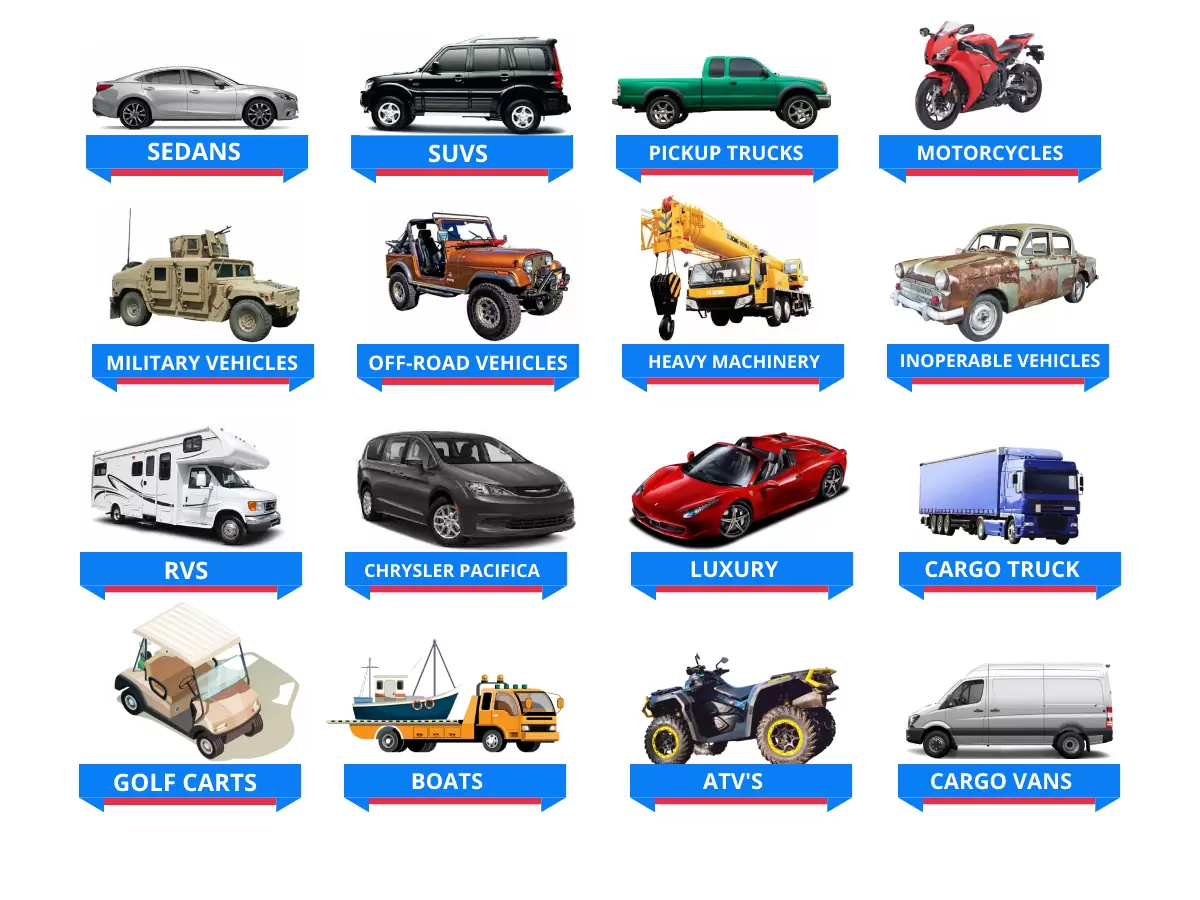 How Long Does It Take to Ship Car from Utah to California?
The time it takes to transport a car from Utah to California can vary depending on several factors, including the distance, the route, the type of transport, and the time of year. Typically, car shipping from Utah to California takes between 3 to 5 days.
If you need your car transported urgently, you can contact with our experts to ensure our availability, we will try our best to ensure your vehicle arrives at its destination quickly and efficiently.
16+

Years of experience

30,000+

Vehicle moves a year

50 states

Coverage across country

20,000+

Carriers for auto delivery
Want To Know More?
Would you like to learn more about shipping your vehicle from Utah to California? Call us today at 888-802-8250, or request a free quote below.
Successful Utah to California Auto Transport Reviews
Read what our customers have to say about their experience with Auto Star Transport Express.
Ship car from Utah to California: FAQs
How do I track my car during transport?

---

At AutoStar Transport Express, we provide you with a vehicle tracking number that allows you to track your car's progress during transport.
Can I ship multiple vehicles at once?

---

Yes, Autostar Transport Express can accommodate multiple vehicles in a single transport, whether they are going to the same destination or different locations.
What if my car is damaged during transport?

---

Although rare, accidents can happen during transport. We go above and beyond by becoming Certificate Holders with our chosen carriers, providing an extra layer of protection compared to many brokers. This enables us to initiate claims on your behalf, demonstrating our unwavering commitment to your satisfaction!
Explore additional routes to and from Utah on our dedicated car shipping Utah page. Similarly, our car shipping California page lists all other routes to and from California.