Check out our ratings for auto transport to/from Maine
Our customers confirm we provide the best Maine auto transport service
Hassle-Free Auto Transport to and from Maine
Maine's stunning coastline and charming towns are waiting to be explored, but how do you transport your vehicle to this picturesque destination? Look no further than AutoStar Transport Express, the top-rated and safest car shipping service for shipping to or from Maine.
Our licensed and insured drivers treat your vehicle with the utmost care. As a BBB-accredited business, we provide reliable and pocket-friendly services that simplify your auto transport experience. Whether you're planning a visit to Portland's Old Port or planning a hike in Acadia National Park, we're equipped to handle any situation that may arise during vehicle transport to Maine. Our personalized approach ensures that your auto transport experience is tailored to meet your unique needs.
With AutoStar Transport Express, you can sit back and relax while we take care of the logistics of transporting your vehicle. From sedans to SUVs, we transport hundreds of vehicles every month to Maine, making us the experts when it comes to car shipping.
Contact us today at 888-802-8250 to get a quote and let us take care of your vehicle transport needs. We'll ensure that your ride is waiting for you when you arrive in Maine, ready to explore all that this beautiful state has to offer.
16+

Years of experience

30,000+

Vehicles move a year

50 states

Coverage across country

20,000+

Carriers for auto delivery
Why Choose Professional Towing Services?
With over 16 years of experience, AutoStar Transport Express is the most highly respected towing company in the US. You can trust us to provide you with an accurate quote and prompt service when you call our customer service department.
Weekly Schedules

We operate weekly auto transportation schedules to and from Maine, meaning fewer delays for your vehicle to depart and arrive at its destination.

Tracking Updates and In-Person Support:

Our experienced representatives are available to provide in-person support and answer any questions you may have at 888-802-8250. You'll receive regular tracking updates throughout the shipping process to ensure you're informed every step of the way.

Competitive Rates

We offer some of the most competitive car shipping rates in the industry for Maine vehicle transport. You won't find a better deal anywhere else.

No Up-Front Deposit Required

Unlike other auto transport companies, we don't require any up-front deposits. You only pay once your vehicle is safely delivered.
Trust AutoStar Transport Express to provide you with the highest quality auto transport services to and from Maine. Contact us today to get a quote and start your hassle-free car shipping experience.
How Does Auto Transport Maine Work?
Looking for a reliable car shipping company Near me in Maine? We are ready to pick up your Maine car shipping order!
AutoStar Transport Express is one of the best auto transport companies in Maine for shipping cars to/from Maine. With several years of experience shipping cars in and out of Maine, we know what it takes.
Our 3 steps process for shipping cars to/from Maine is as follows:
Request a quote and place an order: Requesting a quote is as easy as filling out the quote form, sending an email to info@autostartransport.com, or calling 888-802-8250. After you place your order, we will contact you regarding pick-up times, tracking numbers, and truck drivers.
Pick up your vehicle: Once you prepare your vehicle, our experienced drivers will inspect it, pick it up from your doorstep, and deliver it where you want. You can get tracking updates anytime during transportation.
Receive the Vehicle: We offer door-to-door car shipping services, which deliver your vehicle right to your door. To receive your vehicle, you must sign both the bill of lading and the inspection report.
Ready to ship your car?
Fill out the car shipping form or call 888-802-8250 for a free Maine car shipping quote.
Comprehensive Auto Transport Services for All Vehicles in Maine
At AutoStar Transport Express, we specialize in shipping all kinds of vehicles to and from Maine. Our experienced Maine car shipping experts have the knowledge and expertise to transport any vehicle, including: Cars, Trucks, Motorcycles, RVs, ATVs, Military and Armed Forces Equipment, Tanks, Luxury Vehicles, Vintage Cars, Heavy Construction Machinery, Trailers and non-running vehicles.
Whatever your transportation needs, we've got you covered. Our expert team will ensure your vehicle is transported safely and securely, arriving at its destination in the same condition it left.
To get an instant quote for your Maine car shipping needs, contact our representative at 888-802-8250.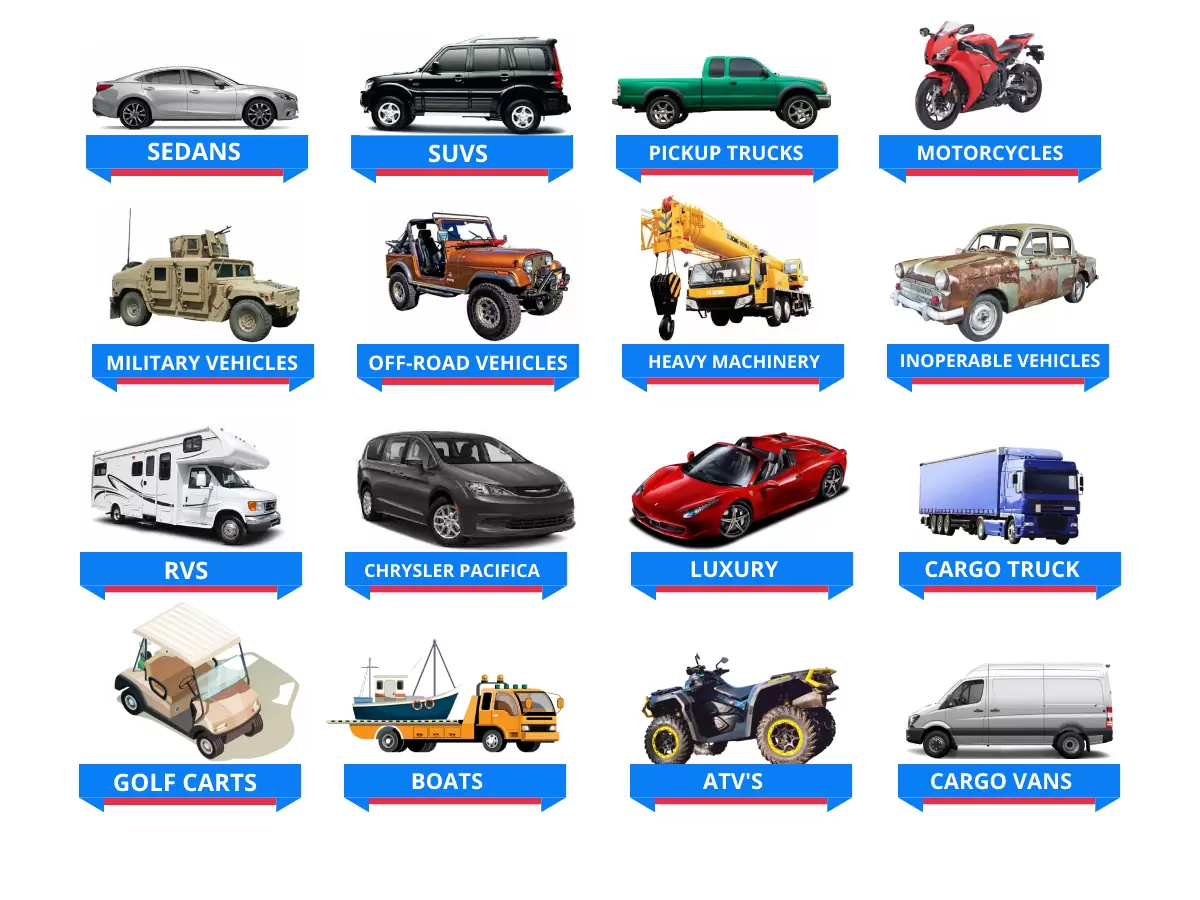 Average Cost to Ship a Car to Maine
Many factors come into play when making an estimation of the car shipping cost. These include the distance, the vehicle's size and type, the time of year, and the terrain encountered.
Estimated Car Shipping Times & Costs for Maine
| From | To | Cost | Estimated Delivery Time |
| --- | --- | --- | --- |
| Maine | Florida | $950 | 4 - 6 days |
| California | Maine | $1800 | 7-9 days |
| Maine | Washington | $450 | 2 - 4 days |
| Texas | Maine | $1250 | 5 - 7 days |
| Maine | Illinois | $800 | 3 - 5 days |
| Colorado | Maine | $1265 | 5 - 7 days |
| Maine | Seattle | $1810 | 7-9 days |
| Los Angeles | Maine | $1760 | 7-9 days |
| Chicago | Maine | $410 | 2-4 days |
If you want to know the exact estimate to ship a car to or from Maine, Use our online quote calculator to get a free and instant quote.
Ready to ship your car to Maine with AutoStar Transport Express?
Call our Maine car shipping professionals at 888-802-8250 to get answers to all your questions.
Get a Free Quote
Flexible Shipping Options to Meet Your Maine Auto Transport Needs
At AutoStar Transport Express, we understand that every vehicle is unique and requires specialized shipping services. That's why we offer flexible shipping options to meet your Maine auto transport needs, including:
Open Auto Transport: For a safe, reliable, and cost-effective option, we offer open auto transport. This method of shipping is ideal for standard vehicles and offers a great value for your money.
Enclosed Auto Transport: If you're looking for the ultimate protection for your vehicle, we offer fully enclosed trailer shipping. Your car will be transported in a secure, climate-controlled environment, providing maximum protection against the elements and other potential hazards.
Door to door service: Our door-to-door shipping option ensures that your vehicle is delivered directly to your doorstep, eliminating the need for you to go pick it up from a terminal or other location.
Whatever your shipping needs, we've got you covered. Contact us today at 888-802-8250 to discuss your Maine auto transport options and get a quote tailored to your needs.
Are you on a budget and looking for an affordable car shipping solution? Well, this simple guide on the cheapest way to ship a car can help you with that.
Documents Required to Ship a Car to or from Maine
Drivers don't need documentation for the pickup and delivery of your vehicle, but they will provide you or someone you select with important documents.
You or a representative will be given a copy of a Bill of Lading upon pickup and delivery.
It is important that your driver's license is valid, and your vehicle should be properly registered and insured.
Vehicles that go through ports need additional documents like approvals for lien-holders and absent owners.
Special Discounts for Military and Heavy Construction Equipment
We offer special discounts to military personnel who ship a car to or from Maine as well as for the large organization on transportation of Heavy Machinery and Construction Equipment that choose our services. 
Tourist Attractions in Maine
Maine is a beautiful state in the northeastern region of the United States, known for its rugged coastline, picturesque lighthouses, charming towns, and delicious seafood. Here are five of the top tourist attractions in Maine:
Acadia National Park – Located on Mount Desert Island, Acadia National Park is a breathtakingly beautiful park that features rugged coastlines, pristine lakes, and lush forests.
Portland Head Light – This historic lighthouse, located in Cape Elizabeth, is one of the most photographed lighthouses in the country. Visitors can tour the lighthouse and keeper's house, explore the surrounding park, and take in the stunning ocean views.
Old Port – The Old Port is a charming, cobblestoned district in downtown Portland that is home to a variety of boutiques, galleries, restaurants, and pubs. Visitors can stroll along the waterfront, sample local seafood, or take a sunset cruise on Casco Bay.
Mount Katahdin – Located in Baxter State Park, Mount Katahdin is the highest peak in Maine and a popular destination for hikers and outdoor enthusiasts.
Bar Harbor – This picturesque coastal town is located on Mount Desert Island and is known for its charming architecture, scenic harbor, and lively arts and culture scene.
Explore Our Maine Car Shipping Service Coverage
With a large network of carriers and years of experience, AutoStar Transport Express can transport your vehicle safely and efficiently to and from any location in Maine.
Kittery, ME
03854, 03904, 03905 & surrounding areas
Ellsworth, ME
04605 & surrounding areas
Bangor, ME
04401, 04444 & surrounding areas
Biddeford, ME
04401, 04444 & surrounding areas
Lewiston, ME
04240. 04241, 04243 & surrounding areas
Portland, ME
04019, 04050, 04101, 04102, 04103, 04104, 04107, 04108, 04109, 04112, 04122, 04123, 04124 & surrounding areas
Saco, ME
04072 & surrounding areas
Sanford, ME
04073, 04083 & surrounding areas
South Portland, ME
04106, 04107 & surrounding areas
Westbrook, ME
04092, 04098 & surrounding areas
Top 5 most useful resources for Maine
Successful Auto Transport Maine Reviews
See what our clients say about our Maine car transport services on the top review sites.
Auto Transport Maine FAQs
Can I put personal items in my vehicle?  

---

Personal belongings can be shipped inside the car; however, the total weight cannot exceed 100 pounds, and they must be stored in the trunk or back seats (below the window line). The insurance does not cover personal belongings if they are damaged or stolen.
How far in advance should I schedule my transport?

---

The earlier you schedule your shipment, the more likely we will be able to meet your time requirements. Ideally, you should schedule your transport at least two to three weeks in advance. If your shipment is urgent, we offer expedited shipping options. You can always call us and ask one of our car shipping experts about your schedule options.
Can I track my vehicle while in transit to and from Maine?

---

You can track your vehicle while it is in transit very easily. We provide standard tracking systems for tracking your vehicle in transit. Tracking allows you to keep track of your shipment. All of this is part of our commitment to our customers. To track your car shipment, please provide us with your tracking number, name, email address, and/or phone number.
Will I need to purchase additional insurance for my car?

---

Shipping a car may not require additional insurance if you already have your own insurance policy.
How can I register my car in Maine?

---

Every Maine resident, regardless of age, must register their vehicle at the local BMV office. To legally use public roads, you must be properly registered.

You have 30 days from the date you establish residency in Maine to register and title your out-of-state vehicles.

You will need to provide one of the following documents to prove Maine residency:

Driver's license with an accurate physical address in Maine
Obtain a utility bill for the ME address (electricity, water, sewer, cellular phone, etc.).
Hunting and fishing license for Maine residents
The mortgage, lease, insurance policy, insurance ID card, and the SR22
Bill of taxes
Government-issued document
Tax return
Paycheck stub
W-2

In order to obtain a Maine Driver's License or ID card, you must:

You will need to provide proof of residency
Verify your citizenship or legal status in the United States
Please provide two forms of identification (The first must include your date of birth, and the second your signature.)
Obtain a vision screening
It's free if you do it at the BMV
A regular doctor's visit is also acceptable (you must pay).
Pay fees and pass the exam (varies)

Registration requires the following steps:

Visit your town office to pay an excise tax (The amount will vary depending on the location)
Please provide the following documents
Out-of-state registration
Out-of-state title
The insurance card or policy (ID card)
A white and yellow copy of the registration application and the excise tax receipt
A Maine Use Tax Form is needed to prove your exemption from paying sales tax.
Fees for registration must be paid
It costs $33 to apply for a title.

You must go to the nearest BMV office if your municipality cannot process your registration.
How do I prepare my car for Maine car shipment?

---

Clean your car thoroughly before transporting it.
Ensure that you take as many photos as possible of the interior and exterior before you hand over your vehicle to the driver.
Remove or secure all loose parts, including trim and mirrors.
To prevent any problems, make sure the vehicle is working correctly before shipping.
You should fill your gas tank only one-quarter full
Remove all valuable gear and accessories from the car before transport. This category includes devices such as GPS units and audio equipment.
It's necessary to have two sets of keys for your car. When handing over, give one set to the transportation company and keep the other as a backup.

This guide will help you prepare your car for shipping to Maine.
Transporting a car to another state doesn't have to be a hassle. Choose our trusted auto transport service for door-to-door delivery and competitive rates. Moreover get services for shipping cars across country.
Professional Auto Transport to/from other 49 States