Hassle-Free Car Shipping to/from Kentucky
When you need to ship a car to or from Kentucky, you need Kentucky auto shipping experts you can rely on. AutoStar Transport Express is the Top BBB-rated, safest, most reliable, and pocket-friendly auto transport company to go with. We understand that your car is an important part of your life, which is why we treat it with the same care and attention as we would our own.
You can save your money, and time while experiencing the step-by-step car shipping updates using our Kentucky(KY) car shipping service. With over 16 of experience in the auto transport industry, we have the knowledge and expertise to handle any type of vehicle, whether it's a car, truck, SUV, or motorcycle.
We transport hundreds of vehicles every month to Kentucky. Get a Kentucky auto shipping quote or give us a call at 888-802-8250. You can expect a personalized and easy auto transport experience with us.
Car Transportation Kentucky! Why Choose Us?
We offer hassle-free and cost-effective Kentucky car shipping services. That's why AutoStar Transport Express has become one of the top car shipping companies in Kentucky
Vehicle tracking updates

Our team will keep you informed at every stage of the car shipping process by providing regular and accurate updates at every stage.

Customized car shipping Kentucky

As every customer has different car transport needs, we customize our services accordingly. Our goal is to find the most cost-effective way to transport your car to Kentucky.

Full insurance coverage

Your vehicle will be covered by the carrier's cargo insurance. The insurance belongs to a particular carrier company and we keep copies of the policy on file for your protection.

You don't have to pay upfront

The company does not require advance payment. We also offer all-inclusive car transport rates. The deposit will only be charged once a driver's name and number are provided and the vehicle is picked up.
How We Ship a Car to Kentucky
Looking for a reliable car shipping company? We are ready to pick up your Kentucky car shipping order! Contact us right away or schedule your shipment online using our quote calculator.
Here is what we do to ship cars to/from Kentucky
Get a quote and place your order: You can reach us by filling out the car shipping quote form, sending an email to info@autostartransport.com, or calling 888-802-8250. Once your order has been placed, we will contact you with important information, such as pickup time and date, tracking number, and truck driver's name.
Vehicle Pick Up: Once you prepare your vehicle, our experienced driver will inspect it, pick it up from your doorstep, and transport it to your chosen destination. At any time, you can contact us for tracking updates during transportation.
Receive the Vehicle: With our door-to-door delivery service, you will receive your vehicle right at your home. Once you sign both the bill of lading and inspection report, you are ready to receive your vehicle.
Are you ready to ship your car to Kentucky?
Get a free and instant auto shipping quote form by filling out the form below or calling 888-802-8250.
Long Distance Car Transportation Kentucky
You can move a car over long distances by driving it yourself or hiring a driver. However, both options are time-consuming and expensive, so you need an auto-shipping company to handle the job for you.
Looking for an auto transport company near me in Kentucky. AutoStar Transport Express makes shipping a car across the country easier, safer, and cheaper than ever before.
No matter where your shipments are headed, our reliable drivers will ensure that they arrive safely.
As part of our car transport services, we offer 24/7 monitoring, regular updates, and insurance coverage. Call 888-802-8250 today to get started with Kentucky car transport.
Shipping Luxury and Classic Cars in Kentucky
Are you looking for a safe and secure way to ship your luxury car? Experience peace of mind when you move your luxury vehicles with AutoStar Transport Express.
A fully enclosed carrier will protect your car from the elements from start to finish. We fully insure your car as part of our door-to-door service to ensure your vehicle receives the highest level of protection.
Because of its white-glove care and regular updates about the status of the vehicle, enclosed is the best option for Classic car shipping.
Request a Free Quote Today:?
Contact us to receive a free quote for shipping your car to or from Kentucky. Our team of experts will work with you to determine the best shipping option for your needs and budget.
Which Vehicles Do We Ship to or from Kentucky
At AutoStar Transport Express, we understand that each vehicle is unique and requires specialized care during car transportation Kentucky.
That's why our team of Kentucky auto transport experts has experience shipping a wide range of vehicles, including cars, trucks, motorcycles, RVs, ATVs, military and armed forces equipment, tanks, luxury vehicles, vintage cars, heavy construction machinery, trailers, and even inoperable vehicles.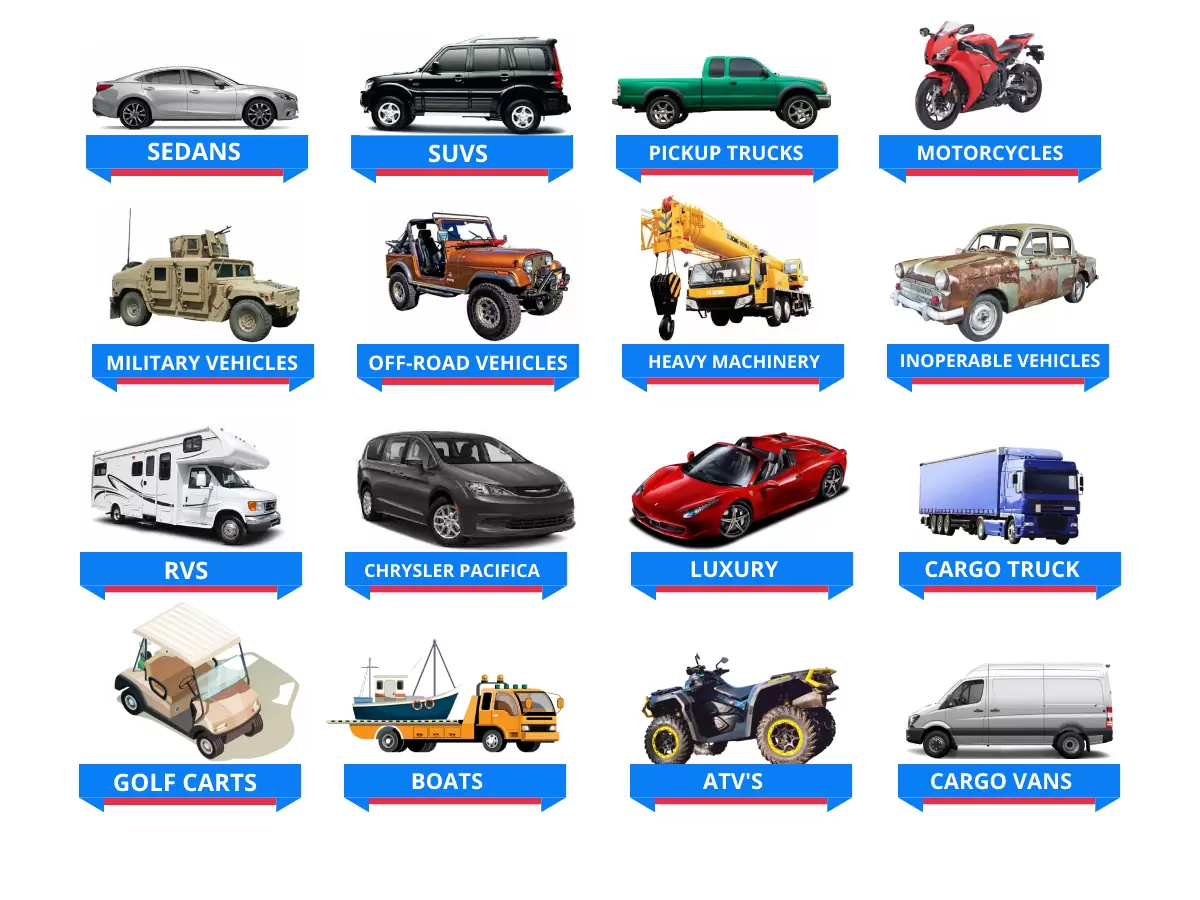 Our experts will work with you to determine the best shipping option for your vehicle, whether it's open or enclosed transport, and provide you with an instant quote.
If you have any questions about our Kentucky car shipping services or would like to get a free quote, please don't hesitate to contact us at 888-802-8250. Let us help you move your vehicle with ease!
How Much Does it Cost to Ship a Car to Kentucky?
Several factors come into play when estimating the cost to ship a car to or from Kentucky. Our team of experts takes into account several variables such as the distance of the shipment, the size and type of the vehicle, the time of year, and any terrain encountered during the journey..
Sample Car Shipping Times and Rates
| From | To | Cost | Time Estimated for Delivery |
| --- | --- | --- | --- |
| Kentucky | Florida | $1100 - $1300 | 6 - 8 days |
| Colorado | Kentucky | $650 - $730 | 4 - 6 days |
| Texas | Kentucky | $630 - $750 | 4 - 6 days |
| Kentucky | Oregon | $1050 - $1300 | 6 - 8 days |
| Louisville | New Orleans | $500 - $550 | 3 - 5 days |
| Phoenix | Kentucky | $950 - $1200 | 5 - 7 days |
| Kentucky | Las Vegas | $970 - $1160 | 5 - 7 days |
| California | Kentucky | $1030 - $1280 | 6 - 8 days |
| Kentucky | Seattle | $1100 - $1250 | 6 - 8 days |
It is important to note that times and prices are estimates. Seasons and vehicle types can affect shipping costs.
Check out our car shipping cost page for more information on the cost of shipping a car.
If you want to know the exact estimate to ship a car to or from Kentucky, Use our online quote calculator to get a free and instant quote. We are here to make your auto shipping experience as smooth and stress-free as possible.
Documents Required for Car Transportation Kentucky
Drivers don't need documentation for the pickup and delivery of your vehicle, but they will provide you or someone you select with important documents.
You or a representative will be given a copy of a Bill of Lading upon pickup and delivery.
Your driver's license must be valid, and your vehicle should be properly registered and insured.
Vehicles that go through ports need additional documents like approvals for lienholders and absent owners.
Special Discounts for Military and Heavy Construction equipment
We offer special discounts to military personnel who ship a car to or from Kentucky as well as for the large organization on transportation of Heavy Machinery and Construction equipment that choose our services.
Top 5 Tourist Attractions in Kentucky
Mammoth Cave National Park: Located in central Kentucky, this national park is home to the world's longest-known cave system, offering visitors the chance to explore underground caves and hike scenic trails.
Churchill Downs: Home of the Kentucky Derby, Churchill Downs is a must-visit for horse racing enthusiasts. Take a tour of the historic racetrack and visit the Kentucky Derby Museum to learn more about the history of the race and its traditions.
Bourbon Trail: Kentucky is known for its bourbon, and the Bourbon Trail is a great way to explore the state's distilleries and sample some of its finest whiskeys.
Kentucky Horse Park: This park is a tribute to Kentucky's horse racing heritage, featuring museums, exhibits, and live demonstrations of equestrian events.
Louisville Slugger Museum & Factory: Baseball fans won't want to miss a visit to the Louisville Slugger Museum & Factory, where they can learn about the history of baseball and see how the famous Louisville Slugger bats are made.
Successful Kentucky Car Shipping Reviews
See what our Kentucky car transport services have to say on the top review sites
Discover the Comprehensive Car Shipping Services in Kentucky
We pride ourselves on our extensive carrier network and wealth of experience, which enable us to deliver superior vehicle transportation solutions from any location in the USA to Kentucky, and vice versa.
Bards Town, KY
40004 & surrounding areas
Covington, KY
41011, 41014, 41015, 41016, 41017, 41051 & surrounding areas
Florence , KY
41018, 41042, 41091, 41094 & surrounding areas
Georgetown, KY
40324 & surrounding areas

Glasgow, KY
42141, 42142 & surrounding areas
Hopkinsville, KY
42240, 42262, 42266 & surrounding areas
Redcliff, KY
40159, 40169, 42701 & surrounding areas
Louisville, KY
40202, 40203, 40204, 40206, 40208, 40209, 40212, 40214, 40258, 40272 & surrounding areas
Owensboro, KY
42301, 42302, 42303 & surrounding areas
Richmond, KY
40403, 40475 & surrounding areas
Car Shipping Kentucky FAQs
How much does Kentucky car shipping cost?

---

The cost of shipping a car to or from Kentucky will vary greatly depending on the type of vehicle, the distance, and the method you choose. The further the vehicle has to be transported, the more expensive it will be.  A longer distance, however, may be cheaper per mile than a shorter distance.

See our cost to ship a car page for more details on shipping costs.

Use our free instant car shipping estimate calculator above to get an exact car shipping quote for Kentucky.
How long does it take to ship a car to or from Kentucky?

---

The time it takes to ship a car to or from Kentucky depends on several factors. When calculating delivery time, factors like distance, traffic, and other stops should be considered. Generally, it takes less than four days to cover distances under 1,000 miles, but it can take up to nine days to cover distances over 2,000 miles.
How do I ship my car to Kentucky?

---

It's easier than ever to transport your car to Kentucky with Autostar Transport Express. Just a few clicks and your car will be on its way. Contact Autostar Transport Express at 888-802-8250 for a free.

No-obligation quote, or use our online car shipping calculator. Afterward, we'll handle everything and get your car to your desired destination.
Can I ship my inoperable vehicle to Kentucky?

---

We can ship vehicles that are not running or inoperable. Auto carriers designed for inoperable cars use a winch to slowly and safely pull the car onto the carrier. Special equipment is required to secure vehicles that cannot be driven on a transporter, so a fee is added.

If your vehicle is not running, you may select the inoperable option on the online booking form or inform our car shipping specialists by calling 888-802-8250.
Is my vehicle insured during transport?

---

It is extremely rare for damage to occur during transport, but we believe in being safe than sorry. We have fully insured carriers, so every quote includes full coverage insurance with no deductible.
How can I pay for Kentucky Car Transport?

---

The most common method of payment is Zelle. Make sure everything is in order before releasing the vehicle. Additionally, you can pay by ACH, wire transfer, direct deposit, or credit/debit card.
How can i register my vehicle in Kentucky?

---

If you are a new resident, you have fifteen days to register your vehicle at the county clerk's office by submitting the following documents:

A certificate of inspection approved by the sheriff of the county
Registration form fully completed
Your original car title from your home state
A copy of your current registration
Valid Kentucky car insurance proof
Driver's license or picture ID
Proof of payment for taxes from the previous state
A payment for Kentucky registration taxes and fees

How to Register a Leased Vehicle in Kentucky?

Just moved to Kentucky and own a leased car? Here is what you need to submit to the county clerk's office:

Validated VIN certificate from the new county sheriff
A lease agreement stating that the vehicle can be registered
Contact information for the leasing company, so the clerk's office can obtain the title
information for the vehicle
Forms of registration that are fully completed and standardized
Kentucky car insurance policy
The leasing company's letterhead states that the sales tax has been paid
Driver's license or picture ID
All Kentucky taxes and registration fees must be paid

Kentucky Vehicle Registration Fees

In Kentucky, you will have to pay a series of fees, including the title fee and the title lien statement fee, a transfer fee, an annual vehicle registration fee, a vehicle inspection fee, a notary fee, and a usage tax.

To find out what taxes you will have to pay to register your vehicle in Kentucky, contact your county clerk.
Shipping car across the country can be a daunting task, you can have peace of mind knowing that your vehicle is in good hands and we specialize in transporting cars to another state. Trust us to provide reliable and stress-free car shipping services.
Professional Auto Transport to/from other 49 States