Based on our ratings, we are one of the top car transport companies in Iowa
AutoStar Transport Express offers personalized car transportation services in Iowa, aiming to make the process easy and stress-free for you. Our team of experts is available to provide you with guidance and assistance throughout the entire process, ensuring a seamless experience tailored to your specific needs.
We are committed to delivering excellent service and ensuring the safe and timely arrival of your vehicle, allowing you to focus on what's important to you. Shipping your vehicle in Iowa doesn't have to be a daunting task with AutoStar Transport Express by your side.
You can save time and money while experiencing the step-by-step car shipping updates using our Iowa (IA) car shipping service.In addition to providing transparent quotes and pricing, we use state-of-the-art equipment to ensure reliability.
Hundreds of vehicles are transported to Iowa every month including cars, golf carts, jet skis, and anything else you can imagine. Get an Iowa auto shipping quote or give us a call at 888-802-8250. We will make your auto transport experience easy and hassle-free.
16+

Years of experience

30,000+

Vehicle moves a year

50 states

Coverage across country

20,000+

Carriers for auto delivery
Car Shipping Iowa! Why Choose Us?
Our industry experience and commitment ensure the highest level of customer satisfaction. Here are some reasons why we are one of the top-rated car transport companies in iowa:
Real Vehicle Tracking

As we move forward with your transportation, we offer you personalized, accurate tracking updates at every stage.

No Upfront Required

The deposit is only charged once the driver's name and the number have been provided and the driver is on his way to pick up your vehicle.

Personalized car shipping Iowa

Our customer service department will provide you with regular tracking updates and in-person assistance at 888-802-8250. Our experienced representatives make your car shipping Iowa hassle-free.

Timely Delivery

Your vehicle will leave and arrive at its destination on time with Iowa's weekly auto transport schedules.
How We Ship a Car to Iowa
Here's how we do it:
Get a Quote & Place Your Order:  Contact us by filling out the car shipping quote form, sending an email to info@autostartransport.com, or calling 888-802-8250. Then we will inform you about important information, such as the pickup time and date, tracking number, and truck driver's name.
Vehicle Pick Up: A truck driver will contact you to finalize delivery plans. Each driver at AutoStar Transport Express strives to treat every vehicle as if it was their own. Protecting your car from damage during delivery is their top priority. Before the driver leaves, you will sign and receive a Bill of Lading.
Receive Your Vehicle: Once the vehicle arrives in Iowa, both you and the driver will inspect it for damage. At this time, you will sign the final inspection report to receive your vehicle.
Are you ready to ship your car to Iowa?
Get a free and instant auto shipping quote form by filling out the form below or calling 888-802-8250.
Long-Distance Iowa Auto Transport
Looking for a long-distance auto transport company near me in Iowa? If you are thinking about shipping your car to another state or across the country, we can help. We offer 24/7 monitoring, regular updates, and insurance coverage for our long-distance car transport service.
AutoStar Transport Express is the easiest, safest, most cost-effective, and most reliable way to ship a car across the country from Iowa.
Call our team at 888-802-8250 now to begin the Iowa car transport process.
Transporting Luxury and Classic Cars in Iowa
The safest way to ship an exotic or vintage car to Iowa is with enclosed carriers. This is the best option if you want white-glove service for your exotic or vintage car. Your vehicle will be protected from exposure to road hazards (wind, dirt, snow) when shipped on an enclosed trailer.
Enclosed carriers use straps to provide additional peace of mind while keeping your vehicle safe and secure during transit. You can ship a single vehicle or multiple vehicles at a time, depending on your preference. Plus, enclosed transports arrive at their destinations much faster.
Ready to ship your classic car to Iowa with AutoStar Transport Express?
Call our car transport Iowa professionals at 888-802-8250 to get answers to all your questions.
Get a Free Quote
Which Vehicles Do We Ship to or from Iowa?
Our car shipping Iowa experts specialize in shipping all kinds of vehicles including cars, trucks, motorcycles, RVs, ATVs, military and armed forces equipment, tanks, luxury vehicles, vintage cars, heavy construction machinery, trailer, and inoperable vehicles. Call our representative to get an instant quote at 888-802-8250.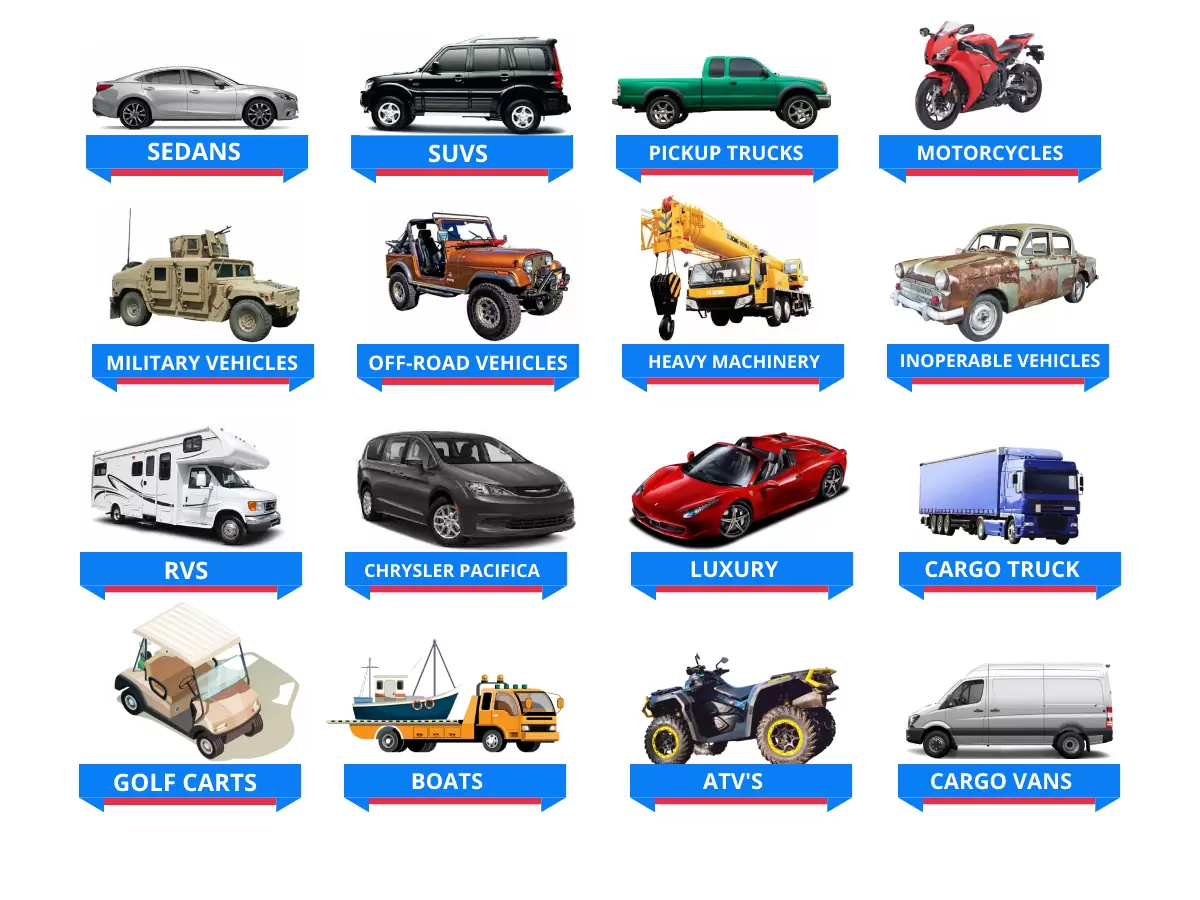 How Much Does it Cost to Ship a Car to Iowa?
Many factors come into play when making an estimation of the cost to ship a car to Iowa. These include the distance, vehicle size and type, the time of year, and the terrain encountered.
The estimated costs and times for car shipping Iowa

| From | To | Cost | Time Estimated for Delivery |
| --- | --- | --- | --- |
| Florida | Iowa | $820 - $950 | 4 - 6 days |
| Illinois | Iowa | $300 -$ 400 | 2 - 3 days |
| Iowa | Arizona | $800 - $950 | 4 - 6 days |
| Iowa | Georgia | $600 - $750 | 3 - 5 days |
| Iowa | Idaho | $800 - $1100 | 4 - 6 days |
| Massachusetts | Iowa | $750 - $1000 | 4 - 6 days |
| Iowa | Washington | $600 - $800 | 3 - 5 days |
| Tennessee | Iowa | $430 - $600 | 3 - 5 days |
| Texas | Iowa | $500 - $650 | 3 - 5 days |
Please note that prices are estimated. Shipping costs can vary depending on the season and the type of vehicle.
If you want an accurate estimate to ship a car to or from Iowa, use our online quote calculator to get a free and instant quote.
Ready to ship your car to Iowa with AutoStar Transport Express?
Call our Iowa car shipping professionals at 888-802-8250 to get answers to all your questions.
Get a Free Quote
Discover Your Options for Iowa Auto Transport
We understand the importance of providing personalized, high-quality Iowa auto transport services that cater to the unique needs of our clients. Our dedicated team is committed to delivering top-notch car shipping solutions, ensuring that your vehicle reaches its destination safely and on time.
Explore our range of flexible options for shipping your car in Iowa and choose the service that best suits your requirements.
Open Auto Transport: Open auto transport is an excellent choice for customers seeking an affordable and reliable car shipping solution. Your vehicle will be transported on an open carrier along with other vehicles, exposed to the elements but securely fastened.
Enclosed Auto Transport: If you require extra protection for your vehicle, consider opting for our enclosed auto transport service. This option ensures your car is shielded from weather, dust, and road debris during transit, making it ideal for luxury, classic, or high-end vehicles that demand additional care.
Door to Door Car Shipping: For the ultimate in convenience, choose our door-to-door service. We will pick up your vehicle from your specified location and deliver it directly to your desired destination, eliminating the need for you to visit a terminal or drop-off point.
No matter your Iowa auto transport requirements, AutoStar Transport Express is here to provide you with exceptional service, tailored to your specific needs.
Are you seeking a more affordable solution for shipping your car? Our comprehensive guide on the cheapest way to ship a car is here to help you navigate the process and uncover cost-effective options.
Documents Required for Iowa auto Transport
Drivers don't need documentation for the pickup and delivery of your vehicle, but they will provide you or someone you select with important documents.
You or a representative will be given a copy of a Bill of Lading upon pickup and delivery.
A valid license is essential, and your vehicle should be properly registered and insured.
Documents such as approvals for lienholders and absent owners are needed for vehicles that go through ports.
Special Discounts for Military Personnel
We offer special discounts to military personnel who ship a car to or from Iowa. 
 Top 5 Must-Visit Tourist Attractions in Iowa
National Mississippi River Museum and Aquarium (Dubuque): Immerse yourself in the wonders of the Mississippi River at this captivating museum and aquarium. Don't miss the chance to see live animals, historical artifacts, and experience a 4D theater showcasing the Mississippi River's importance.
Amana Colonies (Amana): Travel back in time as you visit the Amana Colonies, a National Historic Landmark that offers a glimpse into the lives of German settlers in the 19th century. This unique destination is perfect for history buffs and those seeking a charming escape.
Maquoketa Caves State Park (Maquoketa): Nature enthusiasts will love exploring the mesmerizing Maquoketa Caves State Park, home to more than a dozen caves and striking limestone formations. Traverse the hiking trails, enjoy a picnic in the serene park, and marvel at the natural beauty of the caves, some of which are open for exploration.
Adventureland Park (Altoona):  Experience fun and excitement for the whole family at Adventureland Park, an amusement park offering thrilling roller coasters, water rides, and attractions for all ages.
Pella (Marion County):  Step into a Dutch-inspired paradise in the charming town of Pella. Known for its tulip gardens, historic windmills, and annual Tulip Time Festival, Pella offers a vibrant cultural experience.
Other Helpful Resources for the State of Iowa
Explore Our Car Shipping Iowa Service Coverage
AutoStar Transport Express boasts a comprehensive carrier network and unparalleled experience, ensuring that your vehicle is transported securely and efficiently from any location in the USA to Iowa or vice versa.
Our car transport Iowa services are tailored to your unique needs, making it easier than ever to ship your car to or from the Hawkeye State.
Ames, IA
50010, 50011, 50012, 50013, 50014 & surrounding areas
Ankeny, IA
50021, 50023 & surrounding areas
Cedar Rapids, IA
52227, 52228, 52233, 52302, 52324, 52328, 52338, 52324, 52401, 52402, 52403, 52404, 52405, 52406, 52407, 52409, 52410, 52408 52411, 52497, 52498, 52499 & surrounding areas
Council Bluffs, IA
51501, 51503, 51502 & surrounding areas
Davenport, IA
52722, 52801, 52802, 52803, 52804, 52805, 52806, 52808, 52807,52809, & surrounding areas
Des Moines, IA
50047, 50211, 50301, 50301, 50302, 50303, 50304, 50306, 50307, 50308, 50309, 50310, 50311, 50312, 50313, 50314, 50315, 50316, 50317, 50319, 50320, 50321, 50322, 50327, 50328, 50328, 50329, 50330, 50331, 50332, 50334, 50335, 50336, 50339, 50340, 50359, 50360 & surrounding areas
Iowa City, IA
52240, 52242, 52243, 52244, 52245, 52246 & surrounding areas
Sioux City, IA
51102, 51054, 51101, 51103, 51104, 51105, 51106, 51108, 51109, 51111 & surrounding areas
Waterloo, IA
50701, 50702, 50703, 50704, 50707 & surrounding areas
West Des Moines, IA
50061, 50263, 50265, 50266 surrounding areas
Successful Car Shipping Iowa Reviews
See what our Iowa car transport services have to say on the top review sites
 Car Shipping Iowa FAQ
How much does it cost to ship a car to or from Iowa?

---

Find out by using our auto transport calculator. With our price calculator, you will receive an instant auto-shipping quote. Our goal is to provide you with the lowest possible price for moving your vehicle within a reasonable time frame. Supply and demand factors and diesel fuel rates are considered, but special discounts are offered on popular transport routes and seasonal backhaul routes as well. You can get a free Iowa car transport quote by using our online calculator below the page.
How long does it take to ship a car to/from Iowa?

---

It usually takes 1-2 days to ship a car within 200 miles of Iowa. Distances over 2,000 miles can take up to 6 – 8 days. There are, however, several factors that affect how long a car takes to ship to or from Iowa. Distance, road construction, traffic, seasonality, driver hours, and weather conditions are all factors to consider.
How can I get a shipping quote for my vehicle?

---

Our online car shipping quote calculator below the page can be used to estimate the cost of shipping your vehicle to Iowa, or you can contact us at 888-802-8250 to receive a quote from one of our car transport pricing specialists.
How can I pay for Iowa Car Transport?

---

We accept all major credit cards for online bookings. Please speak to our agents for more options including payment apps such as Zelle and Paypal. Direct deposit and bank transfers including ACH and wire transfers are also accepted.
How do I Prepare my Car for Iowa Auto Transport?

---

To make sure your Iowa car transport is smooth, take a few simple steps before shipping.

Make sure you completely clean your car before handing it over to the shipping company.
No personal belongings will be accepted with the exception of factory hardware
Check the Radiator, Battery, and Tires
Disable alarms and anti-theft devices
Take pictures of your vehicle after it has been washed. It will allow you to inspect the car for dents, dings, or scratches, and create a record of how the car looks before it gets shipped.
Prior to shipping, ensure your vehicle is in a reasonable operating condition. A shipping company should be notified ahead of time if an automobile is inoperable so it can provide specific instructions.
Since your vehicle will only be operated by the driver for a short time, it is advised to keep the gas tank under one-quarter full.
Make two sets of car keys. Give one to the transport company during the hand-off and keep the second as a backup. Eliminate and secure the loose parts of the vehicle

Read our detailed guide for some useful tips to prepare your car before shipping to Iowa.
How do I register my vehicle in Iowa?

---

The first step toward registering your vehicle is establishing residency. When you meet all three criteria listed below, you're considered an Iowan:

A 90-day continuous residency in Iowa
No other state has your residency or partial residency
You possess an Iowa driver's license or state-issued identification card

If you have established residency in Iowa, you must register your vehicle within 30 days, even if your out-of-state plates remain valid. Late fees may apply if you register your vehicle after this 30-day window.

If you want to register your vehicle with the IA DOT, you will need to bring the following documents:

Title of your vehicle
Application Form 411007 for Certificate of Title and/or Registration of Vehicles
For leased vehicles, submit Form 411179 Application for Certificate of Title and/or Registration
Depending on the county, you will have to pay different registration fees. For more information on the cost of your vehicle, contact your local office.

The plates, stickers, and registration certificate will be mailed to you after you complete your transaction.

You are not required to register your vehicle with the state of Iowa, but if your title is not transferred, you will not be able to sell it.

To obtain transferable registration, you must obtain an Iowa vehicle title. Contact your local county office for more information on title transfers.

Auto Insurance

It is not necessary to obtain insurance to register your vehicle, but you must have IA auto liability insurance in order to drive legally.

Smog/Inspection

In Iowa, vehicles do not need to be inspected at all. When you register a car for the first time, you don't have to worry about safety inspections, emissions testing, vehicle identification number (VIN), or odometer inspections.

Iowa residents are not required to undergo recurring inspections before renewing their registration.
Need an Iowa auto transport Quote?
Send us an email or call 888-802-8250 for a FREE CAR SHIPPING QUOTE to Iowa. If you have any questions, we look forward to answering them as soon as possible! Providing our Iowa clients with the best auto transport service at the most affordable rates is our goal.

Our auto transport services specialize in transporting cars to another state or shipping cars across the country. With years of experience and top-notch equipment, your vehicle is in good hands.
Professional Auto Transport to/from 49 other States