Check out our Hawaii to Texas Car Shipping Ratings
As the second-largest state of America in both area and population, there could have been multiple reasons for relocation to Texas. Shipping your vehicle from Hawaii to Texas isn't that difficult of a process.
The fact that it is a part of the United States means that a number of issues present when moving your car from other islands aren't present, like language barriers, dubious customs agents, etc.
If you want to ship a car from Hawaii to Texas, AutoStar Transport Express is the Top BBB-rated, safest, and pocket-friendly way to go with.
We ship hundreds of cars from multiple ports in Hawaii to Texas every week. Get a Hawaii to Texas auto transport quotation or give us a call at 888-802-8250  We will make your auto transport experience luxurious and personalized.
We guarantee the best car shipping experience to Texas from Hawaii or another way around. Every customer is important to us; Here is why we are better than any ordinary car transport company to ship a car from Hawaii to Texas.
Deliver Your Vehicle Stress-Free, Get Quote to or from Texas
1000+ 5-star Positive Reviews by satisfied customers upon Hawaii to Texas Auto Transfers.
15+ Years of experience in texas car shipping
Our experienced customer representative helps you with your paperwork specific for the Maritime Booking
Texas Car Shipping tracking, updates, and in-person support on 888-802-8250
The Most Competitive Car Shipping Rates in the Industry for Hawaii to Texas or Texas to Hawaii.
Weekly Sailings to and from Texas mean fewer delays for your vehicle to depart.

Ship a Car to Texas From Your Doorstep in Hawaii
AutoStar Transport Express provides door-to-door auto shipping service from any residential or business location in Hawaii
Ship a Car from Hawaii to Texas Every step will be planned from the door pickup schedule to the final car delivery stage, we will keep you updated on every step. Before your car is picked up for shipping to Texas it will be carefully inspected and safely loaded onto the car carrier.
Then your vehicle will be loaded into a vessel as it is now prepared for transport to Texas.
Upon the arrival of your car at the specific port of Texas, a Texas car transport expert will play out another review to document the current state of the vehicle.
Major Areas Where We Ship:-
These are the most popular areas of Hawaii where we offer our car shipping services are; Honolulu, Pearl City, Hilo, Kailua, Kahului, Kihei, Kapolei, Ewa Beach, and all surrounding areas.
Ship a Car to Texas Port
Texas is the second most populated and second-biggest state in the US. It is situated in the South Central part of the United States.
The Texas car transport experts will do the inspection upon reaching its destination in Texas to record the current state of your vehicle at the hour of unloading.
You will be informed that your vehicle is ready to be picked up, just Pay Arbitrios, which are the Gov taxes, sign the inspection, and are good to go.
Hawaii to Texas Auto Transport Testimonials
Attentive broker ( Demtri) ,made sure we were satisfied and called with any unexpected changes. Very accommodating when we made a change . Great experience to and from Hawaii. Will recommend. Pierre And Krista Julien
Documents Requirements for Hawaii to Texas Car Shipping
Following is an idea of different types of documents required for shipping a car from Hawaii to Texas.
Year, make, model, color of the vehicle, and VIN number of the vehicle.
Current title and registration of vehicle
Lien Holder Authorization Letter: It's required for leased or financed vehicles. A letter allowing the vehicle to be shipped from the bank or dealership
Power of Attorney:  A notarized power of attorney letter is required when the owner is absent.
Corporate Resolution: For company-owned cars, a copy of the Corporate Resolution confirming the shipment must accompany the shipment.
Note: According to the Hilo Port Authority, vehicles leaving the Hilo port must have a valid Safety Check, Insurance, Registration, and a valid picture ID.
16+

Years of experience

30,000+

Vehicle moves a year

50 states

Coverage across country

20,000+

Carriers for auto delivery
Ready to transport your car with AutoStar Transport Express?
Call our car shipping professionals at 888-802-8250 to answer all your questions.
Get a Free Quote
Sample Rates to Ship a Car from Hawaii to Texas
| From | To | Cost |
| --- | --- | --- |
| Austin, TX | Honolulu | $2150 |
| Austin, TX | Hilo, Nawiliwili and Kahului | $2400 |
| Dallas, TX | Honolulu | $2150 |
| Dallas, TX | Hilo, Nawiliwili and Kahului | $2400 |
| Houston, TX | Honolulu | $2150 |
| Houston, TX | Hilo, Nawiliwili and Kahului | $2400 |
These are estimated prices based on a small sedan. Rates can vary according to the season, market fluctuations, and maritime rates.
If you want to know the exact estimate for shipping a car from Hawaii to Texas, Use our online calculator to get a free and instant quote.
Related Article: How much does it cost to ship a car to Hawaii
Which Vehicles Do We Ship to Texas
AutoStar Transport Express specializes in shipping all types of vehicles including motorcycles, cars, trucks, vans, RVs, ATVs, ATVs, military vehicles, containers, trailers, and inoperable vehicles even though it's a bit more complicated since the customer has to bring the vehicle with its own platform to ship)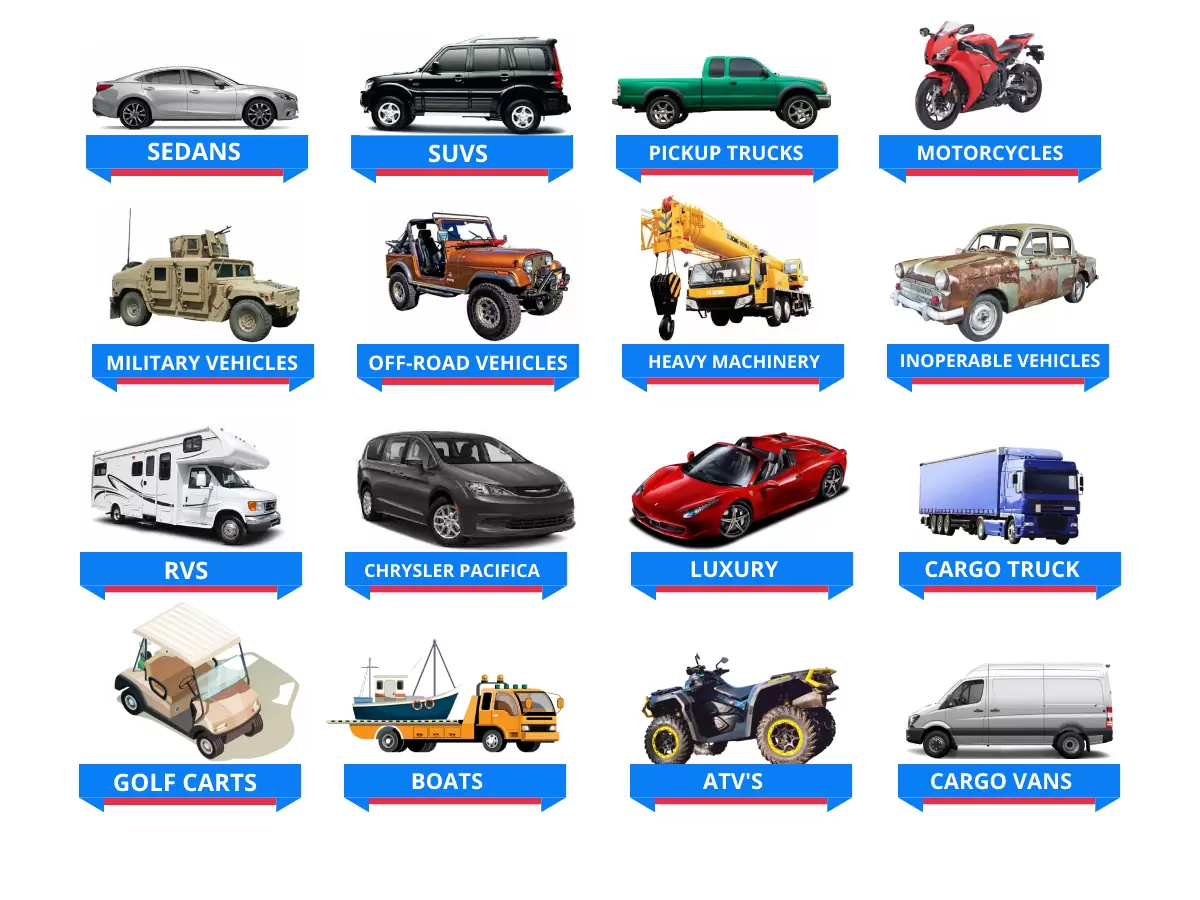 How Long Does it Take to Ship a Car to Texas?
In general, it takes 7-10 days to ship a car from the port of Hawaii to Texas port, The extra time that it will take to transport your vehicle is, mostly, because of the extra coordination between ground transport and sea transport.
Recommended: For more information visit our page on how long does it take to ship a car?
How to Prepare Your Car for Hawaii to Texas Car Transport?
To ensure that the process goes smoothly and that you don't encounter delays, you also have to make sure that you prepare your vehicle for the car shipping process. The following rules should be followed:
Don't Fuel Up: The vehicle can only hold 1/4 tank of fuel.
Electric vehicles: The battery should be charged between 45% and 50%.
Vehicle condition: The vehicle must operate properly since we'll drive it to RORO ship or transport vessel storage. In addition, the vehicle must have an emergency brake and be licensed.
Ensure that your vehicle is empty. An automobile can only ship items that are permanently attached to the dashboard, doors, rear deck, or console. Check the windshield and windows for cracks or damage.
Remove the following items if not bolted in


| | | |
| --- | --- | --- |
| Loose radios and Extra Speakers | CD's and radar scanners | Power boosters and equalizers |
| Tape players and tapes | Decorative ornaments | Auto roof racks if not factory installed |
| Compact disc players and discs | Auto protective covers/auto bras | Car alarms should be turned off before shipping if you leave them in |
| Portable telephones of any type | Truck tailgate nets | Any peripherals or accessories not permanently attached to the vehicle |

Wash Your Vehicle: Make sure your car is thoroughly cleaned before shipping. The inspection process will be simplified.
Remove fire extinguishers. The government prohibits shipping fire extinguishers with vehicles.
Empty propane tanks: Auxiliary propane tanks should be delivered empty. An empty propane tank must be certified as gas-free by a propane dealer.
You should leave the keys at the port of the ignition, trunk, gas tank, and any other locked compartments for inspection.
Note: Ports reserve the right to reject cargo that does not meet safety requirements.
Remember: After moving your vehicle to Hawaii, You will need to take it to the Hawaii Vehicle Registration office within 30 days to register and title it.
Related Article: How to Register a Car in Hawaii
Our Successful Texas to Hawaii Car Transport Reviews
Here is what our Hawaii car shipping service is said to be like.
Explore our website's car transport to Hawaii page to find out about our most sought-after routes to and from the hawaii. Additionally, please visit our car shipping Texas page to learn more about the various routes to and from Texas.