Explore Our Car Shipping Ratings from Florida to Chicago
Experience a New Level of Car Shipping Excellence: AutoStar Transport Express – Your Premier Choice for Safe and Secure auto shipping from Florida to Chicago. Our Trusted Experts Offer Competitive Pricing, a Wide Range of Transport Options, and Exceptional Customer Service to Ensure Your Peace of Mind.
We understand that your vehicle is not just a means of transportation but also a valuable possession. At AutoStar Transport Express, we are passionate about providing our customers with a stress-free and seamless car shipping experience.
Our commitment to providing world-class service has earned us a reputation as one of the leading car shipping companies in the industry. Trust us to ship car from Florida to Chicago and experience the peace of mind that comes with knowing your car is in good hands.
Learn more about our  Florida to Chicago car shipping services and get a free car shipping quote or give us a call at 888-802-8250.
What Sets AutoStar Transport Express Apart from Other Car Shipping Companies?
Customizable Shipping Options

We understand that every car and situation is unique, which is why we offer customizable shipping options to meet your specific needs.

Personalized Scheduling

We work with you to create a shipping schedule that is convenient for you, whether you need your car shipped as soon as possible or at a specific date and time.

Competitive Pricing

We offer competitive pricing that's comparable to other car shipping companies, ensuring you get the best value for your money.

Advanced Tracking System

Our state-of-the-art tracking system allows you to monitor your vehicle's progress and receive regular updates throughout the shipping process.

How Can We Make Shipping Your Car from Florida to Chicago a Breeze?
When it comes to ship car from Florida to Chicago , we offer a variety of options to suit your needs. Our most popular options include:
Open Car Transport: Trust AutoStar Transport Express for secure and dependable open car transportation – place your vehicle on an open carrier alongside other cars and cut costs without compromising on quality.
Enclosed Car Transport: Opt for enclosed transport for ultimate safety during transit – safeguard your vehicle from environmental factors and external hazards, ideal for vintage, luxury, or high-end automobiles.
Door to Door Car Shipping: Experience the convenience of our door-to-door service – we pick up and deliver your vehicle right to your doorstep, providing a hassle-free and efficient transport experience between Florida to Chicago.
What Paperwork Do You Need to Ship Your Car?
Your driver's license and a valid car title are mandatory, while registration documents are necessary.
Our driver will give you a Bill of Lading and inspection report during pickup and delivery, ensuring accountability.
It's important to inform the driver of any pre-existing damage or concerns during the inspection to ensure safe transport from Florida to Chicago.
If the vehicle is routed through a port, additional documents such as lienholder and absent owner approvals may be required to ensure smooth transportation between Florida to Chicago.
Trust Autostar Transport Express for a seamless auto transport from Florida to Chicago, backed by 16 years of experience and positive customer feedback.
Looking to ship car from Florida to Chicago?
Call our car shipping professionals at 888-802-8250 to answer all your questions.
Get a Free Quote
How Much to Ship a Car from Florida to Chicago
If you're looking to transport your car from Florida to Chicago, you're probably wondering how much it will cost. The cost of shipping a car can vary depending on a number of factors, including the distance between the pickup and delivery locations, the type of vehicle being shipped, and the time of year.
| From | To | Distance | Cost |
| --- | --- | --- | --- |
| Orlando | Lincoln Park & Old Town | 1,160 miles | $870 |
| Miami | Gold Coast | 1,383 miles | $1,040 |
| Tampa | The Loop | 1,176 miles | $880 |
| Miami Beach | Streeterville | 1,386 miles | $1,040 |
| Fort Lauderdale | Lake View | 1,364 miles | $1,025 |
| Sarasota | West Town & Wicker Park | 1,230 miles | $920 |
| Clearwater | River North & Marina | 1,200 miles | $895 |
| Pensacola | Bucktown | 920 miles | $780 |
| West Palm Beach | West Loop | 1,318 miles | $995 |
These are just estimated rates for a sedan car. Rates can vary based on travel distance, vehicle type, time of year, and current fuel prices.
It's best to get a personalized quote from our car shipping experts to get an accurate idea of how much does it cost to ship a car from Florida to Chicago.
We offer competitive pricing and top-quality car shipping services for individuals and businesses transporting their vehicles from Florida to Chicago. Contact us today to get a personalized quote and learn more about our services.
We ship a variety of vehicles from Florida to Chicago
No matter what kind of vehicle you need to transport, AutoStar Transport Express has got you covered!
Our team of vehicle shipping specialists are highly skilled in transporting  between Florida to Chicago various types of vehicles, ranging from cars, trucks, motorcycles, and RVs, to ATVs, military vehicles, heavy equipment, trailers, and even non-functional vehicles.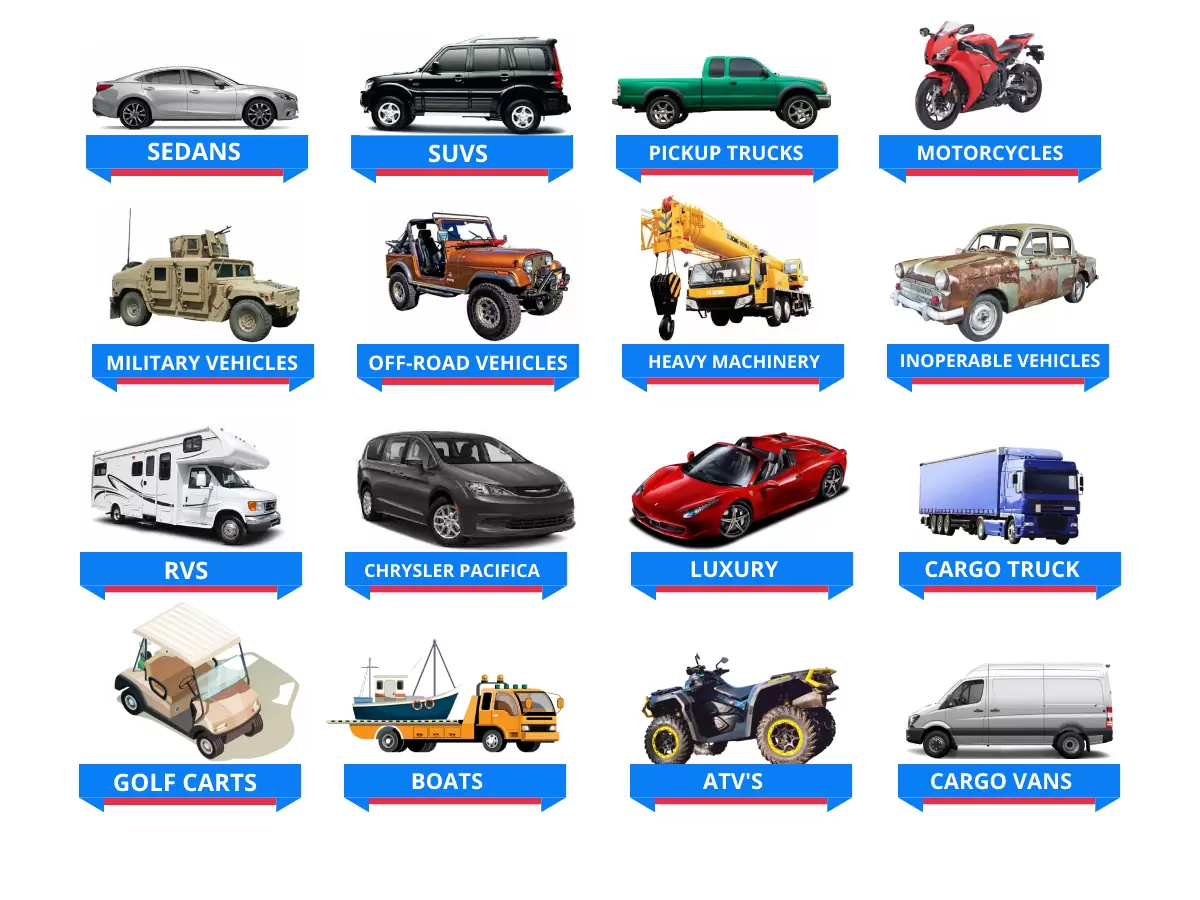 What is the estimated time frame for transporting a car from Florida to Chicago?
To ship car from Florida to Chicago typically requires 4-6 business days, taking into account potential setbacks caused by traffic, weather, and seasonal demand. Nevertheless, our vehicle transportation services prioritize the secure and timely delivery of your car, allowing you to focus on other important aspects.
Recommended: For more information visit our page on how long does it take to ship a car?
16+

Years of experience

30,000+

Vehicle moves a year

50 states

Coverage across country

20,000+

Carriers for auto delivery
Ship Car from Florida to Chicago FAQ
How far in advance should I schedule my vehicle shipment?

---

We highly recommend scheduling your vehicle shipment as far in advance as possible to ensure availability and timely transportation. Don't hesitate to contact us at 888-802-8250 as soon as you know your transportation needs, so we can get started on providing you with exceptional service you can trust.
Are there any restrictions on the size or weight of vehicles you can transport?

---

We have the capability to transport a wide range of vehicles, including those that are larger and heavier than standard cars. However, there may be certain restrictions based on safety and regulatory requirements, which our team will discuss with you prior to scheduling your shipment. Rest assured we will work closely with you to ensure that any size and weight restrictions are addressed appropriately.
Can you ship vehicles internationally?

---

Yes, we offer international car shipping services to various locations around the world. Our team of experts is highly experienced in handling all aspects of international vehicle transport, including customs clearance and documentation requirements. Contact us today to discuss your international vehicle shipping needs and to learn more about our services.
Are there any hidden fees or additional charges I should be aware of?

---

We pride ourselves on providing transparent and competitive pricing for our vehicle shipping services. We do not have any hidden fees or charges that are not clearly outlined in our pricing quote.
For more options and information on car shipping services in Florida or Chicago, visit our dedicated Florida car shipping page or Chicago car shipping page. Our comprehensive transport services and expert team ensure that your vehicle is transported safely and efficiently to its destination."