Trusted by the World's Largest Brands





Warm temperatures make Florida a great place to recharge your batteries. In case you are relocating to Florida, you might want to have your car delivered to Florida before your move.
Your first priority is to find a reliable auto transport supplier like Autostart Transport Express, the most trusted, safest, and pocket-friendly car shipping company to go with.
Our drivers, who are licensed and insured, treat your order with care. You're always in the loop with our tracking notifications.
We transport hundreds of vehicles every month to Florida. Get a Florida auto shipping quote or give us a call at 888-802-8250. We will make your auto transport experience personalized and easy for you.
Every customer is important to us; Here is why we are better than any ordinary car haulers to ship your car to or from Florida.
Ship Your Vehicle in Florida Stress-Free, Get a Quote Now
Auto transport Florida! Why Choose Us?
The reasons why we are better than any other car transport company in Florida.
Florida car shipping tracking updates and in-person support on 888-802-8250

15 + years of experience in

Florida car shipping
3500 + 5-star Positive Reviews by satisfied customers on 6 major car review platforms. 
Our experienced customer representative helps you to make your Florida car transport hassle-free.

The most competitive car shipping rates in the Industry for

Florida vehicle transport

.

Weekly auto transportation to and from

Florida

means fewer delays for your vehicle to depart and deliver.
Ready to ship your car with AutoStar Transport Express?
Call our Florida car shipping professionals at 888-802-8250 to answer all your questions.
Get a Free Quote
What are the Options to Ship a Car to or from Florida?
There are two main options to transport your vehicle:
Driving the vehicle by a professional or non-professional driver.

Shipping the vehicle by auto transport companies in Florida
Driving the car to your destination would be a great option if a road trip sounds like a good plan., however, it is not a task everybody could be capable of handling. When the distance is greater than 300 miles, we recommend shipping the vehicle instead of driving it.
Car shipping companies in Florida generally use two ways to ship your car to or from Florida.
Open Transport
A safe, lesser-known, and more cost-effective option for enclosed shipping is open auto transport. Open transport carriers can transport multiple vehicles at once, dramatically reducing your car shipping cost!
Enclosed Transport
While enclosed transport is a more expensive option and sometimes comes complete with longer delays for service, you'll get extra peace of mind knowing highway debris kicked up from a hurricane storm won't scratch your vehicle's paint job or dent its body.
Looking for help choosing a better, appropriate, and cheaper way to ship your car? this simple guide comprises everything you need to know about the best way to ship a car.
Shipping a Car From Florida
AutoStar Transport Express provides door-to-door auto shipping service from any residential or business location in Florida.
Before your car is picked up for shipping from Florida it will be carefully inspected to record the current condition of the vehicle and safely loaded onto the car carrier as it is now prepared for transport.
Where We Serve
These are the major metropolitan areas in Florida state where we offer our high-quality car shipping services are Jacksonville, Tampa, Cape Coral, Orlando, Miami, Gainesville, Yonkers, and all surrounding areas.
Shipping a Car to Florida
Florida is also known as "the sunshine state". It is the fourth most populated state in the country. The state is famous for its amusement parks, family-friendly sites, and its beaches.
The AutoStar Transport Express experts will do the inspection upon arrival at its destination in Florida to record the current condition of your vehicle at the hour of unloading. 
You will be informed that your vehicle is ready to be picked up, just sign off on the bill of lading which also includes the final inspection report to get your vehicle.
Important: For more information about nationwide car shipping services visit our page on transport vehicle from state to state
Average Cost to Ship Car to Florida
Many factors come into play when making an estimation of the cost to ship a car to Florida. These include the distance, the vehicle's size and type, the time of year, and the terrain encountered.
Florida Sample Car Shipping Rates for
| From | To | Cost | Estimated Transit Time |
| --- | --- | --- | --- |
| Wisconsin | Florida | $1069 | 4-6 days |
| Florida | New York | $705 | 4-6 days |
| California | Florida | $1400 | 8-10 days |
| Florida | Texas | $800 | 4-6 days |
| New Jersey | Florida | $750 | 4-6 days |
| Florida | Hawaii | $2350 | 11-13 days |
| Michigan | Florida | $950 | 4-6 days |
| Florida | Puerto Rico | $1,425 | 7-14 days |
The above prices are estimates based on a sedan car with an open-car transport service. Rates can vary depending on the season, type of vehicle and the latest fuel prices.
If you want to know the exact estimate for car transport Florida, Use our online calculator to get a free and instant quote.
Which Vehicles Do We Ship to or from Florida
AutoStar Transport Express specializes in shipping all kinds of vehicles including cars, trucks, motorcycles, RVs, ATVs, ATVs, military vehicles, Heavy Machinery, trailer, and inoperable vehicles even though it's a bit more complicated since the customer has to bring the vehicle with its own platform to ship)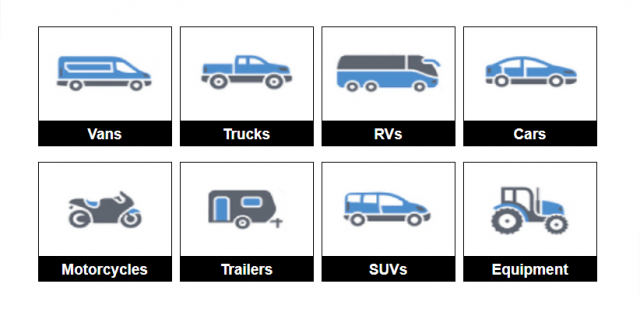 Documents Required to Ship Car to Florida
Drivers don't need documentation for the pickup and delivery of your vehicle, but they will provide you or someone you select with important documents.
You or a representative will be given a copy of a Bill of Lading upon pickup and delivery.
It is important that your driver's license is valid, and your vehicle should be properly registered and insured.
Vehicles that go through ports need additional documents like approvals for lienholders and absent owners.
Special Discounts for Military and Heavy Construction equipment
We offer special discounts for military car transport to personnel who ship a car to Florida as well as for the large organization on transportation of Heavy Machinery and Construction Equipments that choose our services.
Best Beaches in Florida
Siesta Key: Siesta Beach is one of the nation's most popular beaches, featuring white quartz sand, crystal-clear water, dining, shopping, and nightly entertainment.
Palm Beach: There's something for everyone in Palm Beach, whether it's shopping along Worth Avenue, practicing your swing on a world-class golf course, or relaxing on sparking white sands.
Santa Rosa Beach: Santa Rosa Beach offers 26 miles of white sand, emerald water, top-notch dining, local art galleries, and boutiques along Florida's northwest coast.
Destin: A family-friendly beach town in the panhandle, Destin offers opportunities to snorkel, sunbathe and fish deep sea.
Sanibel Island: A quiet island with a variety of restaurants, shops, and art galleries, Sanibel Island attracts seashell collectors and families.
Ready to ship your car with AutoStar Transport Express?
Call our Florida car shipping professionals at 888-802-8250 to answer all your questions.
Get a Free Quote
Useful Florida Car Shipping Resources
Most Popular Florida Car Shipping Routes
Successful Auto Transport Florida Reviews
Read what our customers have to say about their experience with Auto Star Transport Express.
Auto Transport Florida FAQs
How much does shipping a car to Florida cost?

---

The cost of shipping a car to Florida will greatly depend on the type of vehicle, its distance, and its method of shipping.

Generally, the further the vehicle must be transported, the higher its total cost. For longer distances, however, the average price per mile may be lower.

For example, the estimated cost to ship a car from Indiana to Florida is $700 for 1070 miles. On the other hand, the average cost to ship a car from California to Florida is $1400 for 11498 miles.

See our cost to ship a car page for a more detailed look at what shipping might cost.

If you would like to get an exact car shipping quote for Florida, try using our free instant car shipping estimate calculator above the page.
Is it possible to ship stuff in my car?

---

Although you are not supposed to put personal items in the car during transportation, most carriers allow you to put up to 100 pounds of stuff in the trunk.
What is the cheapest way to ship your car?

---

The cheapest way to transport a car is with a trailer that can move many cars at once. Open car transport is the least expensive way of shipping a car to Florida. Flexible schedules and flexible delivery locations can also save you money when shipping your car.
How far in advance should I book my car shipment?

---

Getting your car shipment scheduled in advance will allow us to ensure that it arrives on time. Plan your Florida car transport at least 1 to 2 weeks in advance. We can accommodate expedited shipments. Feel free to call us at 888-802-8250 and let us know your Florida car transport schedule.
Can I track the progress of my shipment online?

---

We offer a standard tracking system for vehicle shipping. This allows you to track your shipment's progress. It's all part of our customer-focused service. To track your car shipment, we need your tracking number, name, email address, and/or telephone number.
Can I ship a modified or oversized vehicle?

---

Through our advanced network of specialized carriers nationwide, we can ship vehicles of any size. You will, however, need to call for a unique rate quote based on the dimensions of the oversized vehicle.
How do I prepare my car for shipment?

---

Clean your car thoroughly before transport.
Make sure all loose parts, such as trim or mirrors, are removed or secured.
Check your vehicle's operating condition before shipping to prevent any difficulties.
Gas tanks should be filled only one-quarter full
Remove valuable gear and accessories from the car before transport.  These items include GPS units and audio equipment.  This is also the time to take important materials, such as parking passes, out of the car.  To avoid unnecessary charges during shipping, grab your toll transponder.
You'll need two sets of car keys.  Keep the second set as a backup set and give one to the transport company during the hand-off.
Be sure to take a full set of interior and exterior pictures during the hand-off.