Ship a Car Across the Country
Need to ship a car across the country? Then look no further. Since launching in 2007, AutoStar Transport Express, Top BBB-rated car shipping company has established a reputation for reliable and transparent Cross Country vehicles shipping.
We work with a wealth of reliable partners across the United States to give our customers the best door-to-door car shipping experience. So whether you need to ship a car across the country or from state to state, Auto Star Transport Express is the, safest, and pocket-friendly way to ship a car across the Country.
We ship Thousands of vehicles every week across the country. Get a Cross country vehicle shipping quote or give us a call at 888-802-8250 We will make your auto transport experience luxurious and personalized.
Here is why we are better than any ordinary car transport company to ship a car across the country.
Trusted Shipping Partners
AutoStar Transport Express works in partnership with the best trucking and car shipping companies in the United States. We have worked with over 3,000 carriers but maintain a preferred carrier list of 600 companies that we work with regularly.
Experience
AutoStar Transport Express has 14+ Years of experience in Shipping a Car Across the Country, We move more than 100 vehicles a day means fewer delays for your vehicle to depart, but we still manage to give each of our customers the personalized attention they deserve. That is why we got 1000+ 5-star Positive Reviews from satisfied customers across-country car Transfers.
Ready to Ship a Car Across the Country with AutoStar Transport Express?
Call our cross-country vehicle shipping professionals at 888-802-8250 to answer all your questions.
Get a Free Quote
Flexible Timing
The most ideal situation includes booking as far in advance as you can. On the off chance that you need urgent care shipping across the country.
AutoStar Transport Express can absolutely deal with that for a slightly increased cost of transport a car. we'll make it simple by smoothing out pickup and delivery, giving you nonstop tracking updates on your vehicle, and in-person support on 888-802-8250.
In case of any delay, AutoStar Transport Express will allow you to change your dates before your vehicle is dispatched if needed.
Personal Experience
At AutoStar Transport Express we believe that the shipping process should be personal, so we ensure that you get the high-quality across-country car shipping experience that you deserve.
Our Transport Coordinators take into account the type of vehicle that you are shipping, the mileage and terrain to be covered, your desired schedule, and the transport market to make a personalized recommendation for what type of carrier is best to cross country car transport.
Successful Cross Country Vehicle Shipping Testimonial
We use Autostar Transport to ship customer cars all over the country. We are a used car dealer that sells nationwide. AutoStar has made it easy to get our cars to our customers in a timely manner. Will be recommending them to all the local dealers as well!!!  Jacob Green 
We Ship all Kind of Vehicles
AutoStar Transport Express specializes in shipping all types of vehicles including motorcycles, cars, trucks, vans, RVs, ATVs, military vehicles, containers, trailers, and inoperable vehicles even though it's a bit more complicated since the customer has to bring the vehicle with its own platform to ship.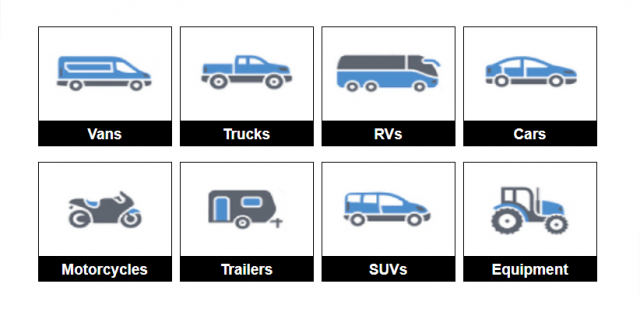 Most customers choose open auto transport, which is a pocket-friendly way to ship a car across the country. But, if you want to ship a luxury, classic, or vintage vehicle, consider the additional cost of enclosed auto transport that will protect your car from weather and road debris over long distances.
How Much Does it Cost to Ship a Car Across the Country?
There are multiple factors that come into consideration when it comes to making an estimation of the cost to ship a car across the country, it depends upon the number of miles from the pick-up point, the size and type of vehicle, and the season when most people travel or least, plus time of the year, the kind of terrain that comes on the way, and more.
If you want to know the exact estimate for shipping a car across the country, Use our online calculator to get a free and instant quote.
Estimated Cross-Country Car Shipping Delivery Time
We ship and transport vehicles as quickly and carefully as possible. Below are the estimated delivery timeframes for shipment:
Coast to Coast – 7-10 Days
3/4 Cross-Country – 5-7 Days
1/2 Cross-Country – 3-5 Days
North to South / South to North – 3-5 Days
Interstate and/or Neighbouring States – 1-3 Days
Check out more on how long does it take to ship a car here.
Want To Know More?
For more information on our cross country motorcycle & car delivery service get in touch today on 888-802-8250 or request a free quote below.
Our Car Shipping Routes