Highly Rated as one of the Top Car Transport Companies in Colorado
Reliable Auto Transport Services in Colorado
When you need to ship a car to or from Colorado, you need a reputable Colorado auto transport company you can rely on. Over the past 15 years, AutoStar Transport Express has been providing reliable and safe Colorado car shipping for both individual and corporate clients.
You can trust our licensed and insured drivers to take care of your order. You'll always be aware of your order's progress with our tracking notifications.
We transport hundreds of vehicles every month to Colorado. Get an auto shipping Colorado quote or give us a call at 888-802-8250. We will make your car shipping experience personalized and easy for you.
How does Colorado auto shipping work?
If you need to ship a car to Colorado, put your trust in AutoStar Transport Express. It's one of our specialties to ship autos to/from Colorado. We have a dedicated sales team available to assist you. Moreover, we have dedicated departments for dispatch, support, and claims to ensure that your shipment runs as smoothly as possible.
Here's how we ship cars to Colorado
Book Your Order: Once your order is placed, we will begin moving your car to Colorado. This usually takes a week to complete. Our team will keep you informed about the time and date of pick-up, the tracking number, and the truck driver's information.
Pick up The Vehicle: Once delivery arrangements have been finalized, the truck driver will contact you. Every carrier at AutoStar Transport Express treats each vehicle as if it was their own.
Receive the Vehicle: The driver and you will inspect the vehicle once it arrives in Colorado. This is also the time when the final inspection report will be signed.
Auto Transport Colorado! Why Choose Us?
We offer hassle-free and cost-effective car shipping services in Colorado. This is why AutoStar Transport Express has become one of the top-rated Colorado car shipping companies.
Top-Rated and Licensed: Our company is licensed and bonded with the Federal Motor Carrier Safety Administration, and we have over a thousand  5-star customer reviews for successful Colorado car transport.
Best shipping prices: Our car shipping prices are always the best. You'll get Colorado car shipping tracking updates and in-person support on 888-802-8250.
Full insurance coverage. We provide basic liability coverage on all shipments. Shipping insurance options with a higher level of coverage are available. The booking process allows you to select a level of coverage. Give us a call at 888-802-8250 if you have further questions about insurance options. Leave it to us to worry about your vehicle's safety!
Real-time tracking: In every step of the delivery process, our professionals track your vehicle and provide you with the most up-to-date status.
Long Distance Auto Transport Colorado
Are you looking for an auto transport company near me in Colorado that ships cars long distances? Whether you're looking to ship your car to another state or across the country, our Colorado car shipping services can help.
No matter your destination, Our reliable drivers will ensure your shipment arrives at the city or door safely if you are shipping a car into or out of Colorado.
As part of our personalized car transport service, we provide 24/7 monitoring, regular updates, and insurance coverage. In short, AutoStar Transport Express is the safest, easiest, and most affordable way to ship a car across the country.
Colorado Classic and Luxury Car Shipping
Shippers can easily damage antiques and luxury cars if they are not handled properly. Therefore, AutoStar Transport Express offers white-glove services for such Colorado car transportation.
We use enclosed auto transport carriers to ship these vehicles and always pick the best drivers. The wheels are secured to the trailer with soft wheel straps, which keeps the suspension and chassis unaffected.
However, if you are working under a tight budget, open auto transport Colorado services can be a good option. A closed carrier, on the other hand, can be a good option if you don't mind spending a lot.
Ready to ship your car with AutoStar Transport Express?
Call our car shipping Colorado professionals at 888-802-8250 to answer all your questions.
Get a Free Quote
International Auto Transport from/to Colorado
International auto shipping can be stress-free with AutoStar Transport Express. Save time by having us provide the complete list of documents you need.
By partnering with the best international shipping companies, we can provide you with the best shipping experience. We provide international car shipping services to and from the following locations:
How Much Does it Cost to Ship a Car to Colorado?
There are multiple factors that come into consideration when it comes to making an estimation of the cost to ship a car to Colorado.
It depends upon the number of miles away from the pick-up point, the size and type of vehicle, peak season, time of the year, as well as the terrain encountered.
Price Estimates for Colorado Car Shipping
| From | To | Cost | Time Estimated for Delivery |
| --- | --- | --- | --- |
| California | Colorado | $850 - $1100 | 4 - 6 days |
| Colorado | Washington | $900 - $1250 | 5 - 7 days |
| New York | Colorado | $1100 - $1350 | 5 - 7 days |
| Colorado | Florida | $1100 - $1400 | 6 - 8 days |
| Illinois | Colorado | $850 - $1000 | 4 - 6 days |
| Colorado | Nevada | $650 - $850 | 3 - 5 days |
| Colorado | Texas | $700 - $850 | 3 - 5 days |
The rates listed are estimates and are subject to change depending on many factors including the season and type of vehicle you wish to ship.
If you want to know the exact estimate to ship a car to Colorado, Use our online calculator to get a free and instant quote.
Ready to ship your car with AutoStar Transport Express?
Call our Colorado car shipping professionals at 888-802-8250 to answer all your questions.
Get a Free Quote
Which Vehicles Do We Ship to or from Colorado
AutoStar Transport Express specializes in shipping all kinds of vehicles including cars, trucks, SUVs, Sedans, motorcycles, RVs, ATVs, military vehicles, Heavy Machinery, trailer, and inoperable vehicles even though it's a bit more complicated since the customer has to bring the vehicle with its own platform to ship)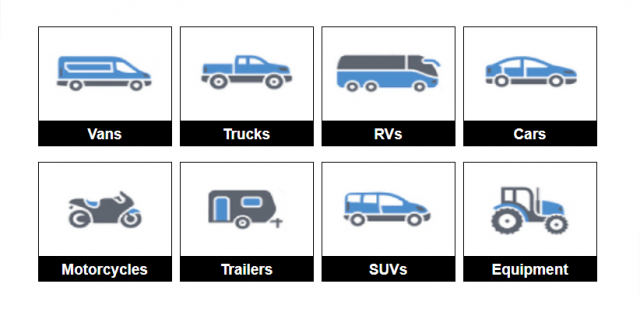 What are the Options for Auto Transport Colorado?
There are two main options to transport your vehicle:
Driving the vehicle by a professional or non-professional driver.

Shipping the vehicle by auto transport companies Colorado

Driving the car to your destination would be a great option if a road trip sounds like a good plan., however, it is not a task everybody could be capable of handling. When the distance is greater than 300 miles, we recommend shipping the vehicle instead of driving it.
Colorado auto transport companies generally use two ways to ship your car to or from Colorado.
Enclosed Transport
While enclosed transport is a more expensive option and sometimes comes complete with longer delays for service, you'll get extra peace of mind knowing highway debris kicked up from a hurricane storm won't scratch your vehicles' paint job or dent its body.
Open Transport
It is a moderate and quick way to transport vehicles, carriers who specialize in open transport can handle multiple vehicles at once, thereby reducing labor costs on your shipment quote!
Looking for help to choose a better, appropriate, and cheaper way to ship your car? this simple guide comprises everything you need to know about the cheapest way to ship a car.
Ready to ship your car with AutoStar Transport Express?
Call our Colorado car shipping professionals at 888-802-8250 to answer all your questions.
Get a Free Quote
Shipping a Car From Colorado
AutoStar Transport Express provides door-to-door auto shipping service from any residential or business location in Colorado.
Before your car is picked up for shipping from Colorado. it will be carefully inspected to record the current condition of the vehicle and safely loaded onto the car carrier as it is now prepared for transport.
Colorado is known for being cold, snowy, and mountainous. Some routes into or out of the state freeze in the winter months, becoming snowbound or otherwise difficult to travel.
Major Areas Where We Serve
These are the most popular areas of Colorado where our Colorado auto transport services are being offered in Denver, Colorado Springs, Aurora, Fort Collins, Lakewood, Thornton, Arvada . and all surrounding areas.
Shipping a Car to Colorado
Colorado is an ideal place to ship a car, as it attracts more interest from carriers. This can result in it being easier to find a transporter that will ship there during most times of the year.
The AutoStar Transport Express experts will do the inspection upon arrival at its destination in Colorado to record the current condition of your vehicle at the hour of unloading. 
You will be informed that your vehicle is ready to be picked up, just sign off on the bill of lading which also includes the final inspection report to get your vehicle
Required Documents for Auto Transport Colorado
While shipment drivers don't require extra documents for pickup or drop-off of your vehicle, they will provide you or somebody you've selected with important documentation for your records.
Your driver's license needs to be valid, and your vehicle needs to be properly registered and insured.
You or a representative of your choice will be given a duplicate of a Bill of Lading at both pickup and drop-off. This isn't just a receipt! It is likewise a duplicate of a thorough inspection report on your vehicle.
Other documents like lienholder and absent owner approvals are for when your vehicle goes through a port (e.g., on a boat rather than a truck).
An inadequate Bill of Lading or inspection means something bad! If your vehicle gets harmed during shipment from or to Colorado but the pick-up inspection wasn't thoroughly conducted, there could be risk concerns and unnecessary pressure for everybody included!
Special Discounts for Military Members
We offer special discounts to military personnel who ship a car to Colorado.
Ready to ship your car with AutoStar Transport Express?
Call our Colorado car shipping professionals at 888-802-8250 to answer all your questions.
Get a Free Quote
Some Interesting Facts About Colorado
Colorado may be best known for skiing, but it isn't the only thing. The Mile-High City of Denver attracts thousands of visitors every year.
This captivating state is distinguished by its Rocky Mountain Range, ravines, deserts, and extraordinary backwoods.
Colorado has very dry air. Ensure that you drink a lot of water. In the Rocky Mountains, it's very easy to get dehydrated.
Colorado's weather is unpredictable. You may be wearing shorts one day, but the forecast might suggest snow the next. The weather can change quickly between fall and winter, so keep an eye on it.
Colorado's housing market is crazy. A quarter of a million people move to the state every year, so housing demand is high, but supply is low.
In recent years, Colorado cities have experienced rapid growth and expansion. As a result, residents have access to more services and jobs.
The state may not require you to use your car as often, however, you will still want it at various points, including some of the mountainous regions where you can go hiking and view the most breathtaking scenes in nature.
Ready to ship your car with AutoStar Transport Express?
Call our Colorado car shipping professionals at 888-802-8250 to answer all your questions.
Get a Free Quote
How Do I Register My Car in Colorado?
You must register and title your vehicle in Colorado within 90 days of establishing Colorado residency. To register and title an out-of-state vehicle, you must bring the following documents:
Out-of-state title and/or current registration (not older than 6 months)
Verifiable and secure identification
Proof of Colorado Vehicle Emissions (if applicable)
Insurance proof
Verification of the VIN
Note: In some states, you have to return the old license plates of your vehicle. Check with the state motor vehicle department where your vehicle was previously registered and plated to determine their requirements.
Costs of Vehicle Registration
Registration costs in Colorado are determined by the following factors:
Licensing fee: Determined by the car's weight, taxable value, and purchase date.
Sales tax: Determined by the net purchase cost of your car.
Ownership tax: is based on the value of your car when it is new.
For a free assessment, visit your local Division of Motor Vehicles Registration Office.
Some Useful Tips to Prepare Your Car
All vehicles may have one-fourth (1/4) tank of fuel 

Clean your vehicle, inside and out, and record the picture of your vehicle

No personal belongings will be accepted with the exception of factory hardware.

Check the Radiator, Battery, and Tires

Address Engine & Mechanical Problems

Disable alarms and anti-theft devices

Eliminate and secure the loose parts of the vehicle

Make sure the keys are available
Here is a detailed guide on some useful tips to prepare your car before shipping to colorado.
Few ways to locate us in the Nearest State to Colorado
Popular Routes to Colorado
Other Helpful Resources for the State of Colorado
Successful Colorado Car Shipping Reviews
See what clients are saying about our Colorado car transport services on the top review sites
Colorado Car Shipping FAQs
How much does it cost to ship a car to or from Colorado?

---

It usually costs 45 cents to $1.35 per mile to ship a standard-sized vehicle, depending on the time of year, where the vehicle is coming from and going to, and the fuel price. A shorter distance tends to have higher rates per mile than a longer trip but is less expensive in total than a longer trip. Find out more about vehicle shipping pricing here. Get an instant quote to ship a car to or from Colorado with our free online calculator above the page.
How long does it take to ship a car to/from Colorado?

---

For distances less than 200 miles, shipping a car to/from Colorado will take 1-2 days. The delivery time frame can be 6-9 days for longer distances, such as 2,000 miles or more. We've only provided average figures because several factors can affect colorado car shipping times. Factors such as distance, traffic, road construction, detours, seasonality, weather conditions, and driver's hours contribute to this.
How far in advance should I book my order?

---

Ideally, you should schedule your Colorado car transport service two days to two weeks in advance.
Do you ship modified or oversized vehicles to Colorado?

---

With our advanced network of specialized carriers nationwide, we can ship vehicles of any size. If you would like to ship an oversized vehicle, please call for a customized rate quote.
Can I put personal items in my vehicle?

---

Car carriers are prohibited from shipping personal or household items due to weight restrictions. Nevertheless, you can transport personal items in your trunk for up to 100 pounds. There is no insurance coverage for personal belongings that are reported damaged or missing.
Is there a discount available?

---

Yes, that's possible! AutoStar Transport Express offers a variety of discount programs. Senior citizens, students, and military personnel often receive seasonal discounts. Please contact us if you need additional discounts.
How do I ship my car to Colorado?

---

AutoStar Transport Express makes shipping a car to Colorado simple. Step 1, Calculate your instant auto transport quote and choose a convenient pickup time. Step 2, Your vehicle will be picked up from your specified location in any part of the country. Step 3, You will receive your vehicle at the location you specify in Colorado.
What are the payment options for Colorado Car Transport?

---

The most common payment method is Zelle. It is necessary to take care of everything before releasing the vehicle. We also accept ACH, wire transfers, direct deposits, and credit/debit cards.
Are there any hidden charges?

---

The quote we provide covers all costs associated with transporting your vehicle to Colorado. In addition to pick-up and delivery, your quote includes taxes and insurance.
Need a Colorado Car Shipping Quote?
Send us an email or call 888-802-8250 for a FREE CAR SHIPPING QUOTE to Colorado. If you have any questions, we look forward to answering them as soon as possible! Providing our Colorado clients with the best auto transport service at the most affordable rates is our goal.