We are Experts in Car Shipping in California
With almost 40 million residents, California is the most populous state in the U.S.
As one of the biggest and most diverse states in the United States, California is home to many US mainstays, including Hollywood, the Golden Gate Bridge, and Long Beach.
It's easy to see why thousands of people, relocate to California each year. The economy is booming, new businesses are opening every day, and the entire state is a big draw for tourists.
It is common for people to bring their vehicles to better explore the state. Taking your car to California is easier, more affordable, and offers surprising benefits.
AutoStar Transport Express is the most trusted, safest, and pocket-friendly car shipping company to go for shipping your car to or from California.
As a licensed, bonded, and insured car shipping company, we have 15 years of experience transporting vehicles from and to California.
We transport hundreds of vehicles every month to California. Get a California auto shipping quote or give us a call at 888-802-8250. We will make your auto transport experience personalized and easy for you.
Car Transport California! Why Choose Us
Our car transportation services in California are hassle-free and cost-effective. Because of this, AutoStar Transport Express is one of the top car shipping companies in California.
Customized car shipping California: Due to the fact that every customer's car transport needs are different, we offer customized services. We strive to find the most cost-effective way to ship cars to California.
Insurance coverage: Each of our carriers is required to carry insurance coverage.
Real-time tracking updates: We keep you informed throughout the delivery process about your California car shipping status.
Licensed and bonded: We are licensed and bonded with the Federal Motor Carrier Safety Administration, and we have over 1,000 5-star car shipping reviews from satisfied customers for California car shipping.
Competitive Pricing: There are no hidden fees or charges associated with our vehicle shipping rates. Our car shipping rates are guaranteed to be competitive, so you won't be overcharged.
How does California Auto Shipping Work?
Are you looking for a reliable car shipping company? Our drivers are ready to pick up your California car shipping order! Feel free to contact us right away or simply use our online quote calculator to schedule your shipment.
Here are the steps we take to ship cars to/from California:
Request a quote and place an order: To request a quote, fill out the quote form, send an email to info@autostartransport.com, or call 888-802-8250. Once you place your order, we will contact you regarding the pick-up time, tracking numbers, and truck driver information.
Pick up your vehicle: As soon as you prepare your vehicle, our experienced driver will inspect it, pick it up from your doorstep, and transport it to the destination of your choice. During transportation, you can contact us for tracking updates at any time.
Receive the Vehicle: You will receive your vehicle directly at your door with our door-to-door car shipping service.  You must sign both the bill of lading and the inspection report to receive your vehicle.
Ready to ship your car?
Fill out the form below or call 888-802-8250 for a free California car shipping quote.
How Much Does It Cost to Ship a Car to or from California?
There are multiple factors that come into consideration when it comes to making an estimation of the cost to ship a car to or from California. The number of miles from the pick-up point, the size and type of vehicle, the season when most people travel or least, and the terrain are just a few variables that influence the price.
California Car Shipping Costs & Time Examples
| From | To | Cost | Time Estimated for Delivery |
| --- | --- | --- | --- |
| Portland, OR | Los Angeles | $600 - $720 | 3 - 5 days |
| California | Miami, Florida | $1300 - $1500 | 7 - 9 days |
| New York, NY | Los Angeles | $1250 - $1450 | 7 - 9 days |
| California | Illinois | $1050 - $1250 | 6 - 8 days |
| California | Georgia | $1150 - $1300 | 6 - 8 days |
| Washington | California | $500 - $700 | 7 - 9 days |
| Los Angeles | Houston, TX | $1250 - $1450 | 5 - 7 days |
| Louisiana | California | $900 - $1050 | 5 - 7 days |
| Michigan | California | $1100 - $1300 | 6 - 8 days |
Prices and times for California auto transport are estimates. Rates can vary depending on the season and type of vehicle.
If you want to know the exact estimate for shipping a car to or from California, use our online calculator to get a free and instant quote.
Long Distance Auto Transport California
When moving to a new state for study or a new job, shipping a car along with you might ease the transition. If you are looking for an auto transport company to ship your car to another state, for example, shipping from Michigan to California or across the country, we can help.
It doesn't matter where your shipment is headed, our reliable drivers will ensure it reaches its destination safely. We provide 24/7 monitoring, regular updates, and insurance coverage for our car transport services.
To put it simply, AutoStar Transport Express offers the safest, most affordable, and easiest way to ship a car across the country. Get started on California car transport by calling 888-802-8250 today.
Classic or Luxury car Shipping in California
You may damage a luxury or classic car if you choose the wrong transportation method to transport it to California. Even though open trailers are generally safe, unpredictable road and weather conditions can result in bumps or scratches.
With enclosed car haulers, cars are protected from outside elements (road debris, rocks, dust, bugs, rain) by the sides and top of the trailer. Use of an enclosed trailer is recommended for antiques, exotics, classics, and luxury vehicles.
Ready to ship your classic car with AutoStar Transport Express?
Call our California car shipping professionals at 888-802-8250 to answer all your questions.
Get a Free Quote
International Auto Transport in California
When moving your car to another country, you may need the help of an auto shipping company. Taking care of international auto shipping is a breeze with AutoStar Transport Express.
AutoStar Transport Express works with the best international partners to offer you the best possible car shipping experience. We can assist with the entire process, including customs, picking up the car for transport overseas, booking the ship, and selecting another carrier to deliver it to its destination. Just follow our instructions and prepare the required paperwork. Also, be sure to check the import taxes of the country you're moving to.
Ensure a smooth journey with our auto transport experts. We provide international car shipping from California to the following locations:
Ready to ship your car to California with AutoStar Transport Express?
Call our California car shipping professionals at 888-802-8250 to answer all your questions.
Get a Free Quote
What are the Options to Ship a Car to or from California?
There are two main options to transport your vehicle:
Driving the vehicle by a professional or non-professional driver.

Shipping the vehicle by vehicle transport companies in California
Driving the car to your destination would be a great option if a road trip sounds like a good plan., however, it is not a task everybody could be capable of handling.
When the distance is greater than 300 miles, we recommend shipping the vehicle instead of driving it. Auto transport companies in California generally use two ways to ship a car.
Open Vehicle Transport California
Open auto transport is a moderate and faster alternative. Open transport carriers can carry various vehicles at once and thus impressively reduce the labor overhead transferred to your shipment quote!
Enclosed Auto Shipping California
While enclosed transport is a more expensive option and sometimes comes complete with longer delays for service, you'll get extra peace of mind knowing highway debris kicked up from a hurricane storm won't scratch your vehicle's paint job or dent its body.
Looking for help choosing a better, appropriate, and cheaper way to ship your car? this simple guide comprises everything you need to know about the best way to ship a car.
Shipping a Car From California
AutoStar Transport Express provides door-to-door auto shipping service from any residential or business location in California.
Before your car is picked up for shipping from California it will be carefully inspected to record the current condition of the vehicle and safely loaded onto the car carrier as it is now prepared for transport.
Where We Serve
These are the most popular areas of California where our auto transport services are being offered: Los Angeles, San Diego, San Jose, San Francisco, Fresno, Sacramento, Long Beach, Oakland. and all surrounding areas.
Shipping a Car to California
The AutoStar Transport Express experts will do the inspection upon arrival at its destination in California to record the current condition of your vehicle at the hour of unloading. 
You will be informed that your vehicle is ready to be picked up, just sign off on the bill of lading which also includes the final inspection report to get your vehicle
Required Documents to Ship a Car to or from California
Your driver's license needs to be valid, and your vehicle needs to be properly registered and insured.
While shipment drivers don't require extra documents for the pickup or drop-off of your vehicle, they will provide you or somebody you've selected with important documentation for your records.
You or a representative of your choice will be given a duplicate of a Bill of Lading at both pickup and drop-off. This isn't just a receipt! It is likewise a duplicate of a thorough inspection report on your vehicle.
Inspections are a basic part of the shipping process. If your vehicle has previous harms or concerns, they ought to be turned by the driver preceding setting your vehicle on the shipment car carrier.
An inadequate Bill of Lading or inspection means something bad! If your vehicle gets harmed during shipment from or to California but the pick-up inspection wasn't thoroughly conducted, there could be risk concerns and unnecessary pressure for everybody included!
Other documents like lienholder and absent owner approvals are for when your vehicle goes through a port (e.g., on a boat rather than a truck).
Ready to ship your car with AutoStar Transport Express?
Call our California car shipping professionals at 888-802-8250 to answer all your questions.
Get a Free Quote
Special Discounts for Military Personnel
We offer special discounts to military personnel who ship a car to or from California.
Which Vehicles Do We Ship to or from California?
AutoStar Transport Express specializes in shipping all kinds of vehicles including cars, trucks, motorcycles, RVs, ATVs, ATVs, military vehicles, Heavy Machinery, trailer, and inoperable vehicles.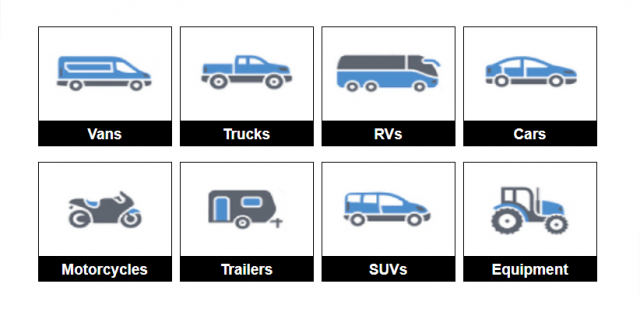 Car registration in California
After establishing residency in California, you have 20 days to register your vehicle with the DMV to avoid late fees. You must submit the following documents to the DMV in order to register:
Form REG 343 – Application for Title or Registration.
Out-of-State title for the vehicle.
Out-of-State Vehicle Registration.
Insurance proof.
Obtain a valid smog certificate.
The payment of fees
After a DMV employee completes your vehicle's VIN inspection, you will be issued your registration card, stickers, and plates.
Smog Inspections and Checks in California
A vehicle must undergo such an inspection before registering in CA. Some areas require smog inspections every two years. In addition to a smog inspection certification, new vehicles must pay a yearly $20 fee for smog reduction for their first six years on the road.
Information about the Booming State of California
There is so much to love about California: amazing weather, tourist attractions, iconic beaches, and relaxed culture that make it easy to enjoy them all.
A quarter of California's population lives in Los Angeles, which has famous spots like the Mojave Desert, Hollywood, and Long Beach.
Every year, thousands of retirees, seasonal travelers, vacationers, families, and business professionals relocate to California, and it's easy to see why.
With a population of over 40 million, California is the most populous state in the US. Due to this, California auto transport is equally large since people want to get around, whether they are visiting or relocating.
California is more than just a long beach. Besides giant Redwood forests, there is a desert and an enormous mountain range. With a total area of 163,696 square miles, you'll need a vehicle to explore it.
Ready to ship your car with AutoStar Transport Express?
Call our California car shipping professionals at 888-802-8250 to answer all your questions.
Get a Free Quote
How to Prepare a Car for California Auto Transport
Make sure your California car transport goes smoothly by following a few simple steps.
Wash Your Vehicle: Make sure your car is completely clean before handing it over to the shipping company.
Take Pictures: Take a picture of your vehicle's exterior and interior after it has been washed. It will enable you to inspect the car for dents, dings, and scratches before shipping, and you can keep track of its condition.
Empty the Vehicle: Except for factory hardware, no personal belongings will be accepted.
Secure Loose Parts: Secure the loose parts of the vehicle by removing them and securing them. Disable all alarms and anti-theft devices.
Check Your Vehicle: Make sure your vehicle is in reasonable operating condition before shipping. Make sure the radiator, battery, and tires are in good working order.  In the case of inoperable vehicles, the shipping company should be informed in advance.
Empty Gas Tank: The gas tank should not be filled more than a quarter full since the vehicle will only be driven for a short period of time.
Duplicate Keys: You should make two sets of car keys. Keep one as a backup and give one to the transport company during the handoff.
Here is a detailed guide on some useful tips to prepare your car before shipping to California:
Reasons to Ship Your Car to California vs. Buy New
If you're moving, you may wonder if it's worth bringing the old car with you. Leaving your car behind can be appealing, but you might want to purchase a new one. The following reasons explain why shipping a car is better than buying a brand-new one
Cost: Costs associated with moving and car shipping can add up quickly. Shipping your car instead of buying a new one at the new location can save you both time and money.
Safety: Traveling long distances by car is extremely time-consuming as well as hazardous in several ways. Unexpected events, such as car problems, bad weather, fatigue, and other safety issues, can negatively affect your family's safety.
Save Vehicle Wear: Ship your car instead of adding long-distance miles to its odometer to maintain its value. Save yourself the trouble and let the auto transport company beat up their vehicle.
Useful Resources
Popular Car Shipping Routes to or From California
Successful California Car Shipping Reviews
See what our clients say about our California car transport services on the top review sites.
California Car Shipping FAQs
How much does shipping a car to or from California cost?

---

The cost of shipping a car to or from California will greatly depend on the type of vehicle, how far it must travel, and the method you choose.

The further the vehicle has to be transported, the higher its total cost. However, the average price per mile may be lower for longer distances than for shorter distances.

For example, the estimated cost to ship a car from Indiana to California is $1210 for 2205 miles. On the other hand, the average cost to ship a car to California from Kansas is $1120 for 1538 miles.

See our cost to ship a car page for a more detailed look at what shipping might cost.

If you would like to get an exact car shipping quote for California, try using our free instant car shipping estimate calculator above the page.
How long does it take to ship a car to or from California?

---

Many factors affect the time it takes to ship a car to or from California. It is important to consider factors such as the distance to and from the final destination, traffic, and other stops when calculating delivery time. It usually takes less than 4 days to cover distances under 1,000 miles, while over 2,000 miles can take up to nine days.
How do I ship my car to California?

---

California car shipping is easier than you might think. It's a common misconception that car transportation from state to state is nearly impossible. Fortunately, AutoStar Transport Express makes California auto transport easier than ever. Get your car on its way in just a few clicks.

For more information about how to ship a car to California give AutoStar Transport Express a call at 888-802-8250 for a free, no-obligation quote, or use our car shipping calculator for an instant quote. Afterward, we'll handle everything, and your car will be on its way.
If my vehicle is inoperable, can I ship it to California?

---

Yes, we can ship vehicles that are not running/inoperable. For inoperable cars, a special auto carrier is needed that makes use of a winch to slowly and safely pull your car onto the carrier. A fee is added for vehicles that cannot be driven because special equipment is required to secure them onto the transporter.

In case your vehicle is not running, you may select the inoperable option on the online booking form or inform our car shipping experts if you make a reservation by calling 888-802-8250.
How do I prepare my car for shipment?

---

Make sure your vehicle is thoroughly cleaned before shipping. If you have any loose exterior items, such as trim or an antenna, you should remove or secure them before transport. Ensure the car is in good working condition before transporting it. Fill the tank only about a quarter full. Take off any expensive equipment not integrated into the car, such as GPS or audio systems, before shipping. Hand over one set of keys to the transport company and keep a backup set. Before handing over your car, take exterior and interior photos. This will record the current condition of your vehicle before the shipping and serve as a baseline in case anything unexpected occurs.
How far in advance should I book my car?

---

It is recommended that you schedule your car transport service two days to two weeks in advance. Although we are often able to assign your vehicle on the same day, giving us a longer lead time will allow us to schedule your auto transport more efficiently. By staying within two weeks of your first available shipping date, you will get the best car shipping rates.
Is my vehicle insured during transport?

---

During transport, damage is extremely rare, but we believe in being safe and not sorry. All of our carriers are required to carry insurance coverage.
How can I pay for California Car Transport?

---

The most common method of payment is Zelle. Make sure everything is in order before releasing the vehicle. Additionally, you can pay by ACH, wire transfer, direct deposit, or credit/debit card.
Need a California Car Shipping Quote?
Send us an email or call 888-802-8250 for a FREE CAR SHIPPING QUOTE to California. If you have any questions, we look forward to answering them as soon as possible! Providing our California clients with the best auto transport service at the most affordable rates is our goal.