Let Us Handle Your Car Shipping California!
Hey there, road trippers! Ready to cruise California's epic highways and hit up all the hotspots? AutoStar Transport Express can get your ride there safe and sound, so you can focus on the fun stuff.
We're licensed, bonded, and insured with over 16 years of car shipping experience in the Golden State. Whether you've got a car, truck, SUV, or motorcycle, we've got you covered with open and enclosed transport options.
Don't let the journey stress you out – leave it to the experts at AutoStar Transport Express. Call us at 888-802-8250 to get a California auto shipping quote and start planning your dream trip. The road is waiting for you!
Auto Transport to California – Why We're the Best Choice
Stress-free, affordable car transportation in California. Trust AutoStar Transport Express, a top CA car shipping company.
Customized car shipping solution

No two customers are the same, and neither are their car transport needs. At AutoStar Transport Express, we offer personalized service to find the most cost-effective way to ship your car to California.

Insurance coverage

Insurance is a must for every carrier we work with. Your car is in good hands with AutoStar Transport Express.

Real-time tracking updates

We keep you informed throughout the delivery process about your California car shipping status.

Licensed and bonded

We are licensed and bonded with the Federal Motor Carrier Safety Administration, and we have over 7,000 5-star car shipping reviews from satisfied customers.

Competitive Pricing

There are no hidden fees or charges associated with our vehicle shipping rates. Our car shipping rates are guaranteed to be competitive, so you won't be overcharged.
How does California Auto Shipping Work?
Looking for reliable car shipping companies in California? Look no further than our team of expert drivers, ready to pick up your vehicle and transport it safely to your destination.
Here are the steps we take to ship cars to/from California:
Request a quote and place an order: To request a quote, fill out the quote form, send an email to info@autostartransport.com, or call 888-802-8250. Once you place your order, we will contact you regarding the pick-up time, tracking numbers, and truck driver information.
Pick up your vehicle: As soon as you prepare your vehicle, our experienced driver will inspect it, pick it up from your doorstep, and transport it to the destination of your choice. During transportation, you can contact us for tracking updates at any time.
Receive the Vehicle: You will receive your vehicle directly at your door with our door-to-door car shipping service.  You must sign both the bill of lading and the inspection report to receive your vehicle.
Ready to ship your car?
Fill out the form below or call 888-802-8250 for a free California car shipping quote.
How Much Does Car Shipping California Cost?
There are multiple factors that come into consideration when it comes to making an estimation of the cost to ship a car to or from California. The number of miles from the pick-up point, the size and type of vehicle, the season when most people travel or least, and the terrain are just a few variables that influence the price.
Car Shipping California Sample Times and Rates

| From | To | Cost | Time Estimated for Delivery |
| --- | --- | --- | --- |
| Portland, OR | Los Angeles | $600 - $720 | 3 - 5 days |
| California | Miami, Florida | $1300 - $1500 | 7 - 9 days |
| New York, NY | Los Angeles | $1250 - $1450 | 7 - 9 days |
| California | Illinois | $1050 - $1250 | 6 - 8 days |
| California | Georgia | $1150 - $1300 | 6 - 8 days |
| Washington | California | $500 - $700 | 7 - 9 days |
| Los Angeles | Houston, TX | $1250 - $1450 | 5 - 7 days |
| Louisiana | California | $900 - $1050 | 5 - 7 days |
| Michigan | California | $1100 - $1300 | 6 - 8 days |
Prices and times for California auto transport are estimates. Rates can vary depending on the season and type of vehicle.
If you want to know the exact estimate for shipping a car to or from California, use our online calculator to get a free and instant quote.
Long Distance Auto Transport California
When moving to a new state for study or a new job, shipping a car along with you might ease the transition. If you are looking for an auto transport company to ship your car to another state, for example, shipping from Michigan to California or across the country, we can help.
It doesn't matter where your shipment is headed, our reliable drivers will ensure it reaches its destination safely. We provide 24/7 monitoring, regular updates, and insurance coverage for our car transport services.
To put it simply, AutoStar Transport Express offers the safest, most affordable, and easiest way to ship a car across the country. Get started on California car transport by calling 888-802-8250 today.
What are the Options to Ship a Car to or from California?
Open Vehicle Transport California
Open auto transport is a moderate and faster alternative. Open transport carriers can carry various vehicles at once and thus impressively reduce the labor overhead transferred to your shipment quote!
Enclosed Auto Shipping California
While enclosed transport is a more expensive option and sometimes comes complete with longer delays for service, you'll get extra peace of mind knowing highway debris kicked up from a hurricane storm won't scratch your vehicle's paint job or dent its body.
Looking for help choosing a better, appropriate, and cheaper way to ship your car? this simple guide comprises everything you need to know about the best way to ship a car.
Where We Serve
These are the most popular areas of California where our auto transport services are being offered: Los Angeles, San Diego, San Jose, San Francisco, Fresno, Sacramento, Long Beach, Oakland. and all surrounding areas.
Required Documents to Ship a Car to or from California
Your driver's license needs to be valid, and your vehicle needs to be properly registered and insured.
You or a representative of your choice will be given a duplicate of a Bill of Lading at both pickup and drop-off. This isn't just a receipt! It is likewise a duplicate of a thorough inspection report on your vehicle.
Inspections are a basic part of the shipping process. If your vehicle has previous harms or concerns, they ought to be turned by the driver preceding setting your vehicle on the shipment car carrier.
An inadequate Bill of Lading or inspection means something bad! If your vehicle gets harmed during shipment from or to California but the pick-up inspection wasn't thoroughly conducted, there could be risk concerns and unnecessary pressure for everybody included!
Other documents like lienholder and absent owner approvals are for when your vehicle goes through a port (e.g., on a boat rather than a truck).
16+

Years of experience

30,000+

Vehicle moves a year

50 states

Coverage across country

20,000+

Carriers for auto delivery
Ready to ship your car with AutoStar Transport Express?
Call our California car shipping professionals at 888-802-8250 to answer all your questions.
Get a Free Quote
Which Vehicles Do We Ship to or from California?
AutoStar Transport Express specializes in shipping all kinds of vehicles including cars, trucks, motorcycles, RV Transport California, ATVs, ATVs, military vehicles, vans,  Heavy Machinery, trailer, and inoperable vehicles.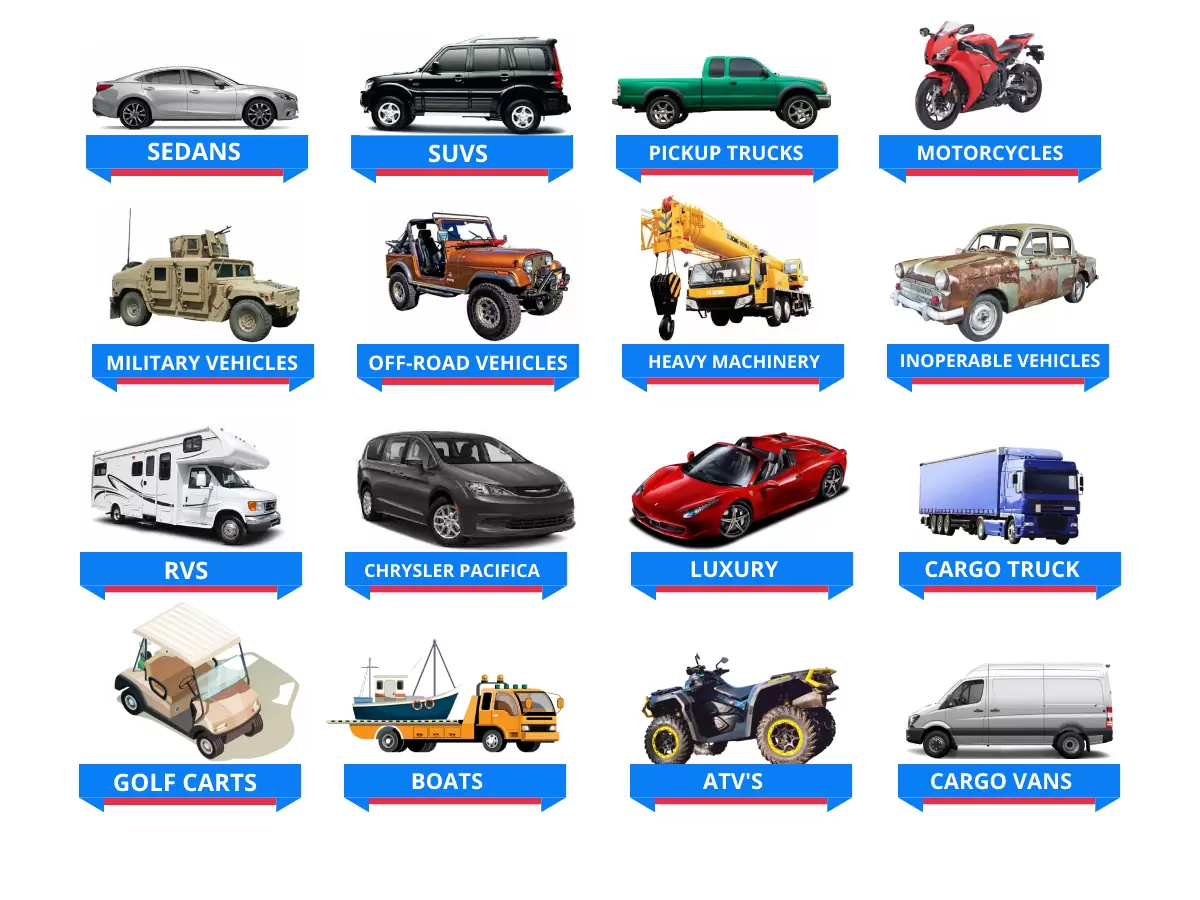 Car registration in California
After establishing residency in California, you have 20 days to register your vehicle with the DMV to avoid late fees. You must submit the following documents to the DMV in order to register:
Form REG 343 – Application for Title or Registration.
Out-of-State title for the vehicle.
Out-of-State Vehicle Registration.
Insurance proof.
Obtain a valid smog certificate.
The payment of fees
After a DMV employee completes your vehicle's VIN inspection, you will be issued your registration card, stickers, and plates.
Smog Inspections and Checks in California
A vehicle must undergo such an inspection before registering in CA. Some areas require smog inspections every two years. In addition to a smog inspection certification, new vehicles must pay a yearly $20 fee for smog reduction for their first six years on the road.
Fun facts about California
Get ready to experience the best of Cali-fornia, where Hollywood's iconic sign first advertised "Hollywoodland," and the world's first McDonald's served up some juicy burgers.
But wait, there's more! In NorCal, you can find the world's tallest trees – the California redwoods – while the Golden Gate Bridge stands as a symbol of Cali's beauty.
And don't forget Silicon Valley, home to tech giants like Apple, Google, and Facebook. But it's not all work and no play – you can also find Disneyland, the happiest place on Earth, in Anaheim.
Ready to explore Cali in your own ride? Let AutoStar Transport Express handle the journey and get you there safe and sound. Contact us today for a personalized quote and start living the Cali life!
Ready to ship your car with AutoStar Transport Express?
Call our California car shipping professionals at 888-802-8250 to answer all your questions.
Get a Free Quote
How to Prepare a Car for California Auto Transport
Make sure your California car transport goes smoothly by following a few simple steps.
Wash Your Vehicle: Make sure your car is completely clean before handing it over to the shipping company.
Take Pictures: Take a picture of your vehicle's exterior and interior after it has been washed. It will enable you to inspect the car for dents, dings, and scratches before shipping, and you can keep track of its condition.
Empty the Vehicle: Except for factory hardware, no personal belongings will be accepted.
Secure Loose Parts: Secure the loose parts of the vehicle by removing them and securing them. Disable all alarms and anti-theft devices.
Check Your Vehicle: Make sure your vehicle is in reasonable operating condition before shipping. Make sure the radiator, battery, and tires are in good working order.  In the case of inoperable vehicles, the shipping company should be informed in advance.
Empty Gas Tank: The gas tank should not be filled more than a quarter full since the vehicle will only be driven for a short period of time.
Duplicate Keys: You should make two sets of car keys. Keep one as a backup and give one to the transport company during the handoff.
Here is a detailed guide on some useful tips to prepare your car before shipping to California:
Useful Resources
California Department of Public Health
Explore Our California Car Shipping Service Coverage
With a vast network of carriers and years of experience, AutoStar Transport Express can transport your vehicle safely and efficiently to and from any location in California.
Stockton, CA
95336, 95242, 95231, 95219, 95215, 95212, 95211, 95210, 95209, 95207, 95206, 95205, 95204, 95203, 95202 and surrounding areas
Santa Ana, CA
92606, 92614, 92701, 92703, 92704, 92705, 92706, 92707, 92780, 92866, 92868 and surrounding areas
San Jose, CA
94089, 95002, 95008, 95013, 95014, 95032, 95035, 95037, 95050, 95054, 95070, 95110, 95111, 95112, 95113, 95116, 95117, 95118, 95119, 95120, 95121, 95122, 95123, 95124, 95125, 95126, 95127, 95128, 95129, 95130, 95131, 95132, 95133, 95134, 95135, 95136, 95138, 95139, 95140, 95148 & surrounding areas
San Francisco, CA
93611, 93612, 93619, 93650, 93701, 93702, 93703, 93704, 93705, 93706, 93710, 93711, 93720, 93721, 93722, 93723, 93725, 93726, 93727, 93728, 93730 & surrounding areas
San Diego, CA
91911, 91914, 91915, 91932, 91942, 91945, 91950, 92014, 92025, 92027, 92029, 92037, 92064, 92065, 92067, 92071, 92075, 92101, 92102, 92103, 92104, 92105, 92106, 92107, 92108, 92109, 92110, 92111, 92113, 92114, 92115, 92116, 92117, 92118, 92119, 92120, 92121, 92122, 92123, 92124, 92126, 92127, 92128, 92129, 92130, 92131, 92132, 92134, 92135, 92139, 92140, 92145, 92147, 92154 & surrounding areas
Sacramento, CA
95652, 95660, 95673, 95758, 95811, 95814, 95815, 95816, 95817, 95818, 95819, 95820, 95821, 95822, 95823, 95824, 95825, 95826, 95828, 95829, 95831, 95832, 95833, 95834, 95835, 95837, 95838, 95841, and 95864 & surrounding areas
Bakersfield, CA
93203, 93220, 93301, 93304, 93305, 93306, 93307, 93308, 93309, 93311, 93312, 93313, 93314 & surrounding areas
Oakland, CA
94577, 94601, 94602, 94603, 94605, 94606, 94607, 94608, 94609, 94610, 94611, 94612, 94613, 94618, 94619, 94621, 94704 & surrounding areas
Los Angeles, CA
90001, 90002, 90003, 90004, 90005, 90006, 90007, 90008, 90010, 90011, 90012, 90013, 90014, 90015, 90016, 90017, 90018, 90019, 90020, 90021, 90023, 90024, 90025, 90026, 90027, 90028, 90029, 90031, 90032, 90033, 90034, 90035, 90036, 90037, 90038, 90039, 90041, 90042, 90043, 90044, 90045, 90046, 90047, 90048, 90049, 90056, 90057, 90058, 90059, 90061, 90062, 90063, 90064, 90065, 90066, 90067, 90068, 90069, 90071, 90077, 90079, 90089, 90090, 90094, 90095, 90210, 90212, 90230, 90232, 90247, 90248, 90272, 90275, 90290, 90291, 90292, 90293, 90402, 90405, 90501, 90502, 90710, 90717, 90731, 90732, 90744, 90745, 90810, 90813, 91030, 91040, 91042, 91105, 91214, 91303, 91304, 91306, 91307, 91311, 91316, 91324, 91325, 91326, 91330, 91331, 91335, 91340, 91342, 91343, 91344, 91345, 91352, 91356, 91364, 91367, 91371, 91401, 91402, 91403, 91405, 91406, 91411, 91423, 91436, 91504, 91505, 91601, 91602, 91604, 91605, 91606, 91607, 91608 & surrounding areas
Long Beach, CA
90713, 90731, 90740, 90755, 90802, 90803, 90804, 90805, 90806, 90807, 90808, 90810, 90813, 90814, 90815, 90822, 90831 & surrounding areas
Popular Car Shipping Routes to or From California
Successful California Car Shipping Reviews
Our satisfied customers agree that we're one of the best car shipping companies in the business.
California Car Shipping FAQs
How much does shipping a car to or from California cost?

---

The cost of shipping a car to or from California will greatly depend on the type of vehicle, how far it must travel, and the method you choose.

The further the vehicle has to be transported, the higher its total cost. However, the average price per mile may be lower for longer distances than for shorter distances.

For example, the estimated cost to ship a car from Indiana to California is $1210 for 2205 miles. On the other hand, the average cost to ship a car to California from Kansas is $1120 for 1538 miles.

See our cost to ship a car page for a more detailed look at what shipping might cost.

If you would like to get an exact car shipping quote for California, try using our free instant car shipping estimate calculator above the page.
How long does it take to ship a car to or from California?

---

Many factors affect the time it takes to ship a car to or from California. It is important to consider factors such as the distance to and from the final destination, traffic, and other stops when calculating delivery time. It usually takes less than 4 days to cover distances under 1,000 miles, while over 2,000 miles can take up to nine days.
How do I ship my car to California?

---

California car shipping is easier than you might think. It's a common misconception that car transportation from state to state is nearly impossible. Fortunately, AutoStar Transport Express makes California auto transport easier than ever. Get your car on its way in just a few clicks.

For more information about how to ship a car to California give AutoStar Transport Express a call at 888-802-8250 for a free, no-obligation quote, or use our car shipping calculator for an instant quote. Afterward, we'll handle everything, and your car will be on its way.
If my vehicle is inoperable, can I ship it to California?

---

Yes, we can ship vehicles that are not running/inoperable. For inoperable cars, a special auto carrier is needed that makes use of a winch to slowly and safely pull your car onto the carrier. A fee is added for vehicles that cannot be driven because special equipment is required to secure them onto the transporter.

In case your vehicle is not running, you may select the inoperable option on the online booking form or inform our car shipping experts if you make a reservation by calling 888-802-8250.
How far in advance should I book my car?

---

It is recommended that you schedule your car transport service two days to two weeks in advance. Although we are often able to assign your vehicle on the same day, giving us a longer lead time will allow us to schedule your auto transport more efficiently. By staying within two weeks of your first available shipping date, you will get the best car shipping rates.
Is my vehicle insured during transport?

---

During transport, damage is extremely rare, but we believe in being safe and not sorry. All of our carriers are required to carry insurance coverage.
How can I pay for California Car Transport?

---

The most common method of payment is Zelle. Make sure everything is in order before releasing the vehicle. Additionally, you can pay by ACH, wire transfer, direct deposit, or credit/debit card.
Shipping car across country can be a convenient and efficient option for long-distance transportation, especially if you're moving far away or can't drive the car yourself. Our state to state car transport page provides comprehensive information on auto transport services between states, helping you make an informed decision.
Professional Auto Transport to/from other 49 States