See our Boston to California Car Shipping Ratings
Transport Your Car From Boston to California with Ease
If you're planning a move or need to transport your car from Boston to California, AutoStar Transport Express can help simplify the process. Car shipping can be time-consuming and stressful, but our team of experts is here to handle all the details, keeping you informed every step of the way.
We prioritize the care and safety of your vehicle, treating it as if it were our own. With competitive pricing and personalized service, you can trust that you're getting the best value for your money.
Contact us today to begin your Boston to California vehicle transport. We're dedicated to making your car transportation needs a breeze.
Shipping Car from Boston to California! Why Choose us?
We strive to provide top-notch service and quality solutions for all of our customers. Here are just a few reasons why you should choose us for your car shipping needs:
Exceptional Customer Service

Our team of friendly and knowledgeable experts is available to answer any questions you may have and provide support throughout the entire car shipping process.

Transparent Pricing

We offer competitive pricing with no hidden fees or charges, so you can trust that you're getting a fair and honest deal.

Nationwide Coverage

We offer car shipping services to and from any location in the United States, so no matter where you need your car shipped, we can help.

Safe and Secure

We take the safety of your vehicle seriously and use only the best carriers and equipment to ensure that your car arrives at its destination in the same condition as when it left.

Personalized Service

We understand that every customer and every car is unique, and we'll work with you to provide customized solutions that fit your specific needs.

What are the Options for Shipping Car from Boston to California?
When it comes to shipping your vehicle from Boston to California, we offer a variety of options to suit your needs. Our most popular options include:
Open car shipping: Our open car shipping service is a cost-effective option for transporting your vehicle from Boston to California. Your car will be transported on an open trailer, exposed to the elements but fully secured and protected during transit.
Enclosed car shipping: If you want to ensure maximum protection for your vehicle during transport, our enclosed car shipping service is the way to go. Your car will be shipped in a fully enclosed trailer, shielded from the weather and road debris.
Door to door car shipping: With our door-to-door car shipping service, we'll pick up your vehicle from your preferred location in Boston and deliver it directly to your desired destination in California. It's the most convenient option for hassle-free car shipping.
Are you ready for shipping car from Boston to California?
Fill out the form below or call 888-802-8250 to receive a free and instant car shipping quote from AutoStar Transport Express.
Documents Required to Transport car from Boston to California
Signed agreement: You'll need to sign an agreement with Autostar Transport Express that outlines the details of your shipment and the services you've requested.
Vehicle registration and Title: Autostar Transport Express will need a copy of your vehicle's current registration and title to verify ownership.
Bill of lading: Autostar Transport Express will provide you with a bill of lading that details the specifics of your shipment, including pickup and delivery locations, the type of service requested, and the expected delivery date.
Payment: You'll need to provide payment in full prior to the shipment of your vehicle.
Safe and Reliable car shipping from Boston to California
Call our Auto Transport experts at 888-802-8250 to answer all your questions.
Get a Free Quote
How much to ship a car from Boston to California?
When it comes to transporting a car from Boston to California, many factors affect the cost of shipping car , including distance, vehicle size and type, travel season, and terrain.
Sample Car Shipping Rates With Open Transport
| Boston | California | Distance | Cost |
| --- | --- | --- | --- |
| Quincy | Belmont | 3,124 miles | $1650 |
| Newton | San Diego | 2,993 miles | $1680 |
| Somerville | San Francisco | 3,102 miles | $1705 |
| Brookline | San Jose | 3,103 miles | $1700 |
| Medford | Oakland | 3,083 miles | $1690 |
| Everett | Long Beach | 2,928 miles | $1630 |
| Chelsea | Bakersfield | 3,111 miles | $1715 |
| Watertown | Anaheim | 2,975 miles | $1640 |
| Dedham | Santa Ana | 2,974 miles | $1630 |
The prices provided are only approximate and are subject to variation depending on factors such as the total distance of travel, the type of vehicle used, the time of year, and the prevailing fuel prices.
To get an exact estimate, use our online calculator for a quick and free quote.
Types of Vehicles We Transport
At AutoStar Transport Express, we are proud to serve Boston to connecting areas of California, Either you move for your job or for any outdoor activities in the city.
All kinds of trucks, cars, motorcycles, RVs, ATVs, Army tanks, exotic cars, vintage or classic cars, heavy construction equipment, trailers, and non-operational vehicles, can be shipped quickly and securely by our responsible drivers.
You can get an instant quote for your special car shipping needs by calling us at 888-802-8250.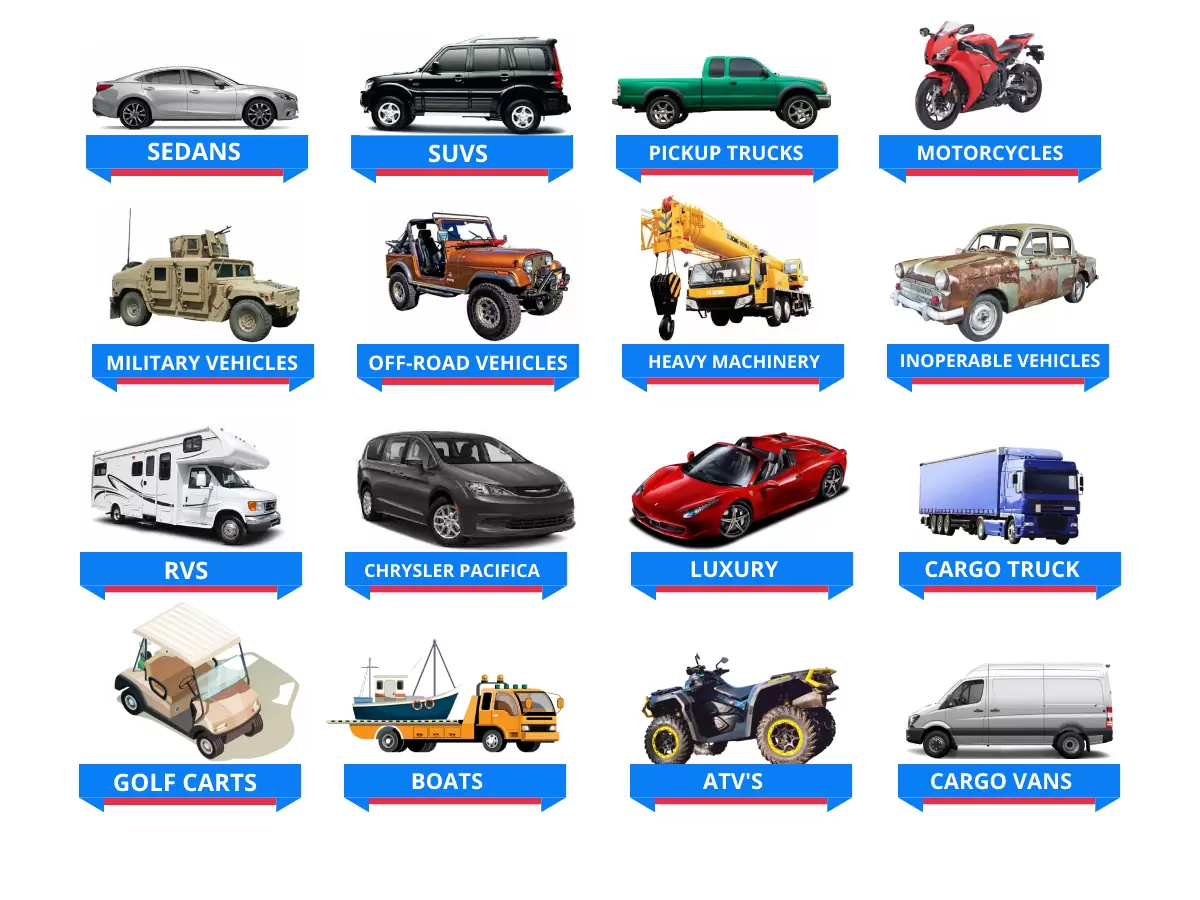 How Long does it Take to Transport car from Boston to California?
The estimated shipping time will depend on several factors, such as the distance between the pickup and delivery locations, the type of service requested, and any potential delays due to unforeseen circumstances.
Autostar Transport Express will be able to provide you with a more accurate estimated shipping time based on the specific details of your shipment. You can contact us directly to discuss your options and receive a quote for your transportation needs.
Recommended: For more information visit our page on how long does it take to ship a car?
16+

Years of experience

30,000+

Vehicle moves a year

50 states

Coverage across country

20,000+

Carriers for auto delivery
Successful Boston to California Car Shipping Reviews
Read what our customers have to say about their experience with Auto Star Transport Express.
Car Shipping from Boston to California: FAQ
How do I prepare my car for shipment?

---

You will need to prepare your vehicle for shipping by removing all personal belongings, securing loose parts, and ensuring that the gas tank is less than 1/4 full for more information, you can visit our post on how to prepare your car for shipment.
Can I track my car during transport?

---

Yes, AutoStar Transport Express provides a tracking number that you can use to track your car during transport
Can I choose my pick-up and delivery days?

---

While we cannot guarantee a pickup or delivery date, we recommend booking with as much advance notice as possible if you have preferences related to your transport.
Explore additional routes to and from California on our dedicated car shipping California page. Similarly, our auto transport Massachusetts page lists all other routes to and from Boston and all over Massachusetts.