Check out our Ratings for Car Transport Arizona to California
We understand that shipping your vehicle can be overwhelming, whether it's for a work relocation, purchasing a vehicle out of state, or attending a car show. At AutoStar Transport Express, we strive to make the process easy and stress-free.
With over 16 years of industry experience, we are committed to delivering exceptional customer service and top-quality auto transport services. Our reputation for reliability, safety, and affordability speaks for itself.
Our team of expert logistics professionals will guide you every step of the way to ensure the secure and safe transportation of your vehicle. We offer various shipping options, including open and enclosed trailers, to meet your unique needs and budget.
Learn more about our Arizona to California car shipping services and get a free car shipping quote or give us a call at 888-802-8250.
Car Transport Arizona to California! Why Choose Us?
It's simple. We offer a hassle-free, reliable, and pocket friendly way to ship a car from Arizona to California. With our commitment to customer service and our years of experience, you can trust us to get the job done right. So sit back, relax, and let us take care of the rest.
Competitive Pricing

We offer competitive pricing for our car shipping services without compromising on quality, making your Arizona to California transport both cost-effective and dependable.

Insurance

Your vehicle is fully insured during transit, providing peace of mind and protection against potential damages.

Exceptional Customer Support

Our friendly and knowledgeable customer support team is always available to address your questions and concerns, ensuring a stress-free experience.

Personalized Solutions

Our team works closely with you to create a tailored shipping plan that meets your specific needs and preferences.

Options for my car transport Arizona to California
When it comes to shipping a car from Arizona to California, there are several options available.
Open Car Transport: This is the most common option for shipping a car. Your vehicle will be transported on an open trailer along with other vehicles.
Enclosed Car Transport: This option provides more protection for your vehicle during transport, as it is transported in a covered trailer. However, it is more expensive than open transport.
Door to Door car Shipping: With this option, your vehicle will be picked up from your doorstep in California and delivered directly to your destination in Arizona.
You can get an instant quote for your special car shipping needs by calling us at 888-802-8250 .
Documents Required for Car Transport Arizona to California
If you're planning to transport a vehicle from Arizona to California, you'll need to prepare several documents. Here are the most important documents for auto transport in Arizona:
Title and Vehicle Registration: You'll need to provide proof of ownership of the vehicle, which is usually done through a valid vehicle registration. Make sure the registration is current and up-to-date.
Bill of Lading: This is a document that outlines the details of the transportation agreement, including the pick-up and delivery locations, the estimated delivery date, and the cost of transport.
Lien holder authorization: If there is a lien on the vehicle, you'll need to provide a lien holder authorization form that grants permission for the vehicle to be transported.
Photo ID: You'll need to provide a valid government-issued photo ID, such as a driver's license or passport, to verify your identity.
Power of Attorney: If you are unable to be present at the pick-up or delivery of the vehicle, you may need to provide a power of attorney document that grants permission for someone else to act on your behalf.
Note: It's important to check with your auto transport provider to confirm exactly which documents are required for your specific situation. They may have additional requirements or specific forms that need to be completed.
Planning to transport your vehicle from Arizona to California?
Call our car shipping professionals at 888-802-8250 to get a response to your queries.
Get a Free Quote
How Much to Ship a Car from Arizona to California?
The cost of shipping a car from Arizona to California is affected by a variety of factors, including distance, vehicle size, travel season, and terrain.
These factors can all impact the total cost of your car shipment, and our team at AutoStar Transport Express is committed to providing you with a personalized quote that accurately reflects your unique needs and preferences.
Sample Car Shipping Rates With Open Transport
| From | To | Distance | Cost |
| --- | --- | --- | --- |
| Phoenix | San Francisco | 752 miles | $640 |
| Flagstaff | Bakersfield | 480 miles | $550 |
| Tucson | Belmont | 760 miles | $650 |
| ake Havasu City | Santa Ana | 847 miles | $720 |
| Mesa | Oakland | 740 miles | $630 |
| Scottsdale | Long Beach | 757 miles | $645 |
| Sedona | San Diego | 456 miles | $530 |
| Yuma | Anaheim | 258 miles | $390 |
| Tempe | San Jose | 719 miles | $615 |
These are estimated prices for sedan car shipping and are subject to variation based on factors such as the type of vehicle, travel distance, and current fuel prices.
To get an exact estimate, use our online calculator for a quick and free quote.
Which vehicles can be shipped from Arizona to California
We offer a comprehensive range of car shipping services that cater to all types of vehicles, from cars and trucks to motorcycles, RVs, ATVs, military vehicles, heavy machinery, trailers, and even inoperable vehicles.
Our team of experts is dedicated to providing you with a seamless and hassle-free vehicle transport experience, ensuring your prized possession arrives at its destination safely and on time.
Whether you're shipping your car across the country or purchasing a car from out of state, trust AutoStar Transport Express to get your vehicle where it needs to go, hassle-free!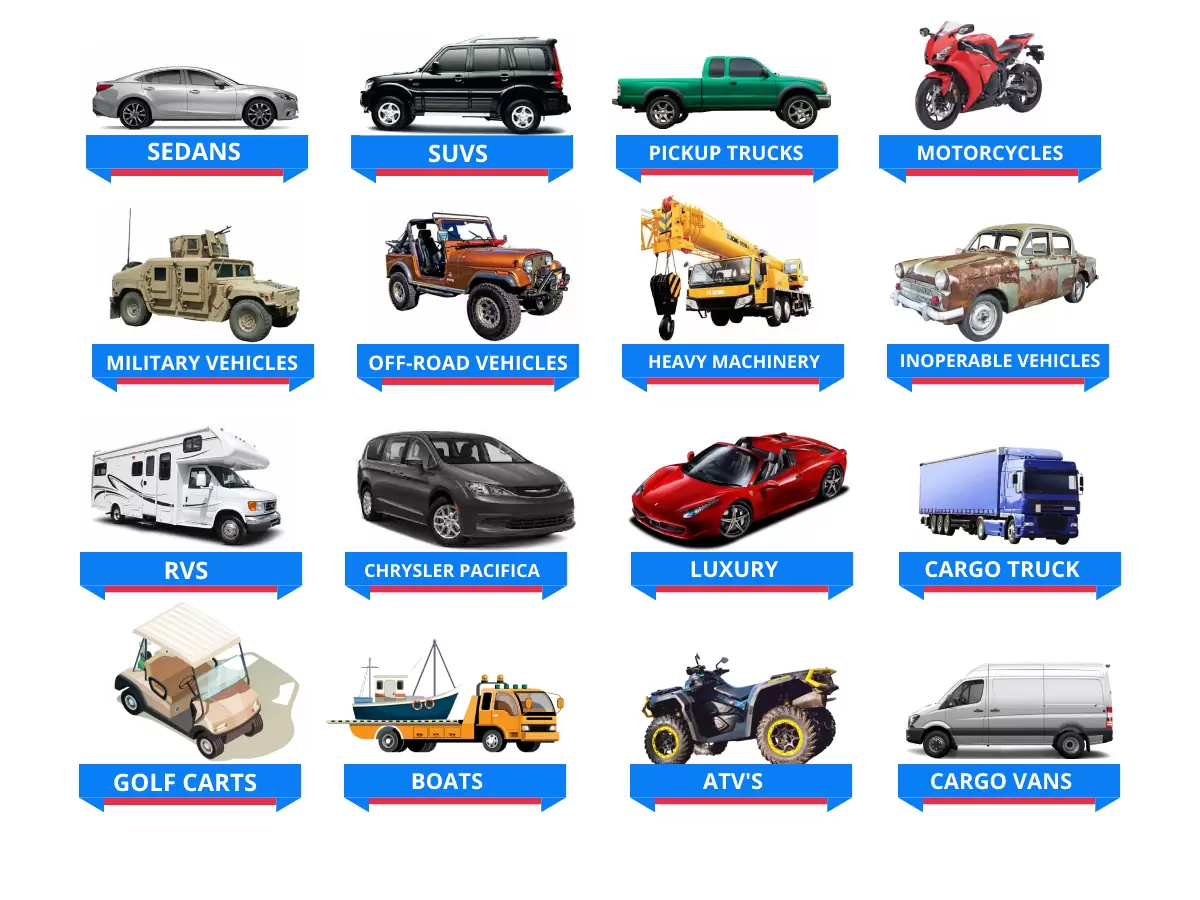 How long does it typically take to ship a car from Arizona to California?
The typical transit time for shipping a car from Arizona to California is around 7-10 days. However, the actual shipping time may vary depending on various factors such as the pickup and delivery locations, the chosen shipping method, the time of year, and any unforeseen circumstances such as weather conditions or mechanical issues.
Recommended: To learn more visit our page on how long does it take to ship a car?
16+

Years of experience

30,000+

Vehicle moves a year

50 states

Coverage across country

20,000+

Carriers for auto delivery
Want To Know More?
Would you like to learn more about shipping your vehicle from Arizona to California? Call us today at 888-802-8250, or request a free quote below.
Customers' Feedback for Car Transport Arizona to California
Check out what our customers have to say about AutoStar Transport Express.
Car Transport from Arizona to California: FAQs
How do I prepare my car for transport?

---

You should remove all personal items from your car, disable the car alarm, and make sure your car is in good working condition. We will provide you with more detailed instructions to prepare your car when you book your shipment.
How much does it cost to ship a car from Arizona to California?

---

The cost of car shipping depends on several factors including the distance, type of vehicle, and shipping method. Get a free quote from AutoStar Transport Express to know the exact cost.
Do you offer open or enclosed transport?

---

We offer both open and enclosed transport options. Open transport is the most common and affordable option, while enclosed transport provides extra protection for high-value or classic cars.
Can I track my shipment?

---

Yes, you can track your shipment using our online tracking system. We will provide you with a tracking number when your shipment is scheduled.
Visit our Arizona car shipping page to discover additional shipping routes to and from Arizona. Additionally, explore our California car shipping page to see all the available car shipping routes to and from California.