Check out our Alaska Car Transport Ratings
Alaska Auto Shipping Experts
If you want to ship your car to Alaska, consider using a reliable Alaska car shipping company. AutoStar Transport Express is the Top BBB-rated, safest, and pocket-friendly way to ship vehicles with care. Whether you are shipping a car, truck, SUV, motorcycle, or heavy equipment, we can help!
We are a locally owned and operated business specializing in vehicle shipping. Our trained and experienced staff strives to provide the best customer service and knows exactly how to deal with the challenging terrain and weather conditions that make shipping a car to Alaska so difficult.
Call us at 907-931-7168 for a free car shipping Alaska quote or to learn more.
Dedicated Alaska Car Shipping Service
Car shipping with AutoStar Transport Express is easy. You are assigned a dedicated Alaska auto transportation specialist who is there to guide you through the Alaska car transport process.
We identify the best Alaska auto shipping solutions to meet your requirements and provide a personalized pack full of Alaska car shipping information. We ship hundreds of cars every week to Alaska. Our car transport Alaska Specialists are there to help with any transport queries you may have.
Request a free Alaska auto transport quotation or give us a call at 907-931-7168.
What is the Process of Shipping Vehicle to Alaska?
Request a Shipping Quote: We will provide you with a quote right away, and book your order. Fill out a quote form, send an email to info@autostartransport.com, or call 907-931-7168 for a quote.
Pick up: After you prepare your car, we can pick it up anywhere in the U.S. and transport it to our shipping port. Tracking updates are available during all stages of transport.
Departure Shipping Ports on the U.S. Mainland:
Long Beach, CA
Oakland, CA
Seattle, WA
Arrival in Alaska: When the car arrives in Alaska, our team of experts will inspect it to determine its current condition. We will notify you when your car is ready to pick up. Obtain your vehicle by signing your bill of lading and inspection report.
Destination Ports in Alaska:
Anchorage, AK
Ships are the most convenient and fastest way to transport a car from the lower 48 states to Alaska.
If you live far from the port and need the vehicle on your doorstep. Choose our door-to-door car shipping to have your car delivered safely to your home.
Are you ready to ship your car?
Call 907-931-7168 for a real-time quote from AutoStar Transport Express or request a free quotation below.
How Much Does it Cost to Ship a Car to Alaska?
A vehicle typically costs $2,100 to $3,800 to ship from the U.S. to Alaska. However, this is an estimate. Multiple factors influence the price, including the total distance, the size and type of vehicle being transported, the type of transportation, and finally the season.
| State | City | To Anchorage Port | From Anchorage Port |
| --- | --- | --- | --- |
| Arizona | Phoenix | $2995 | $2395 |
| California | Sacramento | $2650 | $2100 |
| Florida | Miami | $3500 | $2900 |
| New Jersey | Newark | $3400 | $2800 |
| New York | Long Island | $3500 | $2900 |
| Texas | Austin | $3200 | $2600 |
Recommended: See how much it will cost to ship a car to Alaska from each state
The prices are estimated and based on a small sedan. They are subject to seasonal variations, market fluctuations, and maritime rates.
Find out how much it costs to ship a car to Alaska by visiting our car shipping pricing page or by using our instant quote calculator below.
Why we are the Best Choice for Alaska Car Transport
Educated & Experienced Vehicle Transportation: We have experienced and educated staff that handles vehicle shipping and transportation. From regular commuter cars to classics and collectors, we ship them all. Every vehicle we ship is handled with the same care and attention to ensure its safe delivery.

Licensed and Bonded:  We are licensed and bonded with the Federal Motor Carrier Safety Administration, and we have over 1000+ 5-star Positive Reviews from satisfied customers.
Personalized Customer Service:  Our experienced customer representative helps you with your paperwork specific to Alaska vehicle transport, and provides you with regular tracking updates and in-person support at 907-931-7168.
On-Time Delivery: Weekly sailings to and from Alaska mean fewer delays for your vehicle to depart.
Competitive Pricing: All of our vehicle shipping rates are upfront and without hidden fees. Our number one goal is to provide you with a worry-free Alaska auto shipping experience. We guarantee our shipping rates to be competitive, so you will not be overcharged.
Insurance for a Car Shipping State to State: We believe in being safe and not sorry. All of our quotes include full-coverage insurance with a zero-dollar deductible for car shipping state to state because we only work with fully insured carriers. 

Successful Alaska Auto Transport Testimonial
"Nice job. Some nasty tar like substances found on Honda but overall very satisfied. Pick up date was within time frame I provided, pick up driver seemed professional and honest. Olga at delivery was pleasant and did good job as well." Rick Darby
Ready to book your Alaska car shipping service?
We have transport coordinators ready to assist you! If you have any questions regarding moving your car to Alaska, please contact us at 907-931-7168. Please fill out the form below the page to receive a free estimate of our services.
Why Ship a Car Instead of Driving to Alaska?
It might seem like a good idea to make the drive yourself so you can save some money, but could end up causing you more trouble (and more money) than it's worth in the long run. Here is why:
The Drive is Long: Driving to Alaska from Washington state can take over 43 hours. It will take between 5 and 6 days. Many gallons of gas you'll have to fill up and that's a lot of unneeded wear and tear on your car.
You Have to Cross Borders, Twice: On the way to Alaska, you'll need to cross the border into Canada and again into the U.S. when you arrive in Alaska. Both factors combined make it unnecessary to wait a lot.
Special Equipment May be Required: Your car might need winter tires and chains depending on the season you travel. Some small gas stations may not be open on your way up to or down from Alaska, so you'll also need extra gas cans.
All of these costs will certainly add up very quickly. Last but not least, consider how tired you'll be afterward.
Ready to Ship your Car with AutoStar Transport Express?
Call our car shipping professionals at 907-931-7168 to answer all your questions.
Get a Free Quote
Special Discounts For Alaska Car Transport
There is a special discount for military members who want to transport one or more vehicles to or from Alaska when choosing our auto transport services.
Buying a Car Online in the USA and Auto Shipping to Alaska
Buying a car from the top car auctions in Alaska? AutoStar Transport Express can handle your car shipping needs. Request a free and instant car shipping quote or give us a call at 907-931-7168. We will make your auto shipping experience personalized and easy for you.
You can reduce shipping costs by buying a car online near Anchorage, AK, or departure ports along the western coast of the United States.
Related article: 20 best-used car websites in 2023
Related article: Top online places to buy classic cars
Related article: The 10 best online car auction sites in 2023
Once you have purchased your car online, contact us so we can pick it up and ship it to Alaska.
Which Vehicles Do We Normally Ship to Alaska?
Our team is specialized in shipping all kinds of vehicles including cars, trucks, motorcycles, RVs, ATVs, military vehicles, heavy machinery, and trailers.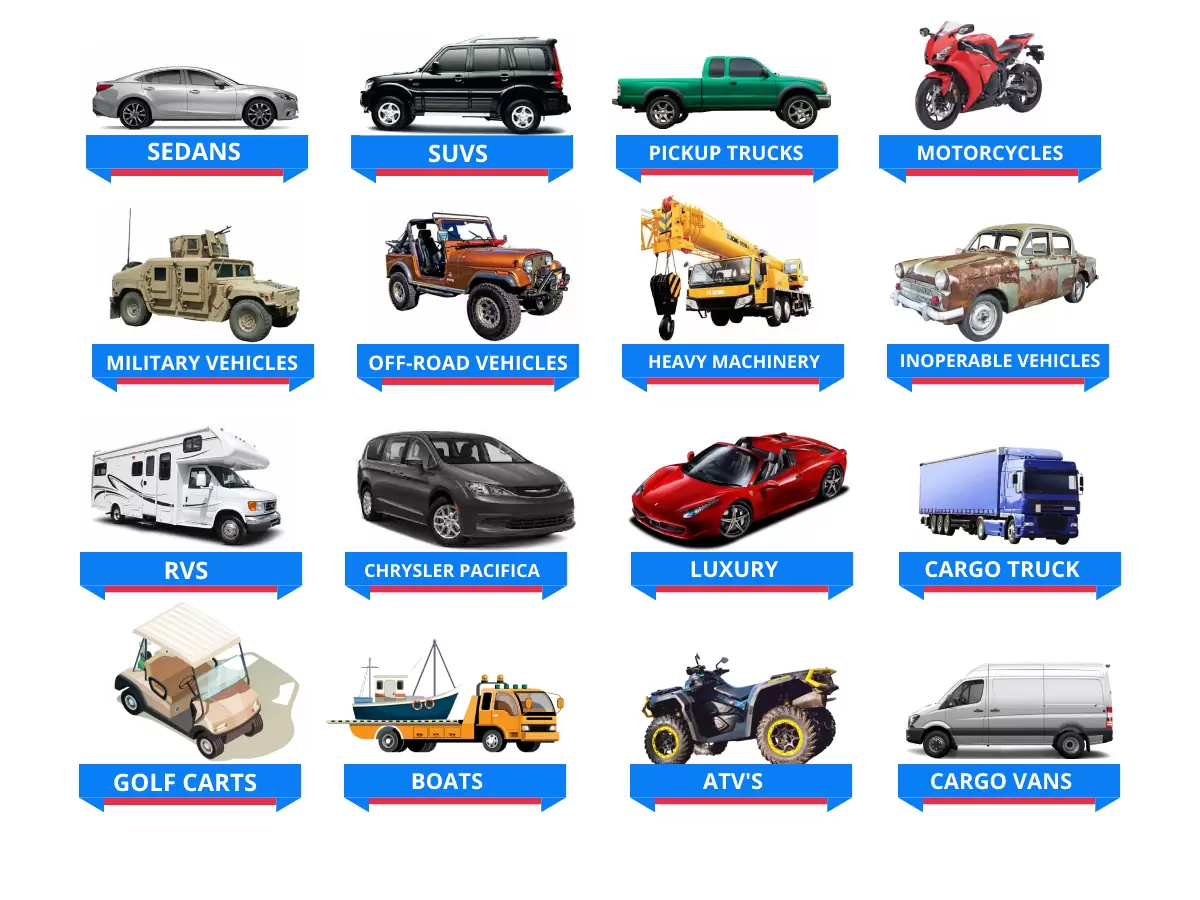 99% Of Our Customers Refer Us To Friends
How Long Does it Take to Ship a Car to or from Alaska?
In general, it takes 10-14 days to ship a car from Seattle, WA to Anchorage, AK, and 14-16 days to ship it back to Seattle, WA. Below is a complete schedule for shipping cars to or from Alaska.
Estimated Car Shipping Times
| From | To | Cut Off | Departure/ Sail date | Estimate Time of Arrival |
| --- | --- | --- | --- | --- |
| Seattle | Anchorage | Monday 10 am | Tuesday | 10-14 days |
| Anchorage | Seattle | Monday 10 am | Wednesday/ Thursday | 16 days |
A car can be shipped between Alaska and the mainland in 6-7 days, for $100 more (add to the standard price).
Please be aware that these are estimates and transit times may vary. Do not wait until the last minute to book your order if you need it by a certain date.
Recommended: For more information visit our page on how long does it take to ship a car?
Please give us a call to get specific details. No commitment is required.
Alaska Auto Transport FAQs
If getting a car to or from Alaska seems complicated and scary, AutoStar Transport Express is here to help.
We have answered the most critical questions to eliminate guesswork.
Call us today for a personalized response or continue reading:
How do I make a payment?

---

The most common payment form is through Zelle and it has daily limits, everything has to be prepaid in order for the vehicle to be released.
Is anyone allowed to pick up the vehicle in Alaska?

---

We need to be advised of who will pick up the vehicle at the port. Anyone can pick up the vehicle from the port. The name of the person picking up needs to be provided prior so we can have it arranged that way.
Does the vehicle need plates, or can they be taken out?

---

It does need plates. Temporary plates can also be used. It can be registered in the Mainland or Alaska.
Are we allowed to put items in the vehicles?

---

No, the port is very strict when it comes to shipping anything inside the vehicle. You are not allowed to ship anything inside the vehicle, except for a spare tire.
Do we need any special documents to ship a Car, Motorcycle, or truck to or from Alaska?

---

No, you do not, just VIN, plate number, and color.
Got more questions? We've answered some of our most frequently asked questions on our page on car shipping faqs about Alaska car transport to provide more information and tips.
Alaska Car Shipping Rates For All States of the U.S.A
The following are price scenarios that include Alaska car shipping rates from each state. Our rates are fully inclusive. We do not impose hidden fees or charges.
| State | City | To Anchorage Port | From Anchorage Port |
| --- | --- | --- | --- |
| Alabama | Montgomery | $3400 | $2800 |
| Arizona | Phoenix | $2995 | $2395 |
| Arkansas | Little Rock | $3200 | $2600 |
| California | Sacramento | $2650 | $2100 |
| Colorado | Denver | $2700 | $2100 |
| Connecticut | Hartford | $3400 | $2800 |
| Delaware | Dover | $3500 | $2900 |
| Florida | Miami | $3500 | $2900 |
| Florida | Orlando | $3400 | $2800 |
| Florida | Tampa | $3450 | $2850 |
| Florida | Tallahassee | $3400 | $2800 |
| Georgia | Atlanta | $3300 | $2700 |
| Idaho | Boise | $2450 | $1850 |
| Illinois | Chicago | $3100 | $2500 |
| Indiana | Indianapolis | $3200 | $2600 |
| Iowa | Des Moines | $3100 | $2500 |
| Kansas | Kansis City | $3200 | $2600 |
| Kentucky | Lexington | $3400 | $2800 |
| Louisiana | Baton Rouge | $3400 | $2800 |
| Maine | Portland | $3600 | $3000 |
| Maryland | Baltimore | $3500 | $2900 |
| Massachusetts | Boston | $3400 | $2800 |
| Michigan | Detroit | $3300 | $2500 |
| Minnesota | Minneapolis | $2995 | $2395 |
| Mississippi | Jackson | $3400 | $2800 |
| Missouri | Saint Louis | $3100 | $2500 |
| Montana | Helena | $2600 | $2100 |
| Nebraska | Omaha | $3200 | $2600 |
| Nevada | Las Vegas | $2700 | $2100 |
| New Hampshire | Nashua | $3600 | $3000 |
| New Jersey | Newark | $3400 | $2800 |
| New Mexico | Alburquerque | $2995 | $2395 |
| New York | Albany | $3500 | $2900 |
| New York | NYC | $3500 | $2900 |
| New York | Long Island | $3500 | $2900 |
| North Carolina | Charlotte | $3400 | $2800 |
| North Dakota | Bismarck | $2995 | $2395 |
| Ohio | Columbus | $3400 | $2800 |
| Oklahoma | Oklahoma City | $3100 | $2500 |
| Oregon | Portland | $2300 | $1800 |
| Pennsylvania | Philadelphia | $3400 | $2800 |
| Rhode Island | Providence | $3500 | $2900 |
| South Carolina | Columbia | $3400 | $2800 |
| South Dakota | Pierre | $2995 | $2395 |
| Tennessee | Nashville | $3300 | $2700 |
| Texas | Austin | $3200 | $2600 |
| Texas | Dallas | $3100 | $2500 |
| Texas | Houston | $3300 | $2700 |
| Utah | Salt Lake City | $2600 | $2100 |
| Vermont | Montpelier | $3700 | $2100 |
| Virginia | Alexandria | $3400 | $2800 |
| Washington | Olympia | $2100 | $1500 |
| West Virginia | Charleston | $3800 | $3200 |
| Wisconsin | Madison | $3100 | $2500 |
| Wyoming | Cheyenne | $3100 | $2500 |
Disclaimer: Prices are estimated and based on small sedans. They are subject to change according to season, market fluctuations, and maritime rates.
Want To Know More?
Call 907-931-7168 for more information about Alaska Car Shipping or request a free quote.
Is it Really Expensive to Ship a Car to Alaska?
The open and enclosed car carriers are both suitable for shipping cars to Alaska. The quickest, easiest, and cheapest way to ship a car to Alaska is by port-to-port transport.
The only downside is that since the hauler is exposed, your car will undergo all sorts of temperature and weather changes during transit. No matter what method you choose for shipping a car to Alaska, our carriers are licensed and insured.
How Do I Prepare my Car to Ship to Alaska?
You need to prepare your vehicle properly in order to transport it to Alaska, so here is a small checklist you can refer to. Some of those things are:
Make sure you have a copy of the keys for all locking compartments, including the gas tank and glove box, as well as the ignition and trunk keys.
Vehicles must have a minimum ground clearance of 5 inches
The vehicle must not have more than 1/4 tank of gas (electric vehicles must be fully charged)
A clean exterior is required for inspection of the vehicle
Personal items must be removed from the vehicle
You must have a running vehicle that steers and stops
All firearms, ammunition, flammables, and hazardous materials are prohibited.
These things will help to ensure a hassle-free and efficient shipping process!
Can a Financed Car be Shipped to Alaska?
In general, shipping a car to Alaska with an auto loan is no problem. However, if you are traveling to Alaska, you will need a notarized letter. It must state that we can ship it there. Despite having the registration for your financed vehicle, you don't own it.
Getting an Alaska car shipping quote is the next step after you have verified with your lender. We will handle the rest. We'll transport your vehicle safely and quickly.
Alaska Car Shipping Routes
Other Services
Want To Know More?
Need to find out more about shipping a car to Alaska? Call us today at 907-931-7168, or request a free quote below.
Our Successful Alaska Car Transport Reviews
Here is what our Alaska car shipping service is said to be like.
When it comes to moving your vehicle over long distances, shipping cars across country is a hassle-free and cost-effective option. Whether you're relocating to a new state or unable to personally transport your car, our state-to-state car transport service specializes in safely and efficiently transporting cars from state to state.
Professional Auto Transport to/from 49 other States