Autostar Transport Express is here to make car shipping easy and stress-free, whether you're moving to a new city, purchasing a vehicle from out of state, or need to transport your car for any other reason.
Our advanced tracking technology enables you to monitor the progress of your vehicle in real-time, providing peace of mind and confidence that your car is in good hands. Additionally, our competitive pricing and dedication to quality service make us the perfect choice for all your car shipping needs.
So why wait? Contact us today at 888-802-8250 to learn more about our Alabama car transport services and start planning your hassle-free vehicle transport experience with Autostar Transport Express.
16+

Years of experience

30,000+

Vehicle moves a year

50 states

Coverage across country

20,000+

Carriers for auto delivery
Why Ship Your Car to Alabama with Us?
AutoStar Transport Express is committed to providing safe, reliable, and pocket-friendly car shipping services to our clients in Alabama. Here are some reasons why you should choose us for your Alabama auto transport needs:
Fully insured

We take the safety and security of your vehicle seriously. Your vehicle will be covered by the carrier's cargo insurance.

Personalized approach

At AutoStar Transport Express, we believe that every customer is unique. That's why we work with you to develop a customized shipping plan that meets your needs and exceeds your expectations.

Quick turnaround

We pride ourselves on fast and reliable pickup and delivery times. We work diligently to get your vehicle to its destination as quickly and safely as possible.

Industry-leading standards

At AutoStar Transport Express, we adhere to the highest industry standards to ensure a safe and reliable shipping experience for every customer.
How Does Alabama car Transport Work?
When it comes to shipping cars to and from Alabama, we have streamlined our process to guarantee a smooth experience. Here's an overview of how we handle shipments:
Request a quote and place an order:

---

You can request a quote by filling out the quote form, sending an email to info@autostartransport.com, or calling 888-802-8250. When you place your order, we will contact you regarding pick-up time, tracking numbers, and truck driver information.
Pick up your vehicle:

---

When you prepare your vehicle, our experienced drivers will inspect it, pick it up at your doorstep, and transport it to the location of your choice. At any time during transporting a vehicle across country, you can contact us for tracking updates.
Receive the Vehicle:

---

With our door-to-door car shipping service, your vehicle will be delivered directly to your door.  You must sign both the bill of lading and the inspection report to receive your vehicle.
How Much Does Alabama Auto transport Cost?
Many factors come into play when making an estimation of the cost to ship a car to Alabama. These include the distance, the vehicle's size and type, the time of year, and the terrain encountered.
Estimated Alabama Car Transport Times and Rates
| | | | |
| --- | --- | --- | --- |
| From | To | Cost | Estimated Car Shipping Time |
| Alabama | Illinois | $520 | 2-3 days |
| Birmingham | Mobile | $330 | 1-2 days |
| Birmingham | Chicago | $500 | 2-3 days |
| Alabama | San Francisco | $1150 | 6-8 days |
| Seattle | Alabama | $1300 | 7-9 days |
| Texas | Alabama | $575 | 2-3 days |
| Alabama | Georgia | $320 | 1-2 days |
| Arizona | Alabama | $1050 | 4-6 days |
These are just estimated prices and may vary based on travel distance, type of vehicle, fuel prices, and time of year.
If you want to know the exact estimate to ship a car to or from Alabama, Use our online quote calculator to get a free and instant quote.
Which Vehicles Do We Ship to or from Alabama
Our experts are specialized in transporting all types of vehicles, including cars, trucks, motorcycles, RVs, ATVs, military and armed forces equipment, tanks, luxury vehicles, vintage cars, heavy construction machinery, trailers, and even inoperable vehicles.
Call our representatives today for an instant quote at 888-802-8250.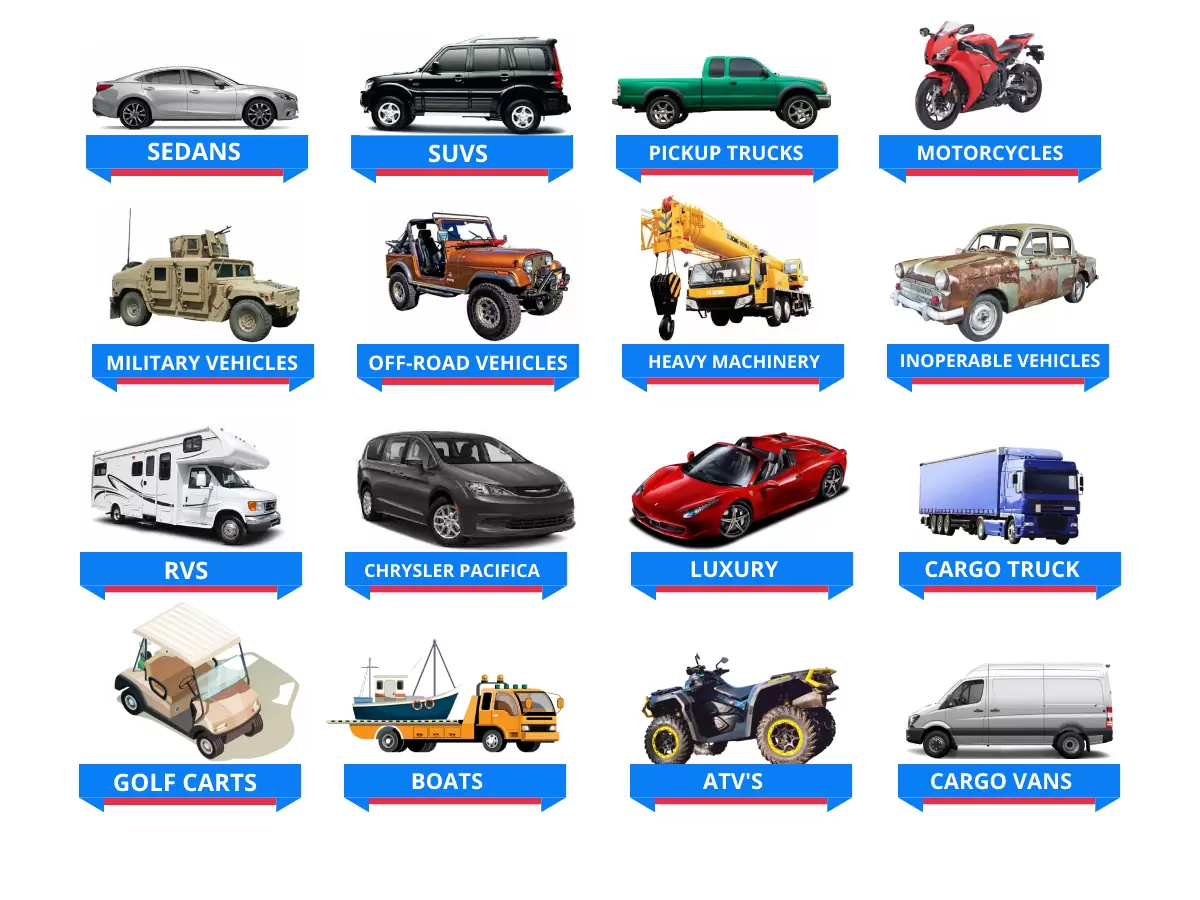 Ready to ship your car to Alabama with AutoStar Transport Express?
Call our Alabama car shipping professionals at 888-802-8250 to get answers to all your questions.
Get a Free Quote
Alabama Auto Transport Options
When it comes to shipping your car to or from Alabama, AutoStar Transport Express offers a variety of options to meet your needs.
Open Car Transport: Open car shipping is our most popular option and is ideal for those looking for a more affordable shipping solution. While your car will be exposed to the elements during transport, it is still a safe and reliable option for most vehicles.
Enclosed Auto Transport: If you're looking for a more secure option for your car, our enclosed shipping service is a great choice. Your car will be loaded onto a fully enclosed trailer, providing protection from the elements and potential road hazards.
Door to Door Car Shipping: For the ultimate convenience, our door-to-door shipping service ensures that your car is picked up and delivered directly to your specified locations. This means you won't have to worry about dropping off or picking up your car at a terminal.
Looking for a cost effective way to ship a car, Well, this simple guide on what is the cheapest way to ship a car will help you with that.
Trusted by the World's Largest Brands





Special Discounts for Military and Heavy Construction Equipment
We offer special discounts to military personnel who ship a car to or from Alabama as well as for the transport of Heavy Machinery and Construction Equipments that choose our services. 
Top 5 Tourist Attractions in Alabama
U.S. Space & Rocket Center: Located in Huntsville, this museum is dedicated to the U.S. space program and features a vast collection of rockets, spacecraft, and exhibits that showcase America's journey into space.
Gulf Shores and Orange Beach: These coastal towns offer beautiful white-sand beaches and warm turquoise waters, making them popular destinations for relaxation and water-based activities.
Birmingham Civil Rights Institute: This important cultural and educational institution in Birmingham is dedicated to chronicling the Civil Rights Movement in the United States.
USS Alabama Battleship Memorial Park: Located in Mobile, this park is home to the historic USS Alabama battleship, which served during World War II. The park serves as a memorial to those who served in the U.S. armed forces.
Little River Canyon National Preserve: This scenic preserve in northeastern Alabama features the beautiful Little River Canyon, a deep gorge carved by the Little River. The area offers numerous outdoor activities, including hiking, swimming, fishing, and rock climbing.
Top 5 Useful Resources for Alabama
Most Popular Alabama Auto Shipping Routes
Uncover Our Alabama Car Shipping Service Coverage
AutoStar Transport Express features a wide-reaching carrier network and vast experience to ensure that your vehicle is transported securely and quickly from any location in the USA to Alabama or vice versa.
Foley, AL
36530, 36535, 36536, 36580 & surrounding areas
Birmingham, AL
35005, 35020, 35022, 35023, 35061, 35064, 35068, 35094, 35117, 35118, 35126, 35127, 35130, 35173,35203, 35204, 35205, 35206, 35207, 35208, 35209, 35210, 35211, 35212, 35213, 35214, 35215, 35217, 35218, 35221, 35222, 35223, 35224, 35226, 35228, 35233, 35234, 35235, 35242, 35243, 35254 & surrounding areas
Cullman, AL
35055, 35056, 35057, 35058 & surrounding areas
Dothan, AL
36301, 36303, 36305, 36312, 36321, 36345, 36350 & surrounding areas
Hoover, AL
35022, 35080, 35124, 35216, 35226, 35242, 35244 & surrounding areas
Huntsville, AL
35613, 35649, 35671, 35741, 35748, 35749, 35756, 35757, 35758, 35759, 35763, 35773, 35801, 35802, 35803, 35805, 35806, 35808, 35810, 35811, 35816, 35824, 35896 & surrounding areas
Madison, AL
35756, 35757, 35758, 35808 & surrounding areas
Mobile, AL
36571, 36575, 36601, 36602, 36603, 36604, 36605, 36606, 36607, 36608, 36609, 36610, 36611, 36613, 36615, 36617, 36618, 36619, 36688, 36693, 36695 & surrounding areas
Montgomery, AL
36043, 36064, 36104, 36105, 36106, 36107, 36108, 36109, 36110, 36111, 36112, 36113, 36115, 36116, 36117 & surrounding areas
Tuscaloosa, AL
35401, 35404, 35405, 35406, 35444, 35446, 35452, 35453, 35456, 35473, 35475, 35476, 35490 & surrounding areas
Successful Alabama auto transport Reviews
Check out the reviews from our clients who have had positive experiences with Auto Star Transport Express.
Alabama Car Transport FAQ
How much does shipping a car to Alabama cost?

---

The cost of shipping a car to or from Alabama will be heavily dependent on the type of vehicle, its distance, and the method used.

It costs more to transport a vehicle further away. However, longer distances may result in lower average miles per dollar than shorter ones.

Check out our cost to ship a car page to learn more.

Use our free instant car shipping estimate calculator above for an exact car shipping quote for Alabama.
Is it possible to ship stuff in my car?

---

While it is legal to ship items in your vehicle or trunk, but we prefer that you do not because there is always the risk of theft or damage during transport. It is highly recommended that you remove all personal items from the vehicle prior to shipment
How far in advance should I book my car shipment?

---

By scheduling your car shipment in advance, we can ensure that it arrives on time. Plan your Alabama car transport at least one to two weeks in advance. To schedule your Alabama car transport, please call 888-802-8250.
Can I track the progress of my shipment online?

---

We provide a standard tracking system to track your vehicle while in transit. The tracking feature allows you to keep track of your shipment. It's all part of our commitment to our customers. Please provide us with your tracking number, name, email address, and/or phone number to track your car shipment.
How do I prepare my car for shipment?

---

Ensure that your car is thoroughly cleaned before transport.
While handing over, take as many interior and exterior pictures as you can.
Remove or secure all loose parts, such as trim or mirrors.
Make sure the vehicle is working properly before shipping to prevent any problems.
It is recommended to fill gas tanks only one-quarter full
Be sure to remove all valuable gear and accessories from the car before transport. Items such as GPS units and
audio equipment fall into this category. Also, remove important items from the car, such as parking passes.
Grab your toll transponder in advance to avoid unnecessary shipping charges.
You'll need two sets of keys for your car. Give one set to the transport company during the handover as a backup.

Here is a detailed guide on some useful tips to prepare your car before shipping to Alabama.
How do I Register my car in Alabama?

---

You must register your vehicle within 30 days of moving to Alabama. A title and insurance from Alabama are required for registration.

Each automobile in Alabama must be registered at a district office. This process is facilitated by the Department of Revenue's Motor Division.

The inspection fee depends on the weight, type, year, and model of each vehicle Identification Number. If this is your first time registering a vehicle, follow these steps.

Recreational automobiles and motorhomes have the same registration process as trucks and cars; the only difference is the motorhome's weight.

Alabama's Registration Fees

The cost of registering a vehicle depends on a number of factors. A new vehicle registration fee is based on these factors:

Vehicle type
Car weight
Taxes and surcharges
Vehicle inspections

The registration process in AL does not require emissions tests. Prior to being registered in Alabama, vehicles from out of state and without titles must undergo a VIN inspection. This is a security measure that ensures that the VIN matches the title.
When it comes to moving your vehicle over long distances, shipping cars across country is a hassle-free and cost-effective option. Whether you're relocating to a new state or unable to personally transport your car, our state-to-state car transport service specializes in safely and efficiently transporting cars from state to state.
Ready to ship your car to Alabama with AutoStar Transport Express?
Call our Alabama car shipping professionals at 888-802-8250 to get answers to all your questions.
Get a Free Quote
Professional Auto Transport to/from other 49 States